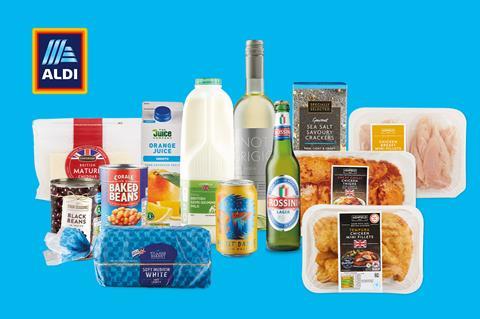 Aldi has partnered with Deliveroo to launch rapid grocery delivery for the first time in the UK.

From today, customers can order from a range of over 150 Aldi products for delivery in as little as 30 minutes using the Deliveroo app.

The service has launched from Aldi's Daleside Road store in Nottingham, and is set to extend to a further seven stores across the East Midlands in June. If successful, it could roll out to more stores this year, Aldi said.

The initial range consists of essentials such as bread, milk and fresh produce. The products are picked by Aldi staff and delivered by Deliveroo's network of couriers.

Aldi has sold online in the UK since 2016 but until recently the offer has been limited to general merchandise Specialbuys, along with wine, spirits and a small number of ambient products such as coffee pods. Last month the discounter launched food parcels, including rice, pasta, UHT milk and canned foods, for scheduled delivery, in an initiative aimed at vulnerable people struggling to access essentials during the coronavirus crisis. Aldi said the Deliveroo service was also intended to provide support for the those self-isolating, while offering greater flexibility for all customers. The service comes with a £4.99 delivery charge and product prices may be higher than in store, though Aldi has not specified the mark-up.

"We hope the new trial with Deliveroo will provide more customers with access to great-quality, affordable food at Aldi," said Aldi UK & Ireland CEO Giles Hurley.

"This is a new and exciting venture for Aldi and we will be constantly reviewing how we can best serve our customers and continue to provide them with the high quality products they are used to in store."

Ajay Lakhwani, Deliveroo VP of new business, said: "At Deliveroo, we are doing everything we can to make sure that people get the food they need and want during this unprecedented time. We are pleased to partner with Aldi and deliver even more choice to our customers as they continue to keep safe at home."

Deliveroo has forged and expanded several supermarket and convenience store partnerships in recent months.

M&S franchise stores at BP petrol stations began offering home deliveries via Deliveroo last month. Earlier this month the service rolled out to 20 M&S stores in city and town locations, offering a range of more than 130 products.

Morrisons last month signed a deal with Deliveroo to start deliveries by bicycle and motorbike from more than 130 stores. A similar deal was struck with McColl's the same week, which saw 120 stores offer home delivery for the first time. Co-op has partnered with the courier company since early last year. This month the supermarket revealed the Deliveroo service would be offered from 770 stores by the middle of this year.

Meanwhile, Sainsbury's has expanded its on-demand delivery service during the crisis. Last week it announced Chop Chop was extending beyond London for the first time, to 50 stores in 20 cities.

Lidl has been exploring selling online in the UK for over a year, including recruiting for e-commerce appointments, but has yet to launch a service.