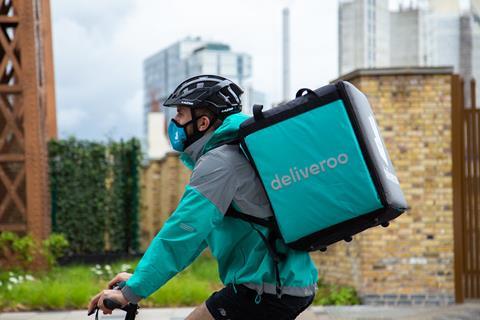 The range will include food and drink, toiletries, cleaning products, beer, wine and magazines

All deliveries will be contact-free to ensure the safety of customers
McColl's has partnered with Deliveroo to offer home delivery for the first time.
A range of everyday essentials – including food and drink, toiletries, cleaning products, beer, wine and magazines – will be listed on the Deliveroo platform and initially delivered from 120 McColl's stores.
Eventually the offering will expanded to cover 300 of its 1,550 stores across the country.
Deliveries will be ordered through the Deliveroo app and fulfilled by the Deliveroo rider network within 30 minutes, as normal. All deliveries will be a contact-free service to ensure the safety of customers.
"We want to make it as easy as possible for our customers to get their daily essentials as they stay at home. The partnership allows us to further our support of the neighbourhood communities we serve, providing the option of home delivery for a wide range of quality goods from our stores across the country," said McColl's CEO Jonathan Miller.
The company said it hoped the new service would be especially beneficial to the elderly and vulnerable in isolation and unable to leave their homes.
"McColl's has an excellent operational track record and together we can achieve national scale at pace," said Deliveroo vice president of new business Ajay Lakhwani. "This is particularly important during Covid-19 when people are isolating and at home. This partnership will help reach people right across the country."
Deliveroo has been snapping up convenience stores as the coronavirus crisis continues, as chains and independents seek to continue supplying customers who are unable to visit stores in person.
Last month the company partnered with M&S franchise stores at BP petrol stations to deliver from a range of 60 products to customers in the local area. BP said it expected the arrangement to be in place until "at least the end of April".
Convenience stores have benefited from a spike in demand during coronavirus, with both smaller branches of major retailers and independently owned outlets increasing their share of spend to 13.3% in the four-week period to 22 March, with sales jumping 30% compared with a year ago, Kantar figures show. McColl's share price has surged upwards as a result of the demand.