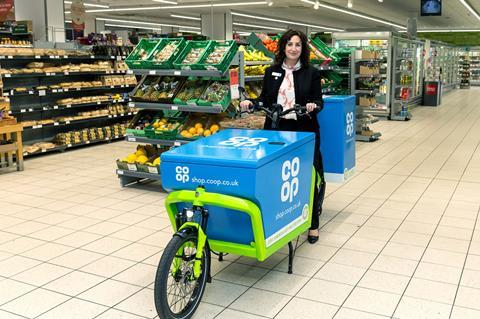 The Co-op is rapidly accelerating its online expansion plans as it adapts to changing shopper demands as a result of the coronavirus crisis.
In November, the convenience retailer said it expected to have rolled out its partnership with Deliveroo to 400 stores by the middle of this year. Speaking as it published its annual results last Friday, Co-op Food CEO Jo Whitfield told The Grocer that it expected the actual number of stores to be around 770.

Whitfield added that between the Deliveroo partnership and its own shop.coop.co.uk operation, the society is offering online groceries in 1,000 catchment areas.

"This is an important part of our plan to support shoppers at this time," said Whitfield, who also explained that its chosen model enabled it to be agile when it came to expansion.

Total sales grew 7% to £10.9bn for the year to 4 January. Food sales were up 3% to £7.5bn, with like-for-like sales up 1.9%. Group underlying profit before tax rose 50% to £50m.

The retailer has seen a major spike in sales since the coronavirus outbreak, and while Whitfield did not put an exact number on the uptick, she said the Kantar figures provided a good guide. The latest Kantar data for the four weeks to 19 April showed that Co-op sales were up 33.5%. This was on the back of a 23.3% jump in the previous four weeks.

Whitfield added that there had been "massive volatility" as the crisis evolved but that this was now settling down.

There had been a real shift in shopper's buying behaviour away from food to go and products that would normally be consumed out of the home to a focus on scratch cooking.

The Co-op's recent ad campaign which the society had given over to support food redistribution charity FareShare had so far driven more than £600,000 in donations.