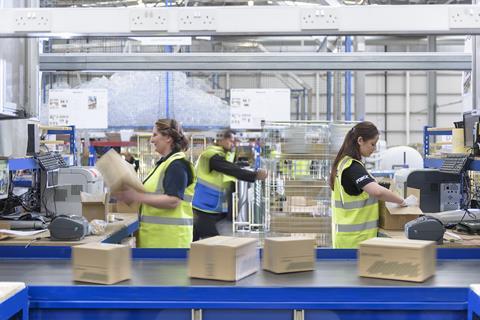 Lidl has partnered with online logistics provider iForce as it continues to explore launching its first UK e-commerce operation.
IForce, an Eddie Stobart subsidiary which works with Tesco, Waitrose, John Lewis and Aldi, is said to be already holding Lidl stock.
In its partnership with Aldi, iForce provides logistics software specifically designed for the discounter's online offer, including wine, spirits, coffee pods and bi-weekly launches of general merchandise 'Specialbuys'.
Lidl's first UK online operation is expected to have similarities with Aldi's, selling alcohol and potentially including the kind of general merchandise special offers found in the 'Middle of Lidl' in stores, which are also regularly renewed.
Lidl's intention to launch an ecommerce operation was confirmed in October when the supermarket advertised for a digital project manager to help "deliver a new online platform with the aim of acquiring new customers and driving online sales".
It was the second Lidl job ad within weeks for new roles in the department. In June an ad appeared for an e-commerce project manager, and Lidl told The Grocer at the time that "e-commerce is something we're actively exploring".
Lidl has since promoted online category management head Louise Weise to head of digital.
A Lidl spokeswoman said today: "Online is something we have been exploring however we have not yet identified a model that is suitable for our business and our customers in the long term. As such, we continue to focus our attention on our bricks and mortar business, which presents much more potential for us with our continued rapid growth."
"We are always looking at all opportunities across the digital space however, in order to drive innovation for our customers, and will announce any updates as and when we are in a position to do so."
She did not comment on iForce.
An iForce spokeswoman said: "Unfortunately this isn't something that iForce would be able to confirm at this stage."
Lidl digital director Alex Murray hinted at an online launch as long ago as March 2018, when he said that a chatbot for advising customers on wine had been created with an aim of selling. Talking at a conference, Murray revealed: "The goal is very much that when and if we do sell [online], absolutely we will connect it up to sell the wines directly."
The 'winebot', called Margot, is currently unavailable. Customers can usually connect with it through Lidl's Facebook page and ask it questions using Facebook Messenger, but attempts to do so this week led to the message: "We're sorry but Margot our winebot is on holiday at the moment."
Lidl's spokeswoman said: "Margot is a Lidl GB innovation and not compatible with new customer service software that has been rolled out internationally, so she's currently out of action until a solution is found."
Lidl has already ventured online in other European countries, selling general merchandise, wine, spirits and even holidays in partnership with tour operators. In Ireland the supermarket provides groceries within the hour using rapid delivery firm Buymie.
Aldi launched online in the UK in 2016.