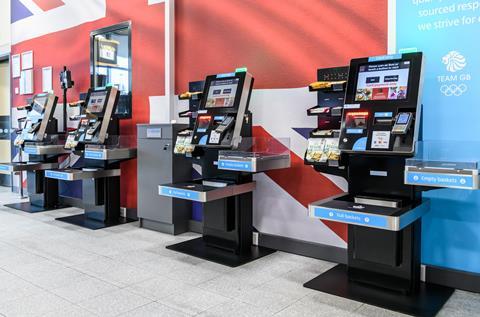 Aldi is bringing self-checkouts to more stores in the third phase of the discounter's rollout of the technology.
Stores in Lichfield, Atherstone, Hounslow and Tooting are to get self-checkouts between now and the end of July.
Aldi's first self-checkouts, installed in spring last year in Glascote, near its Atherstone HQ, were a departure for the discounter, which has always prided itself on swift service at staffed checkouts.
In August last year they were rolled out to new-format 'Aldi Local' stores in London, with a smaller footprint than most Aldis and a trimmed-down range.
The latest four stores due to get them will bring the total to 12.
All stores with self-checkouts also retain staffed checkouts for customers who want to use them.
Aldi staff all perform a variety of store tasks and the self-checkouts are expected to free them up to spend more time on the shop floor helping customers. The discounter still considers the move a test, and is assessing which stores may be more suited to staffed checkouts only before a wider rollout.
Customer feedback is understood to have been positive. The 'Tell Aldi' customer feedback platform has seen 99% say they would use them again.
The self-checkouts come with social distancing measures, including Perspex screens separating them, regular cleaning and antibacterial gel for customers.
Here is where and when the latest rollout is happening:
Lichfield – 3 June
Atherstone 29 June
Hounslow – 13 July
Tooting – 27 July