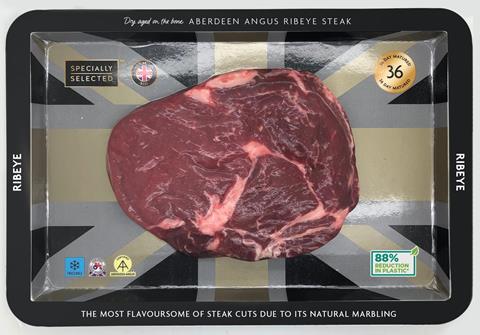 Aldi is to introduce new cardboard trays for steaks in a move it says stands to save 240 tonnes of plastic waste a year.

The new trays are to replace plastic ones for Aldi's Specially Selected steaks in more than 380 stores in the south east, north west and Wales from early September in a trial.

It would reduce plastic packaging on the sirloin, fillet, ribeye and rump steaks by 90%, Aldi said.

The cardboard is sourced from sustainably-managed forests, and recyclable once a film base has been removed, according to the discounter.

The new trays could be rolled out across the UK estate of more than 800 stores if the trial is deemed a success.
"Meat is almost universally sold in plastic, but we're looking to lead the way with alternatives - including these new cardboard steak trays," said Fritz Walleczek, Aldi UK MD of corporate responsibility.

"Both food and plastic waste are important issues, but this packaging delivers on both by potentially removing 240 tonnes of plastic a year without compromising food quality or longevity."

Aldi said it was a step towards its target of making all own-label packaging recyclable, reusable or compostable by 2022.

The supermarket is also currently trialling five lines of loose veg, and toilet roll wrapped in paper instead of plastic.