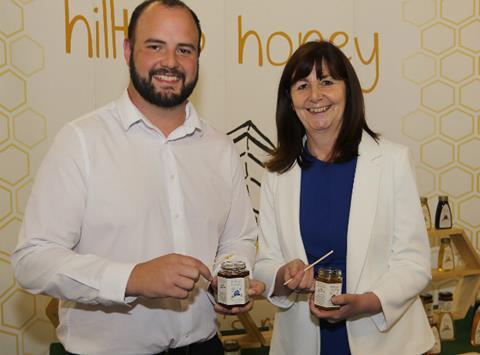 Hilltop Honey, the Welsh honey maker, has expanded in to larger headquarters in Newtown, Powys, following an investment of £750,000.
The brand had outgrown its previous 2,500 sq ft home in the nearby village of Caersws, said managing director Scott Davies, who founded the business six years ago. He expected to increase his workforce from 12 to 20 by the end of this year, as a result of the premises upgrade.
The expansion was financially backed by the Welsh government, Natwest and Finance Wales. The new 14,000 sq ft HQ was officially opened this week by Welsh cabinet secretary for environment & rural affairs Lesley Griffiths.
"The Welsh Government is committed to supporting food companies of all sizes across Wales as we strive to grow the industry over the next few years," said Griffiths.
"We were happy to support Hilltop Honey with nearly a quarter of a million pounds as it is an excellent example of a successful, growing food company, playing its part in enhancing Wales' burgeoning reputation for producing high quality food and drink".
Scott said: "We are thrilled that our contracts with the major supermarkets are growing, but we needed to expand to fulfil our orders and to keep pace with the growth projected in our business plan.
"We are an ambitious company with exciting plans for the next five years and our new premises mean that we can increase production and hire more staff."
The new investment has allowed Scott to customise the business unit and buy new food hygiene equipment and an automatic jar filling line.