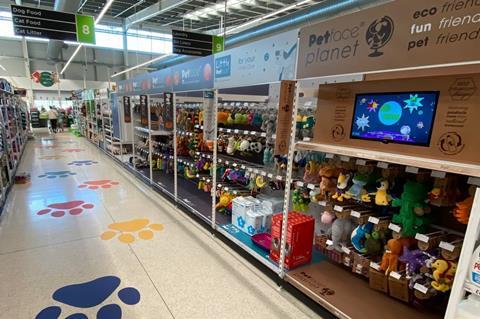 Asda has launched a new 'pet zone' in a raft of trial stores, including partnerships with a string of pet brands.
The supermarket has signed up six brands within its Gateshead, Eastlands, Minworth, West Bridgford and Caerphilly stores, which it said would revolutionise its offering of refrigerated fresh petfood, premium treats, accessories, toys, leads, collars and grooming products.
The dedicated zone will cater for both dogs and cats at all life stages and include a wider range from brands such as Lily's Kitchen, Freshpet and Denzel's, alongside a range of accessories and toys from Petface, including eco-toys from Petface Planet and UK-produced dog fragrances and grooming products from Bugalugs.
Pet owners will also be able to sign up for insurance through Asda Money partner Joii whilst in the aisle, giving the option to access a 24-hour online vet service for emergencies via the Joii app.
"We're partnering with some brilliant brands to bring a wide range of pet products to these stores – including items that would usually only be found in specialist retailers," said Matt Harrison, senior director of partnerships and business development at Asda.
"A rise in the number of pandemic pets has led to demand from customers for greater choice in this particular category. We're pleased that through partnerships with innovative brands we're able to offer products for pets of all ages and satisfy the needs of our customers in these five stores."
John Pullen, category director at Petface, added: "This partnership is an amazing opportunity that brings Petface into Asda, creating a dedicated zone where Asda customers can find everything they need on a regular shopping trip."