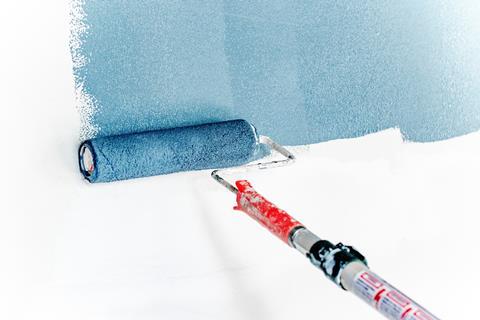 Asda is entering a partnership with DIY store B&Q, in a new 'store within a store' concept to launch later this year.
The B&Q trial concessions in four Asda stores will offer a range of paint products as well as tools, hardware and other DIY essentials.
The move was aimed at capitalising on customers looking to cut down on their number of shopping destinations because of the coronavirus pandemic, according to the retailer.
Asda said it was accelerating its in-store 'Test and Learn' strategy on the back of the pandemic as customers increasingly looked to complete multiple shopping missions on a single trip.
The first two B&Q concept stores will open in Asda superstores in Dagenham and Sheffield later this year.
The 2,000-3,000 sq ft concessions will offer a broad range of B&Q products in-store and also click and collect via the diy.com website.
Read more:
The B&Q tie-up was among a number of new partnerships announced by Asda today. The supermarket is also launching a new food to go brand, Asda on the Move, in a trial at three EG Group petrol station forecourts, and piloting a trial with online retailer music Magpie in five stores in the north. The latter twill see a range of used DVDs available to purchase alongside Asda's current entertainment offer, bringing online retail into physical stores.
Meanwhile a partnership with Claire's, launched last year, is to be extended to 15 new stores from September.
The moves follow the launch of Asda's partnership with Uber Eats in July, which has now been expanded to 25 stores.
"Our partnerships strategy is focused on making our busy customers' lives easier," said Asda chief strategy officer Preyash Thakrar.
"That means offering convenience when they visit our stores by bringing in complementary brands to help them complete more shopping missions in one location, and convenience that makes our great-value products more accessible in local communities. We anticipate working with more businesses who share our passion for delivering value for customers in the coming months."
He added: "B&Q's offer will give Asda customers access to a range of essential home improvement products and expert advice as part of this new concept.
"We know that our customers will appreciate the opportunity to complete a number of missions in a single trip, as evidenced by changing shopper behaviours as a result of the pandemic."
Chris Bargate, director of business development at B&Q, said: "We believe in testing small formats and are committed to trialling new initiatives. We're delighted to be trialling with Asda to test a more convenient way for customers to access our range of home improvement products and services.
"Our customers are continuing to adapt and change to new ways of living and shopping and this is just one way in which we're responding by getting closer to customers and making it easier for them to improve their homes.
"The trial B&Q concession stores at Asda will have a great selection of DIY essential items, expert help and advice from our colleagues, as well as digital access to our broader range of products.
"We're excited by the potential of this new model and are looking forward to seeing how customers respond."