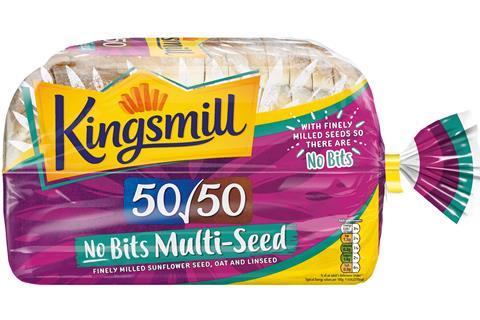 Kingsmill is adding to its 50/50 range with a duo of "unique fusion" loaves.
It is adding two seeded loaves to the 50/50 range – made with half white flour and half wholemeal flour – a move it claimed represented a "never-before-seen proposition" for bread shoppers.
They are: Kingsmill 50/50 Multi-Seed, which is baked with sunflower, pumpkin and linseeds providing a source of fibre, protein and omega-3, and Kingsmill 50/50 No Bits Multi-Seed, which is baked with milled sunflower, oats and linseed, providing protein and fibre without any bits.
They will launch into Asda on 4 February, followed by Tesco on 12 April (rsp: £1.35).
The duo would create "an entirely new fusion area of bread," said Kingsmill, and had been developed in response to the growth of healthier white bread, which it claimed was driven by its own 50/50 loaf, and the growth of seeded bread.
Kingsmill said the new SKUs would broaden the appeal of seeded bread to families, a shopper group it said currently undertraded in the seeded category.
The bits and no bits options would bring "a new level of choice to the market", it added.
Marketing director Matthew Cullum said the launch brought "a strong proposition that hasn't been seen before", offering a "quality, great-value branded range" that would help shoppers make healthy swaps.
The launch will be supported by a "major" marketing campaign spanning TV, radio, OOH, digital, PR and influencer support, and the loaves will also feature as part of Kingsmill's sponsorship of The Simpsons on Channel 4 and All 4.
The launch follows a £7.1million (3.9%) drop in sales for the brand last year, on volumes down 3.6% [Nielsen 52 w/e 5 September 2020].