The Skinny Food Co's founders started out with £3k and an idea. Now they're turning over £35m, and eyeing the US and China
Three years ago, Wayne Starkey and James Whiting had just an idea and £3k in their pockets. "And that was just for the products," remembers Whiting. The marketing budget for getting its new brand off the ground was effectively zero, and the team consisted solely of the two co-founders.
Today, The Skinny Food Co is a multimillion-pound business with 222 lines, a 29-strong team and a presence in the likes of Morrisons, Spar and Holland & Barrett. Turnover grew from £1.5m in its first year to £17.2m in its third. As Whiting points out: "The business has fully supported its own growth."
Now expecting to hit £35m turnover in the coming year, the pair are certainly not short of ambition. "What we're trying to achieve is to become the millennial version of what Heinz did in the 1980s," says Starkey.
Setting their sights on a giant such as Heinz is a sign of the determination that has characterised the pair's leadership style. They are no strangers to working "six days a week, 15 to 18 hours a day" as they built up The Skinny Food Co and dealt with the increased demand of the pandemic.
Both have personal reasons for their dedication. Starkey came from "a broken family and lived in a one-bed flat between my sister, my mum and myself". Having left school with one GCSE, he was determined to provide a stable income for his family.
"Asda reached out to us recently. With HFSS restrictions coming in next year, we're in a good position"
Whiting dealt with the death of his son, who was stillborn, seven years ago. "My escapism was business," he explains. "The more time I spent working, the less time I would think about anything else."
Luckily, when their paths crossed in 2018, they were both of the same mindset. Starkey, who has a background in design, was "tired of building other people's brands" and wanted to create something of his own. Whiting was a marketing manager at Muscle Food and similarly keen to embark on a new venture.
So they came up with the premise of The Skinny Food Co: a range of sugar-free, zero-calorie sauces and syrups. "In our family, every Saturday we had pancakes and ice cream," explains Starkey. "It was a case of, you can still enjoy these foods in moderation but don't go that final mile, which is putting all these sugars on top."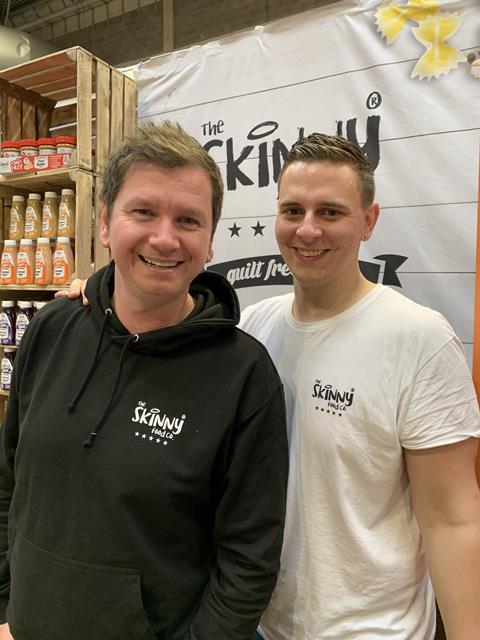 Finding the right recipe was surprisingly simple. Water is a key ingredient – making up "over 90%" of its syrups – and sucralose provides the sweetness. The rest is a "secret recipe", devised in partnership with a nutritionist. The pair insist there is no compromise on taste – something that has earned the brand a strong social media following. (At last count, it had over 416,000 Facebook followers and 364,000 on Instagram.)
Whiting's marketing background proved useful in getting those numbers up. At the start, the brand built its social media profile without any budget, through the use of hashtags, timed posts, indulgent-looking recipe ideas and gifting products to influencers.
Trade shows were another key tool in getting the brand off the ground, in that buyers could taste the products for themselves. The novelty of the premise meant it didn't have to work too hard to attract attention. "We knew we were going to create this frenzy. And that's what happened," recalls Starkey. "The supermarkets saw all the other stands like Alpro and Heinz and Hellmann's, and it was all a bit boring. So they came to us."
The listings naturally followed. The Skinny Food Co landed its first major retailer – Spar – at the end of year one. Morrisons followed shortly afterwards. It's since built up a heavy presence in discounters such as B&M. "The discounters do 15 to 30 days payment terms with no fines and that works for us," says Starkey.
Still, the major mults remain very much on its radar. "Asda reached out to us recently," Starkey reveals, which he attributes partly to the changing environment around sugary foods. "With HFSS restrictions coming in next year, we're in a good position."
This good position is undoubtedly what has inspired its latest spate of NPD, designed to replace HFSS foods. It has just launched low-calorie, reduced-sugar Chocoholic Drops, which bear more than a passing resemblance to Smarties. Then there are its Skinny Malts, clearly positioned as a lower-sugar Maltesers.
Names: Wayne Starkey and James Whiting
Ages: 42 (Wayne) and 30 (James)
Family: Wayne lives with his partner Rebecca and two children. James also has two children, with partner, Gemma
Business mantra: "Surround yourself with good people and understand that you will fail, but that every failure is a stepping stone. If you've got the passion, hunger and drive you'll make it happen!"
Career highlights: James was named in the Forbes '30 Under 30' list this year; both were invited on to Dragons' Den twice
Career mistake: "Trying to control too much. There are only so many things you can do as a pair and by recruiting staff when the time is right, and delegating, it actually provides the opportunity to grow and focus on doing everything well, as well as the things you enjoy most."
Favourite film: Shaun of the Dead (Wayne) and Joker (James)
Death row meal: Nando's (Wayne), Domino's (James)
Staying creative
This innovation pipeline is down to the company's focus on "always being creative and bringing new products to market". Having started out in syrups and sauces, Skinny now boasts 222 products spanning 22 categories, including snack bars, jams and cocktail mixes. Turnaround times for NPD are typically tight.
"Take the syrups. There are 47 and we can turn around a new flavour in eight weeks from trial all the way through to testing and packaging," says Starkey. But "for a new product like the Skinny Bar, we've been working on it for about two years because we wanted to make sure it was right."
NPD is just one way the pair are looking to grow the brand. International expansion is another area of focus. The pair acknowledge changing attitudes towards food and health in the UK – "you only need to look at what Joe Wicks has done, and even Jamie Oliver" – have aided sales of its products. The same is happening in other major markets, they point out. Already, they are exploring growth in 11 other countries, including France and Poland. But ultimately, their eye is on bigger territories such as the US, Australia and even China. Whiting highlights there are an estimated 113 million people living with diabetes in China, making it a ripe market for The Skinny Co's low and no sugar premise.
Getting set up there is clearly easier said than done, though. That's why at one point, the pair were considering outside investment. Having turned down the opportunity to appear on Dragons' Den twice – "at that stage our cashflow was really healthy" – they appointed PwC to seek potential investment last month. Starkey and Whiting have now decided against going down that route, but still have big ambitions.
Indeed, Starkey reveals Skinny had to turn down Walmart because it couldn't meet the high volumes required. "Those contacts at Walmart are still sat there," he adds. "So it's exciting times, the next two years."
And if it really can crack the US and China, those comparisons with Heinz may soon be justified.