Waitrose's customer director Nathan Ansell on how he's reviving its fortunes through 'bold' marketing, value for money, and a revitalised loyalty scheme
Nathan Ansell talks about Waitrose as if it's a challenger brand, not a 119-year-old business with 392 stores and a reputation as one of Britain's most beloved grocers. "I only work for brands I believe in," Waitrose's 42-year-old customer director tells The Grocer. "I know this brand has phenomenal potential."
The word 'potential' is perhaps a diplomatic way of admitting that Waitrose – and the wider John Lewis Partnership – has struggled through years of market share decline, under-investment in stores and sporadic availability issues. But it's also a reflection of how Ansell intends to approach his role.
It was a chance to work for a brand that stood for something "behind the scenes", after two years as a sustainability consultant, that tempted the former M&S exec back to retail. "We spend a lot of time, energy and resources making sure we're number one for animal welfare, and that's something I really want our customers to be aware of," he says.
Ansell believes Waitrose's recent struggles stem from a lack of confidence in the strengths of the partnership, and identifies the need to be more "bold" in how it talks to customers.
New signage featuring the slogans 'New lower prices' and 'No compromise' that adorn the King's Cross store in which The Grocer meets Ansell are early examples aiming to remedy this.
The 2023 Christmas ad is the most recent example of the new "modern twist" to its marketing efforts. The concept of a party "being saved by the food" is an intentional, slightly comical, step away from the supply chain and product-heavy offerings of the past couple of years, Ansell says.
"A bit more playful, a bit fun, energetic. Those are the sorts of words I would use to describe the Waitrose brand as it will be going forward," he adds.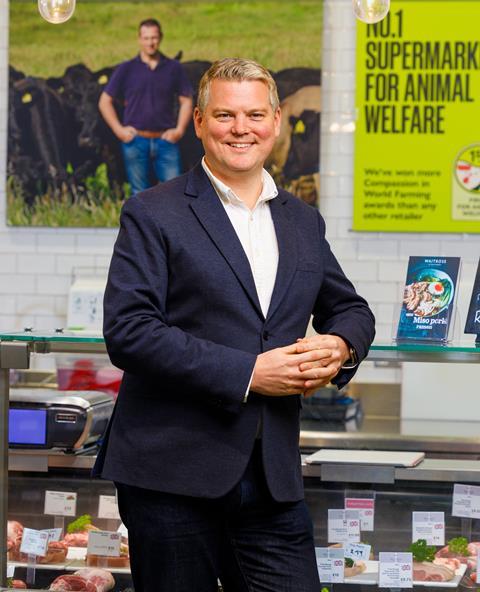 Potted CV: Red Bull; Heinz (various brand management); Birds Eye Iglo (brand and commercial); M&S (marketing, digital and data); House 337 (executive director, ethical commerce); Waitrose (customer director).
Family: Married to Alicja; two children, Jan (6) and Maja (5).
Interests: Travel, skiing, rugby, kayaking.
Business/life mantra: Work hard, be kind, do what you love.
Best decision you made: Joining the Red Bull Student Brand Manager programme.
Favourite book: A Vision of the Brain by Semir Zeki.
Favourite album: Only by the Night by Kings of Leon.
Favourite film: Gladiator.
Favourite food: Placki po węgiersku (potato rosti with beef goulash).
Favourite Waitrose product: No.1 Dry Aged Côte de Boeuf.
Favourite Waitrose Christmas product: Deer-licious Sticky Toffee Pudding.
Customer alignment with commercial
Shouting more about what Waitrose is good at, albeit in a different way, is one thing. But it was the supermarket's stubbornness in doubling down on its quality credentials during the early stages of the cost of living crisis, rather than leaning into price and value, that was seen as a major cause of its declining fortunes.
In an increasingly price-conscious market, some might term it unrealistic to still believe Waitrose can compete on the strength of its values. Yet Ansell insists the "tactical" repositioning has been backed up with some strategic structural moves.
His customer team is now much more closely aligned with the commercial team, to ensure they are planning campaigns around new products much further in advance. It has also expanded, including the addition of former Diageo sales manager Wendy Rumble, who was appointed to the new role of head of customer planning and events in September.
"We're really clear about what defines the future of customer experience for the brand"
This will include a "greater focus on value for money". It also involves improving the "omnichannel" customer experience – which includes July's rapid delivery partnership with Uber Eats – and a renewed commitment to its deli counters.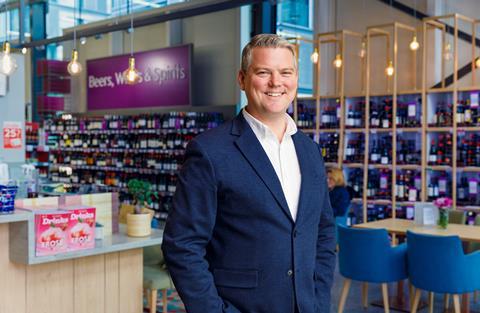 Perhaps the most significant part of the "jigsaw puzzle", as Ansell terms it, will be overhauling Waitrose's stuttering loyalty proposition MyWaitrose, which has been beset by complaints about a lack of personalisation, lack of value and short offer timeframes since its relaunch in 2022.
It's here Ansell has particular heft. During a near 10-year spell at M&S, he led the successful digital relaunch of the Sparks loyalty programme.
Now, together with John Lewis customer director Charlotte Lock and recently appointed pan-partnership head of loyalty Emily Wells, Ansell is working to develop what will be JLP's first partnership-wide loyalty scheme, set to go live in 2024.
"If we can combine the power of the two brands, that presents us with a huge opportunity.

An opportunity other grocery retailers don't have."
A strategic partnership signed with Dunnhumby and Eagle Eye has already enabled Waitrose to improve its personalisation of offers, while popular benefits such as one free coffee a day with any purchase, as well as exclusive discounts for loyalty members, will also likely feature in the new version of the scheme.
Ansell admits there's still "a lot of work to do", but there are causes for optimism.
Waitrose attracted 800,000 new customers over the past year, he says. Operating profit also grew to £504.4m from £431.7m during the first half of the financial year to July. However, the 4% increase in sales was driven by food inflation.
But that's fine with Ansell. "I don't think too much about what's gone on in the past," he says. "I'm kind of restlessly dissatisfied at times, because you've got to keep things moving but also be incredibly optimistic about the future."