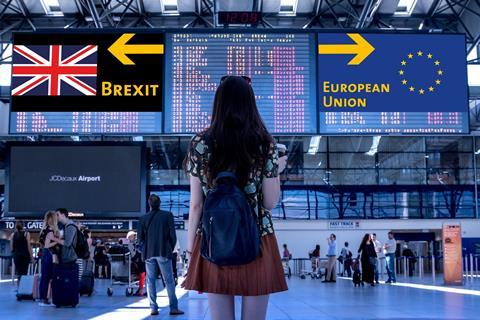 The government has confirmed it is delaying its post-Brexit border strategy for a fifth time amid fears it would drive inflation.
Defra ministers said they were pushing back the original October 2023 deadline for the introduction of border controls on EU food imports to January 2024.
The three-month delay would allow businesses more time to prepare for the new requirements, which include vet-signed health certificates on meat and dairy products, the government said.
The proposed January 2024 timeline for physical border checks on medium and high-risk food goods is also being postponed to April 2024, after the busy Easter period.
The move came after government "listened to the views of industry", which has for months warned that the post-Brexit requirements on import goods would bring additional costs to businesses and push up food prices.
British producers have faced similar requirements when exporting to the EU since the UK officially left the bloc at the start of 2021.
The UK government has repeatedly delayed the introduction of such border controls over the past two years for a multitude of reasons, including political instability and Covid-19.
The latest postponement also represented a public acknowledgement from ministers that Brexit "is making our lives more expensive", said Kamil Shah, founder of My Olive Branch, a Mediterranean goods wholesaler in the UK.
"With food price inflation at the forefront of people's minds, I think the government knows now that there needs to be a closer alignment with the European Union.
"However, given that Brexit still hangs on a political cliff edge, I don't anticipate any moves in this direction until after the next election. In the short term, I wouldn't be surprised if the implementation of full border checks continues to be delayed."
Ministers said they had been "mindful of the small potential impact" of the Border Target Operating Model on inflation and had taken into account Rishi Sunak's "firm commitment to bring the rate down".
The estimated impact of the BTOM on headline inflation was "expected to be minor, standing at less than 0.2% across three years", Defra added.
Border Target Operating Model confirmed deadlines:
o 31 January 2024 The introduction of health certification on imports of medium risk animal products, plants, plant products and high-risk food (and feed) of non-animal origin from the EU.
o 30 April 2024 The introduction of documentary and risk-based identity and physical checks on medium-risk animal products, plants, plant products and high-risk food (and feed) of non-animal origin from the EU. At this point Imports of Sanitary and Phytosanitary goods from the rest of the world will begin to benefit from the new risk-based model.
o 31 October 2024 Safety and security declarations for EU imports will come into force from 31 October 2024. Alongside this, we will introduce a reduced dataset for imports.
Fresh Produce Consortium CEO Nigel Jenney, who has been vocal about the costs of the proposed border strategy on fresh food importers, said he welcomed the BTOM implementation delay.
"It's clear government has acted upon our concerns and will now implement a unique border approach for the benefit of consumers and industry.
"This focused risk-based approach will reinforce UK biosecurity and promote self-regulation to minimise supply chain disruption."
Jenney added: "Let's be clear, challenges remain. However, this is a bold step forward to achieve our ambition to become a world-leading destination of choice promoting imports and exports of fantastic fresh produce, and flowers and plants."
Logistics UK head of trade Nichola Mallon added: "Logistics UK is studying this final model carefully to see if it addresses the concerns expressed by our members and contains the level of operational detail and assurances they, and their EU suppliers, need to make the changes required in that timeframe.
"Government needs to provide certainty for business on all the details of the new Border Operating Model, and a workable timeline which will allow sufficient planning and implementation time for those responsible for the UK's supply chain.
"After so much time, and so many delays, logistics businesses are losing confidence in the government's ability to provide workable solutions to enable the new trading arrangements to be implemented."
The government has claimed the BTOM will save businesses around £520m per year compared with the original import model that would have been introduced in 2022.
It also helps to address some of the "commercial disadvantages" that UK businesses have been facing compared with their European rivals, said the Institute of Export & International Trade director general Marco Forgione.
Brexit border checks: government confirms further delays
1

Currently reading

Brexit border checks: government confirms further delays

2