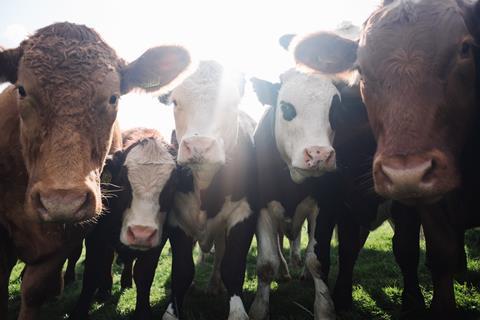 Food industry leaders are in urgent talks with government this month over the looming vet crisis facing food exports at the end of the year.
All animal products sold to the EU from 1 January will require an export health certificate signed off by an official veterinarian under the strict hygiene laws set by Brussels.
The UK government has forecasted a five-fold increase in the required number of certificates next year and doubled the number of certified vets in preparation.
But many are concerned there is still a severe shortfall in capacity, which will leave the £2.7bn of meat and dairy sales to the EU each year vulnerable to disruption.
The issue has been raised with government officials at the Food Resilience Industry Forum, attended by about 200 senior food figures and government officials, as well at a logistics roundtable discussion hosted by cabinet minister Michael Gove last month.
There are also plans to hold a 'deep dive' session to discuss the issue with Defra officials in the coming weeks, and the British Veterinary Association will meet Defra minister Zac Goldsmith later this month.
Shane Brennan, CEO of the Cold Chain Federation, is co-ordinating the industry's discussions with government, but remains concerned over its approach in addressing the shortage.
"This will probably be the single biggest cause of disruption at the border on 1 January," he said. "But it's clear that there just isn't any kind of plan here."
Health certificates for non-EU exports must currently be signed off at the production site. However, a recent paper by the BVA and the Veterinary Public Health Association made clear that a lack of certified vets meant the sector was "totally unprepared" for this to be extended to EU sales.
The paper proposed alternative solutions including centralised 'clearing houses' for veterinary sign-off, and additional vet capacity to be brought in from abroad. None of these have yet been implemented, said James Russell, president of the BVA, with the sector still uncertain on how to prepare.
"We are rapidly approaching the end of the year and we still don't know what happens next," he said.
"There is a real question mark," agreed one senior food industry source. "In fact there are any number of questions. First, where will the vets be? Which vets have they managed to secure? How many are there? Are they there 24/7? Do they know what they're doing? Have they been given instructions? And when will they be deployed? None of these questions have answers right now."
But regardless of whether the questions find answers by the end of the year, some believe the time left is too short and disruption is now inevitable. "I don't see how this can be solved between now and the end of the year," said Peter Hardwick, trade policy advisor at the British Meat Processors Association.
A Defra spokesman said it was "working closely with vets and food producers to ensure they are ready for the UK's new chapter".
"This includes establishing a new online application service for export health certificates and launching a £300,000 training fund for vets and local authority officials to prepare for the end of the transition period."