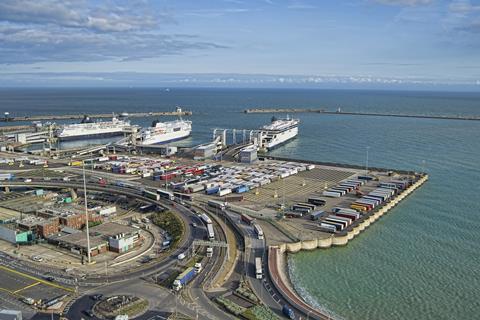 Supermarket food supplies through Dover and Calais face a 20% reduction in capacity even in the best-case scenario if there is a no-deal Brexit, MPs were told today.

Karen Wheeler, the woman who was in charge of Brexit border delivery at HMRC until June, revealed that because of hold-ups anticipated in Calais in the event of the UK crashing out without a deal on 31 October, thousands of trucks faced being stuck in major queues in Kent.

The BRC told MPs on the Exiting the European Union Committee the gridlock would trap large numbers of empty lorries travelling back to Europe to pick up supplies for supermarkets, as well as trucks carrying exports to EU countries.

The warning came despite Chancellor of the Duchy of Lancaster Michael Gove yesterday trying to play down leaks from the government's Operation Yellowhammer, which predicted capacity at the ports would crash to as low as 40%-60% of current levels.

Gove, who has claimed there would be no shortages of fresh food in the event of no-deal, yesterday claimed Boris Johnson's government had put measures in place to tackle hold-ups. These included £16m revealed yesterday for new customs experts and £20m for facilities in Kent to help handle freight traffic.

However, Wheeler, who was in charge of providing the predictions on port impact to Yellowhammer before her retirement in the summer, today told the committee that even the most optimistic scenario HMRC had produced had predicted long delays to the supply chain because of the checks expected to be introduced by French customs at Calais.
"Yellowhammer was based on a reasonable worst-chance scenario," she said. "It means it would stand a significant chance of happening but was not likely."

Asked what the best-case scenario was, she said: "It might get up to 70%-80% [of current levels] but even in this case there would still be delays."

Wheeler said despite the UK's plans to allow trucks into the UK without food and safety checks for at least six months after a no-deal, French customs checks were expected to lead to thousands of trucks facing delays of up to eight hours to get through Calais. She said it would inevitably mean queues to the ports in Kent.

Andrew Opie, the BRC's head of food policy, told the committee: "It doesn't matter if this is one side or the other side of the Channel. If you have trucks held up there is going to be a problem."

He added: "There will be disruption to fresh food. It will affect availability, shelf life and prices."

Yesterday the government announced thousands of customs experts would be trained and businesses supported for trading post-Brexit with a £16m cash injection.

It said the new funding would be available to help businesses train staff in making customs declarations, and to help businesses who support others to trade goods and invest in IT.
It said further money would ensure that trade with the EU continued as smoothly as possible after Brexit on 31 October.

However, a senior retailer told The Grocer: "There is a desperate shortage of customs agents.

"The £17m is a good thing but, with six weeks to go before Brexit, is probably going to be too little too late."

Retail and logistics leaders have warned the government UK companies face a huge red tape challenge to prepare for a no-deal, despite businesses ramping up their efforts since a no-deal began to appear like the most likely outcome,

Wheeler said that at the time she left in June, 70,000 out of 145,0000 businesses exporting from the UK had not got even got an Economic Operator Registration and Identification (EORI) number, the most basic requirement of trading with the EU.

MPs on the committee were told there were still major issues with paperwork facing truck deliveries, despite efforts by businesses and the government to ramp up preparedness. This included the launch of the government's 'Get Ready for Brexit' campaign this week, which it has billed as its biggest-ever government public information campaign.