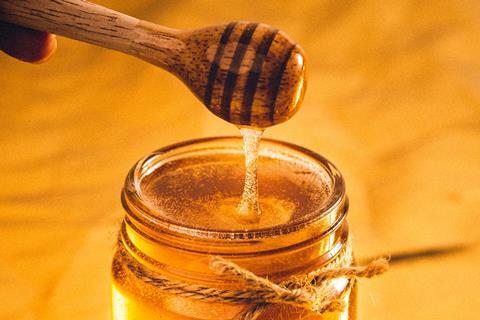 A UK honey exporter is within weeks of closure as hauliers refuse to transport its small loads to the EU due to post-Brexit red tape.
The issues are largely driven by groupage – the consolidation of small loads into a single lorry – in which paperwork errors on one load can end up delaying an entire truck's worth of goods.
Family Foods has asked more than 25 haulage companies to ship two pallets to Europe in recent weeks yet every one has rejected its requests.
The company will be shut within four to eight weeks if it continues as the EU makes up around 70% of its sales, said director Andrew Thain. He bemoaned a lack of government support in easing the barriers facing small companies in particular.
"It's really emotional seeing your business crumble around you and the government doing nothing to help," he said. "We just need a solution. We don't care what it looks like but at the moment we can't ship anything to Europe which is unacceptable."
While much has been made of the new post-Brexit bureaucracy – a BMPA report out this week showed it is now a 23-step process to send a pork chop to Paris – Thain said the paperwork is "doable… the issue is finding anyone to take it."
Small food producers have been "shut out" of sending produce to the EU since Brexit, according to trade analysis by the FDF this week. It showed food exports collapsed in January with salmon and beef exports almost stopping completely – down by 98% and 92% respectively.
Anton Guntar, MD at freight forwarders Global Freight, said it was "an absolute disgrace" that willing exporters were unable ship their goods, and blamed the "laziness" of large international hauliers for not pursuing potential solutions.
"These big, large hauliers have the resources to be able to sort this out," he said. "I think it's time they got their head out from the backsides and help the smaller guys. They're only interested in the big contracts and the easy freight."
Guntar is working with other exporters facing the same issue, but even when they offered to pay more to cover the potential disruption, many hauliers still rejected their loads.
A Lords committee said this week it was "dismayed" at the "high trade frictions" now facing agri-food exports, and Rod McKenzie, MD of policy & public affairs at the Road Haulage Association, suggested such barriers are pushing hauliers to favour the simpler jobs.
"This work isn't being taken on because hauliers and freight forwarders think it's too much faff," he said. "They can do other jobs which are much less stressful and less bureaucratic elsewhere. Not travelling to Europe, for example."
Many in the industry are pushing for the UK to reach a veterinary agreement with the EU that could dramatically reduce the number of SPS checks on food heading to the EU and Northern Ireland. George Eustice publicly backed the plans last month, however it is understood that has been little further progress.
John Davidson, strategy and external relations director at Scotland Food & Drink, called on both sides to show some urgency in addressing the problems. "They need to get going and inject some pace into these talks."
A Defra spokesman said the government is providing a range of support to help businesses adjust to the new trading arrangements and it is "pleased to see the majority of businesses adapting well to the new requirements".
"We are liaising with the European Commission, EU member states and GB hauliers to look at what further guidance can be developed to aid exporters of single pallets. We have developed a new groupage model across the agri-food sector that will help to alleviate some of the difficulties smaller businesses have faced with transitioning to these export arrangements."