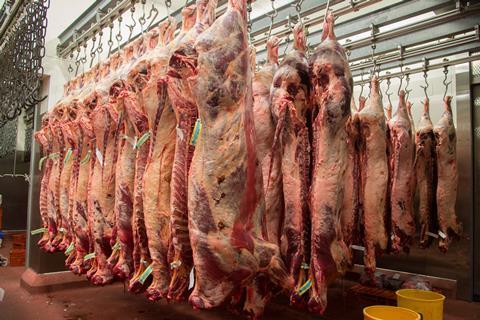 The UK's entire meat supply chain could grind to a halt unless the government urgently secures EU access for animal byproducts, processors have warned.

Currently, renderers collect unwanted animal byproducts such as tallow, hides, skins and processed animal protein (PAP) from abattoirs, much of which is exported to the EU.

However, a failure by the government to achieve third country listed status for the UK means animal byproduct shipments to the EU would not be allowed in the event of a no-deal.

This would "clog up the entire supply chain", warned British Meat Processors Association CEO Nick Allen.

Meat processors and abattoirs depend on collections by renderers on a weekly and even daily basis, he added. "If they can't get rid of this product, plants could just shut down."
Plant shutdowns
Renderer trade body the Foodchain & Biomass Renewables Association (Fabra) has warned there would be "significant disruption to access into European markets for PAP and tallow" in the event of a no-deal. It called on the government to secure third country status and open up new export markets for animal byproducts.

The situation hadn't been so severe since the early 1990s, when the BSE crisis last cut off byproduct exports to Europe, warned a livestock sector source. At that time, the crisis eventually prompted the government to step in with financial assistance for the rendering sector.
Minutes of a meeting between industry stakeholders and Defra last month, seen by The Grocer, warned current storage capacity for PAPs in the UK stood at just six weeks, falling to three at the most for fats.

Unless solutions were identified to enable trade of byproducts to continue, the rendering sector would be 'unable to maintain its current service arrangements for collecting', it warned.

Slaughterhouses would be 'unable to continue slaughtering and uncollected animal byproduct will quickly decompose into a putrid mess, with odour and wider disease implications'.

Animals due for slaughter would also need to be kept back on farms 'creating overcrowding, animal welfare issues, disease risk and loss of revenue for farmers', it said, leading to the potential for food shortages, business closures and job losses.

The issue had been on Defra's agenda since before the original March Brexit deadline, said the BMPA's Allen.
Listed status
But Defra has yet to apply for third country listed status - despite the process taking as long as six months to secure, it confirmed this week.

A spokesman insisted the government was "confident" the UK met the requirements of third country listing but admitted the EU would need to vote again on the matter.

The byproducts issue only arises if there is a no-deal; if the UK secures a withdrawal agreement, it's business as usual, industry sources said. However, while the prospect of a no-deal became less likely this week following an intervention by parliament, uncertainty remains and the meat industry continues to be on high alert.

Concerns have also been raised over a continuing shortage of vets and a lack of progress on developing a post-Brexit health mark for UK food exports, including meat.

This prompted the House of Lords EU Energy and Environment Sub-Committee to write to environment secretary Theresa Villiers on Thursday to ask for 'more detail' on the no-deal preparations of Defra.
A Defra spokesman said the government "fully recognises meat renderers' concerns as we prepare to leave the EU". He added: "That is why we have been working closely with Fabra and the rendering industry to support their contingency planning."