Britain's Biggest Brands isn't all about those at the top. These brands may not have made it into the official top 100 ranking, but they are racking up growth that anyone would envy. All data below is Nielsen, 52 w/e 29 December 2018.

1. Good Boy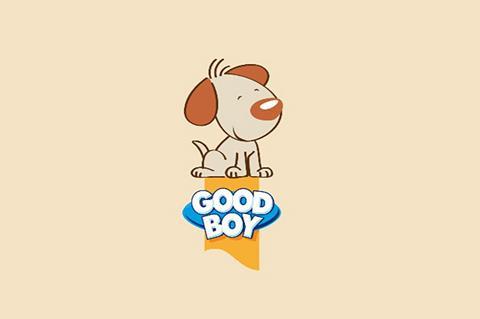 Sales: £74.1m (+33.8%)
The growing popularity of dog treats proved a winning formula for Armitage Pet Care's Good Boy, up £18.7m. Part of this figure was down to a 6.9% rise in average price, driven by the introduction of larger value packs. But rising unit sales were the real driving factor. Its raft of snacks tapped pet owners' demand for natural, functional and vegetarian options, seeing an extra 5.8 million units pass through grocery tills. Extra listings across the mults for regular and festive lines helped. This success story wasn't just limited to food – its toys won plenty of shelf space, too.
2. Cushelle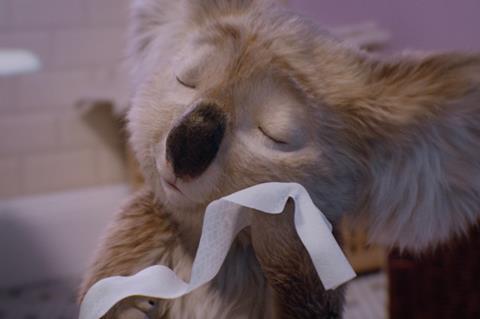 Sales: £80.6m (+25.0%)
A consumer appetite for premium products alongside innovation, manufacturing and distribution boosts made 2018 a stellar year for Cushelle. It gained £16.1m with a 16.4% boost to its volumes.
Its new Quilted toilet paper was a crucial factor. The premium product gained its first listing in January 2018, in the same month owner Essity re-opened a site in Skelmersdale, Lancashire, in a £12m spend to hike capacity.
Quilted has attracted over three million new shoppers, according to Essity, supported by a national TV campaign.
3. Graze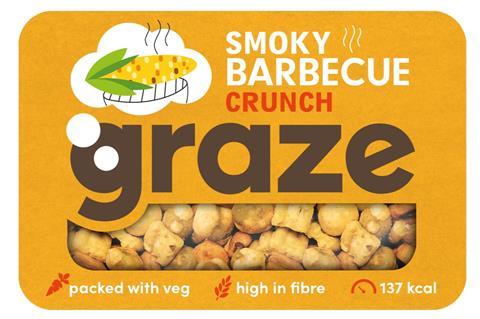 Sales: £85.6m (+19.9%)
No wonder Graze took Unilever's fancy with growth like this (£14.2m). "All our categories are in growth," says head of brand Cristina Loaiza, who points to retailer partnerships as a key driver.
Graze partnered with Sainsbury's for Comic Relief activity this month and has increased listings in Asda and Morrisons.
Loaiza highlights the new Oat Millionaire trio as strong sellers. "We'll be looking to launch new flavours in existing categories and new occasions in cereal bars," she adds. It can't be long before Graze enters the top 100.
4. Häagen Dazs
Sales: £79.7m (+19.2%)
New flavours, formats and a summer marketing campaign resulted in scorching growth for Häagen-Dazs. Its £12.8m gain was second only to Magnum (36) in ice cream.
The brand attributes much of this gain to increasing its relevance with millennial shoppers, with its new Instagram-friendly look and permissible launches like the Mini Cups range. Keen to continue momentum, it has launched a coffee shop-inspired Barista variant to its Mini Cups alongside new Gelato Cups, its first foray into low-cal ice cream.
5. Charlie Bigham's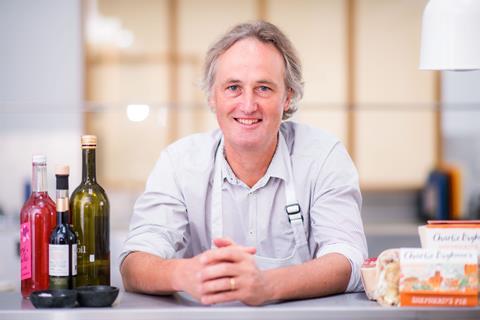 Sales: £70.6m (+21.1%)
It's been another bumper year for posh ready meal brand Charlie Bigham's, which reached a million households for the first time in 2018.
The "quintessentially British" brand has overcome snobbery around ready meals to carve out a niche with foodies, sending sales up £12.3m on volumes up 21.6%. All of which was helped by a packaging redesign highlighting its use of fresh ingredients, and a tongue-in-cheek out-of-home marketing campaign that had a dig at the quality of its rivals.
6. Starbucks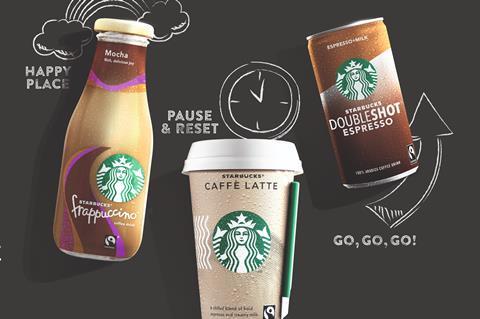 Sales: £62.1m (+22.6%)
Britain's appetite for iced coffee is on the up, with last summer's scorching weather helping propel sales to new heights. Starbucks is leading the charge with an £11.4m gain.
That was fuelled by plenty of grocery innovations inspired by its popular coffee shop products. The brand – made and distributed by Arla in the UK – has added two new variants under its Starbucks Doubleshot lineup: No Added Sugar and Espresso Black, as well as Starbucks Almond, to tap the fast-growing demand for all things plant-based.
7. Happy Egg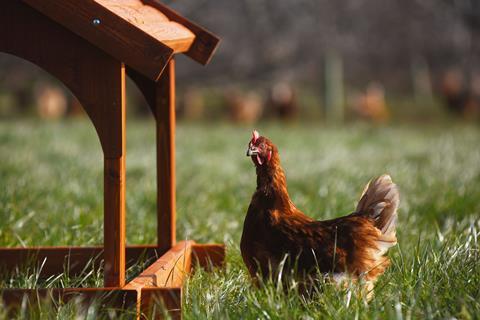 Sales: £73.7m (+16.5%)
Happy Egg marked 2018 with a host of NPD, ranging from sandwich fillers to liquid egg whites and microwaveable scramble pots.
It's all part of a strategy to make eggs part of consumers' busy lifestyles, while cementing their status as a "natural source of goodness", says category & marketing director at Noble Foods Stuart Agnew.
The strategy seems to be paying off. Sales are up £10.4m and volumes are up 17.8%, which Happy Egg also attributes to consumers "trading up from caged to free-range, and free-range to branded".
8. Vimto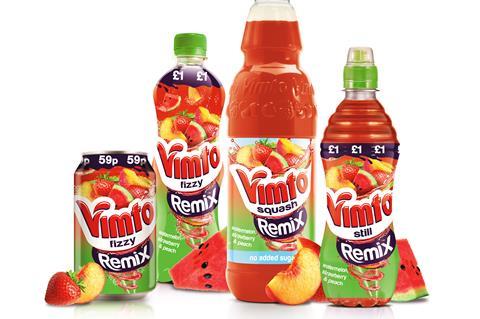 Sales: £91.8m (+12.5%)
Vimto's £10.2m gain is notable because it's not just down to the effects of the sugar tax.
While nearly every other soft drink on the list had its value sales bolstered by the resulting price hikes, Vimto volumes grew almost as quickly as its value. They're up 11.3% to 71.2 million units, boosted by its new sugar-free 'Remix' NPD and the brand's 'biggest-ever' ad campaign to coincide with its 110th anniversary.
The first ad of the campaign in June was timed to air during the premiere of Love Island – ITV2's most watched show ever.
9. Nature Valley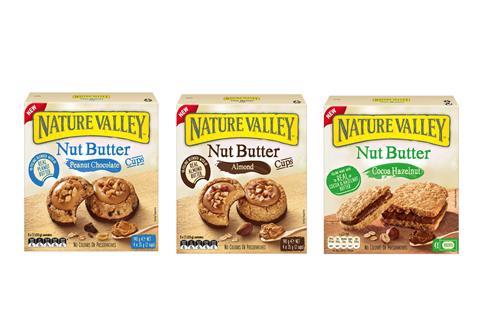 Sales: £56.6m (+19.6%)
The top 100 is still a way off (£38m) for Nature Valley, but a future debut isn't out of the question. It's grown £9.3m this year alone.
NPD can take much of the credit. Its nut butter breakfast bar has taken a bite out of Belvita's sales, while its protein bar is well placed to capitalise on the growing healthy snacking trend.
Impulse listings will be crucial to future growth, says marketing manager Kat Jones. "Consumers are making healthier choices and switching out of confectionery and this is fuelling our rise."
10. Energizer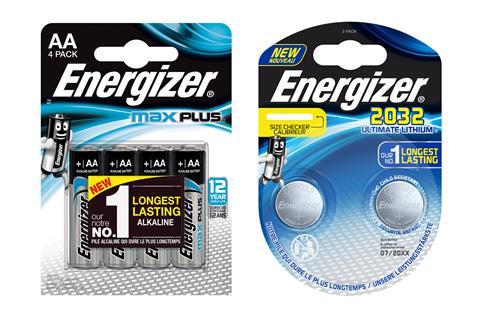 Sales: £57.7m (+14.1%)
Energizer sold an extra 787,000 packs (6.2%) through the supers as Duracell (74) saw value go flat and volumes drain. Innovation, fierce promotions, marketing and larger packs are driving performance, with the launches of Max Plus and Ultimate Lithium Coin key moments.
Lithium coins are set to be especially crucial in the future. "There will be a demand of 420 million batteries for smart homes and 635 million batteries for smart health devices by 2020," says senior brand manager Narbeh Hacobian.
11. Freshways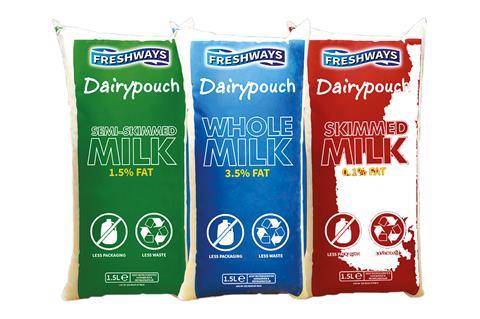 Sales: £60.5m (+11.9%)
Britain's largest independently owned liquid milk processor saw sales climb £6.4m last year, buoyed by the success of its milk pouches and an increase in direct-to-store milk deliveries.
The West London-based supplier also won major new contracts to supply milk to 2,500 Costa shops and 700 Starbucks outlets. These deals mean Freshways now delivers direct to almost 8,000 sites, including retailers and foodservice operators. "We now class ourselves as a national dairy supplier," says MD Bali Nijjar.
12. Clover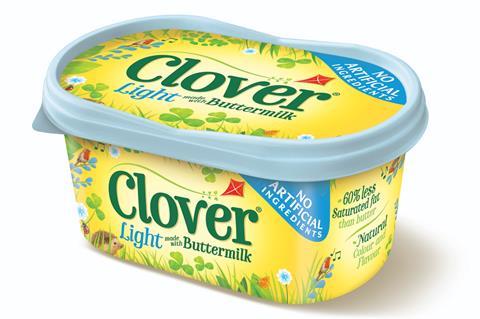 Sales: £73.0m (+9.3%)
While Cathedral City's continuing success has hogged the headlines, Dairy Crest stablemate Clover has slowly recovered its mojo since ditching artificial ingredients in 2015.
Despite the general decline in spread sales, Clover delivered a £6.2m increase in sales last year, with volumes up 7.6%.
Last August, the brand reformulated its Clover Light variant with the same no-artificial-ingredient strategy as standard Clover. As a result, its low-fat variant increased its buttermilk content from 16% to 40%.
13. Nutella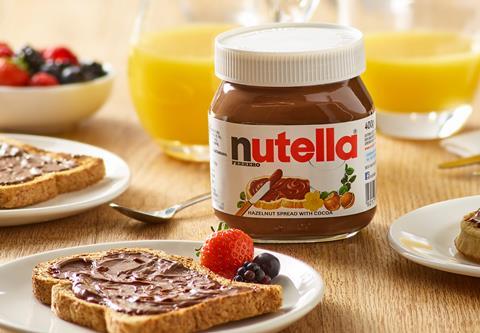 Sales: £69.0m (+5.8%)
Healthy nut butters may be fuelling growth in spreads, but that hasn't dented the ongoing popularity of Nutella. It sold an extra two million units last year (7.1%) and resisted increased commodity costs too, with average price virtually static. Keen to keep moving, it has diversified with wafer sandwich B-Ready – already worth over £15m in its own right – and experimented with a new Nutella café in New York. It isn't invincible though, as proven by the suspension of production at its French plant in February.
14. Goodfella's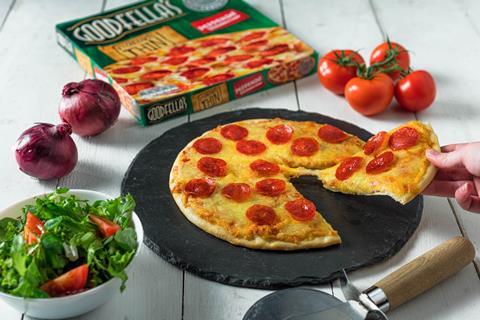 Sales: £75.0m (+4.8%)
It's been a tasty year for Goodfella's, which climbs six places via a £3.4m jump in sales. That's driven entirely by price; volumes are down 1.7%. The value increase is thanks in part to the launch of a five-strong range of 'premium' Romano stone-baked pizzas, priced at £2.50.
New owner Nomad Foods, which snapped up the brand for £200m from 2 Sisters in June, plans to take a bigger slice of the pizza market from April by revamping the Goodfella's range, including plans to load more cheese onto its pizzas.
15. San Pellegrino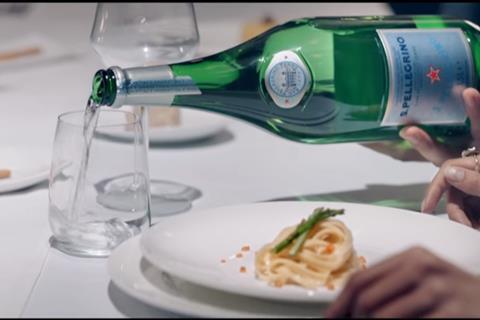 Sales: £65.0m (+5.5%)
Sparkling water sales are bubbling away nicely at the moment, helping San Pellegrino net an extra £3.4m and shift an additional 1.2 million bottles. This effervescence isn't just down to favourable market conditions, though. Much of San Pellegrino's growth came from its focus on building distribution for its plain sparkling multipacks, says the brand, which drove up take-home penetration 14.7%. The brand also sponsored the Baftas for the second year running, and is set to do so again in 2019.