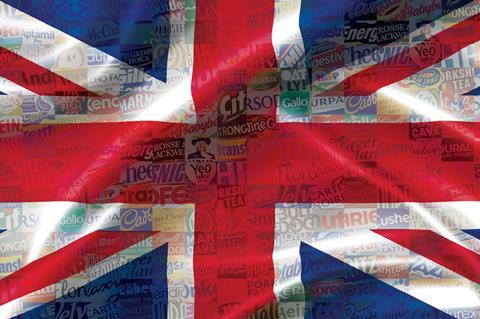 Soft drink and snack brands were the biggest drivers of growth in this year's Britain's Biggest Brands. Here are the 10 that made the largest absolute gains in 2018, from Coca-Cola to Maltesers. All data below is Nielsen, 52 w/e 29 December 2018.
1. Coca-Cola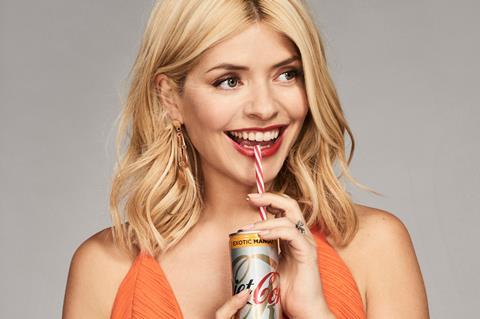 Sales: £1,279.1m (+£138.0m)
A solid strategy helped Coke's value soar over 12% this year. Yes, this sum was somewhat distorted by the sugar tax. Higher prices meant value rose far faster than volume, which climbed 2.7%.
But the extra 20.8 million units sold indicates just how well Coca-Cola has adapted to the backlash against sugar. That has meant accepting a decline in classic Coke, whose volumes fell 6.4% to 395 million units. By contrast, Coca-Cola Zero Sugar soared an eye-watering 47.1% to £213.8m, and Diet Coke climbed 10.8% to £465.6m.
The success of these lower-sugar brands is partly down to flavour innovation. Diet Coke Exotic Mango, Diet Coke Feisty Cherry and Coke Zero Sugar Peach have amassed a combined £25m in retail sales in less than a year, inspiring the launch of new flavours Diet Coke Twisted Strawberry and Coca-Cola Zero Sugar Raspberry in January.
2. Pepsi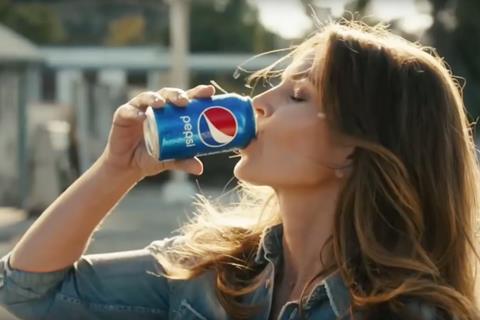 Sales: £536.3m (+£62.3m)
Another brand reaping the benefits of a strong sugar-free proposition is Pepsi. Its £62m increase was driven by a whopping £72.5m gain in sales of Pepsi Max. That makes it faster-growing than arch rival Coke Zero, which amassed an extra £68m.
Diet Pepsi also grew its sales by a respectable 9%. But, given the current distaste for sugary fizz, it will come as no surprise standard Pepsi actually lost £16.3m. It's now worth £98m – less than a third of Pepsi Max, which stands at £360.2m. Still, having a strong sugar-free brand is a sweet place to be in right now.
3. Fever-Tree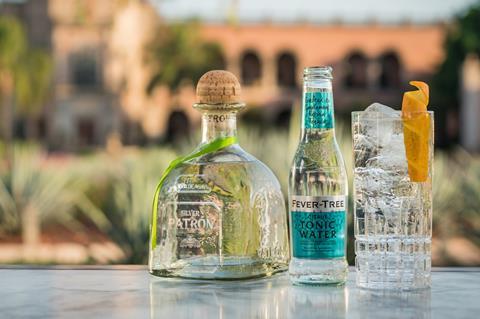 Sales: £118.7m (+£41.9m)
The over £40m growth in Fever-Tree is even more astounding considering it wasn't even in our top 100 brands last year. It now stands at number 69 in our ranking, having shifted an extra 17.7 million units. And that's just in Britain. This week's annual results show the brand is going down a storm overseas, too. Global sales rose 40% to £237.4 million over the past year as Fever-Tree targets markets such as continental Europe and the US. Considering UK gin exports are also booming – up 15% to reach £614m in 2018, according to FDF figures – it could well be onto a winner.
4. Walkers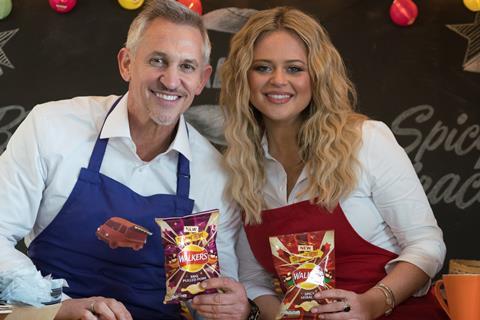 Sales: £977.8m (+£37.7m)
You could be forgiven for assuming this £37.7m gain was down to price hikes. After all, The Grocer reported in February the brand had resorted to shrinkflation of its large multipacks to mitigate the effects of last summer's poor potato harvest.
In fact, the uplift was achieved without any changes to average prices. Walkers managed to shift a whopping 30.5 million additional units, largely thanks to a pipeline of insight-led NPD.
The standout success story is Walkers Max, which has shot up to £61.1m as it targets the previously "untapped opportunity" of the "social sharing occasion".
On the other side of the coin, Walkers edged further into healthy snacking with the launch of Poppables in May. Already tried and tested in the US market, the "light and airy" potato snack achieved £7m in sales in its first eight months alone.
5. Maltesers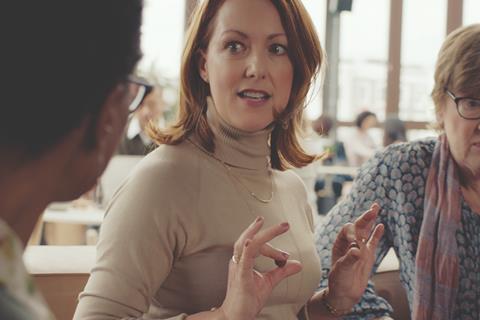 Sales: 211.5m (+£37.5m)
The fastest-growing confectionery brand in this list, Maltesers shifted an extra 22.2 million packs last year while average prices increased by 6.1%.
Innovation was the driving force behind both those figures. The premium Truffles line launched last summer alongside the much-hyped Buttons (basically, a flat Malteser). "Despite the products only launching in July, Maltesers enjoyed the number one and two selling NPD in the confectionery category in 2018," says brand director Rebecca Salisbury. She reports Buttons generated £19.3m, while Truffles made £9.1m.
The new products formed the basis of Maltesers' first-ever digital-only campaigns. Truffles was backed by a £1.2m spend, while Buttons enjoyed £1.3m of activity on channels including Facebook and Instagram.
The core Maltesers variant didn't miss out. It was the subject of two comical ads, intended to "challenge the stereotyping and misrepresentation of women", based on real-life stories from women of different ages and sexualities.
6. Monster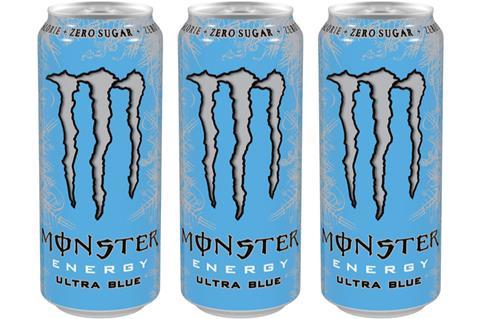 Sales: £212.2m (+£36.3m)
New flavours are fuelling sales at Monster. CCEP's VP of commercial development Simon Harrison points to NPD such as its Mango Loco, which generated £7m alone, and Pipeline Punch flavour as particular success stories. In line with CCEP's overall strategy, it's putting particular effort into its sugar-free offerings. In February, Monster boosted its zero sugar 'ultra' line-up with a new 'Ultra Violet' flavour, already the third best-performing SKU in the six-strong range. In marketing, tie-ups with Lewis Hamilton and gaming franchise Call of Duty also helped engage fans.
7. Red Bull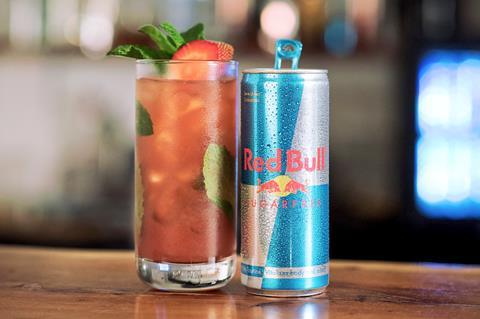 Sales: £331.1m (+£35.5m)
The wings certainly seem to be working for product developers at Red Bull, which unleashed a swathe of major NPD in 2018. Last March it ramped up its low-calorie offer with sugar-free versions of every format of every SKU in its portfolio.
That, of course, was hedging against the impact of the sugar tax – adding 24p per litre to the cost of its full-sugar drinks, which contain 10g of sugar per 100ml. It's a huge investment, but a strategically sound one. If the success of other brands' sugar-free variants in 2018 is anything to go by – see the performance of Coca-Cola – it could reap significant rewards.
Then in June it debuted a four-strong range of upmarket 'Organics' mixers, firing a shot across the bow of established players like Schweppes and Fever-Tree.
8. Fanta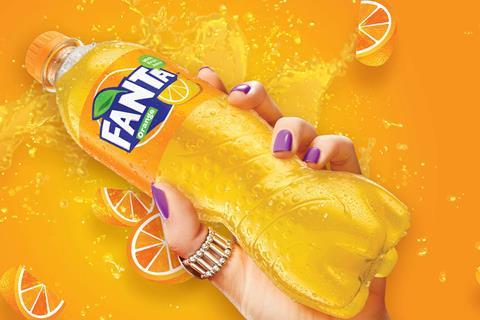 Sales: £192.3m (+£31.2m)
Being ahead of the game has paid off for Fanta, which has jumped a whopping 16 places in our ranking to number 35. It reformulated in 2016, two years before the sugar levy came into force. And the new formula seems to have passed the taste test. Sales have soared by £31.2m, helped along by new flavours such as Zero Grape and strong marketing around the Halloween season. CCEP says it wants the Fanta ghost train to eventually become as iconic as the famous Christmas Coca-Cola truck.
9. Schweppes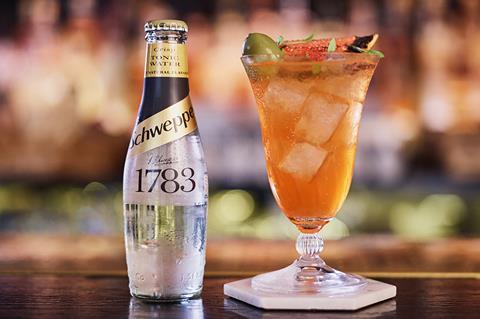 Sales: £141.1 (+£27.1m)
OK, so the £27m gain in Schweppes sales doesn't quite measure up to the £41.9m of nemesis Fever-Tree. But it's still a larger brand by more than £20m. And the £12m increase in Schweppes' mixers alone – relaunched at the end of 2017 to focus on the "effervescence" of the core tonic – suggests the mixer market ain't no one-horse town.
Owner CCEP is confident in Schweppes' potential. VP of commercial development Simon Harrison deems it "an example of how an established brand can be refreshed, while maintaining the unique proposition and authentic backstory it is loved for".
Its posh 1783 mixer range, meanwhile, moved into 150ml cans for easier home mixing. The addition of a Muscovado mixer, designed to pair with rums and sweeter US whiskeys, also shows ambitions beyond gin.
But despite all the hype around mixers, Schweppes' Lemonade was the star performer this year. It added £14.6m to its value, made all the more impressive considering last year's decline.
10. Alpro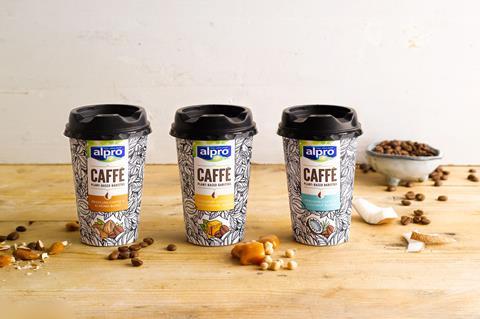 Sales: £211.3m (+£24.0m)
For proof of the maturity of the dairy-free market, look no further than Alpro. The brand says it reaches 25% of consumers with its range, expanded last year to include organic milk alternatives and on-the-go iced coffee. This increasingly mainstream appeal netted Alpro an extra £24m. It is now setting its sights on the two-thirds of consumers who don't buy plant-based, teaming up with BBC Good Food to show "how easy it is to use the range across lots of different meal occasions".
All data used in this article is Nielsen 52 w/e 29 December 2018