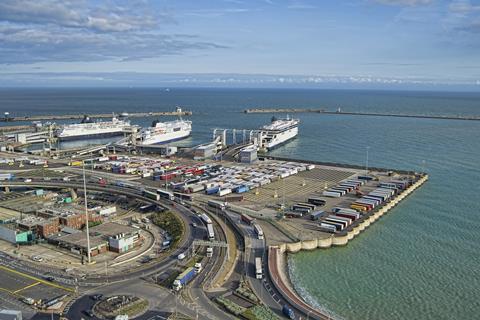 The heads of 24 trade groups have written to the government demanding compensation for companies hit by the chaos at Dover.
In a letter to Defra secretary George Eustice, the heads of groups including the FDF, Scotland Food & Drink and the Provision Trade Federation described the situation as a "catastrophe".
The groups said upwards of 10,000 trucks could now be affected by delays, with the government urging hauliers to remain away from Kent despite France ending its two-day border closure.
With fears it may take several days to clear the backlog as drivers undergo compulsory Covid tests, food bosses warned some companies faced being forced out of business unless they received urgent financial support.
It comes after FDF CEO Ian Wright yesterday accused ministers of bungling Saturday's announcement of a new Covid strain by failing to warn industry and ports of the likelihood France would close the border.
The letter reads: "We are writing collectively to urge immediate action to ensure the future of many food and drink businesses caught up in the blockade at Dover."
It says the groups are pleased lorries started moving across the border again this morning but it "will come too late to avoid a terrible Christmas for many in our industry".
"The decision of the French authorities – to ban accompanied freight on 20 December 2020 – after the announcement by the UK government of the new strain of virus, has caused a calamity for many food and drink businesses. They have lost millions of pounds of valuable stock directly because of action against which it is impossible to insure.
"In particular, fresh and perishable food for export has been heavily affected on this, the busiest and most lucrative week of the year for most businesses."
Seafood and salmon companies are among those hardest hit, says the letter, with some selling almost their entire Christmas catches at markets in France.
"In addition to the lorries stacked up in queues, many businesses have been unable to send or receive loads since the decision was announced. For businesses with perishable food, this is just as devastating as waiting in the queue."
The letter also raises the prospect of disruption to food supplies for hospitals. "Around 40% of our fresh produce is supplied by wholesalers into the public sector, including hospitals and care homes. These supplies have been decimated by this week's events. These same wholesalers have lost business with the closure of hospitality and foodservice and many will not survive this further blow without additional government support."
The letter goes on: "We are now also faced with the fact that lorries are now in the wrong place. Even if a solution is provided there are likely to be upwards of 10,000 lorries now not where they are supposed to be and the consequences for that are being signalled as shortages in and over the new year period.
"This of course may be exacerbated by a no-deal situation and continued unwillingness of some hauliers to travel to the UK in early January. If tariffs are to be applied from 1 January, then loads which were expected before that day will now potentially have thousands of pounds of additional tariffs placed on them by the UK and the EU.
"Food and drink businesses have been battered this year by Covid-19, and this latest catastrophe will be the last straw for many.
"As time goes on, more and more food and drink businesses will be affected by this crisis – as future deliveries are affected, hampering both the export of finished product and the import of raw materials, packaging and industrial supplies. The whole production chain will be affected and may need support.
"We ask that government urgently create a compensation scheme for losses incurred to support businesses directly affected by this crisis and to ensure the future of our critical food and drink sector. We stand ready to help the design and delivery of any compensation scheme in any way."
The letter came as health secretary Matt Hancock this afternoon announced tier 4 restrictions would apply to swathes more of England from Boxing Day, including Sussex, Oxfordshire, Suffolk, Norfolk and Cambridgeshire, and that two cases of another more transmissable Covid variant had been detected, from South Africa.