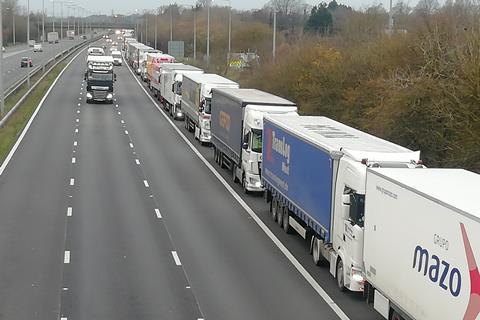 Emergency action to end the chaos at Dover, including sending in the Army to help administer compulsory Covid tests for UK and foreign lorry drivers, has come too late to prevent food shortages, industry leaders warned today.
The FDF said there would be "significant disruption" on the shelf starting next week, including shortages of fresh fruit & veg as well as many ingredients used across a raft of different products, leading to further shortages.
Despite trucks beginning to move again from Dover this morning after the French lifted its two-day border closure, there were chaotic scenes as the UK government deployed troops to help carry out tests on drivers.
Quick turnover lateral flow testing began at around 7am at Manston Airfield, where about 4,000 lorries were waiting, and other sites. It folllowed an agreement last night between France and the UK that those travelling for urgent reasons, including hauliers, are allowed into France as long as they have received a negative result less than 72 hours before departure.
However, industry leaders have warned the operation needs to clear a backlog of about 5,000 trucks waiting to travel from the UK to Calais, so they can return loaded with products including fresh fruit & veg.
"It is good news for consumers as the French borders have now reopened, however it is essential lorries get moving across the border as quickly as possible," said Andrew Opie, BRC director of food and sustainability.
"Until the backlog is cleared and supply chains return to normal, we anticipate issues with the availability of some fresh goods."
FDF CEO Ian Wright said: "Last night's news of an agreement to allow hauliers with a negative Covid test to enter France is very welcome progress."
But he added: "Even working extremely quickly and with Calais possibly shut for Christmas Day, it is clear it could take until the new year to return to normal operations. Lorries will take time to return to their normal pattern of collection and delivery.
"That means we are likely to see, locally, reduced on-shelf availability of some fresh vegetables and fruits, beginning next week. We will also see potential significant disruption to the flow of ingredients into the UK."
Cold Chain Federation CEO Shane Brennan said it could take until 27 December for the backlog of waiting lorries to clear and warned many EU hauliers may then be reluctant to return to the UK, contributing further to shortages.
"When we get into January there is significant potential for disruption to our fresh foods supply," he said.
"The big question is, will the EU hauliers come back? Throw in the no-deal complication and paperwork and uncertainties and we have to work on the assumption now that there will be a significant reduction in the number of EU hauliers in our grocery supply chain through the first few weeks of next year."
Brennan also said the handling of the situation could result in the Covid test failure rate of hauliers being higher than it otherwise would.
"Previous to now the haulage-related incidence of Covid has been less than 1%," he said. "Hauliers are not a high-risk category for transmission. They go to depots and truck stops, they aren't mixing with the community.
"The problem we've got is the French closed the barriers and basically pushed a load of hauliers into the community in southern Kent. Keeping them moving would have been the right thing to do. The fact we've stopped them has created a problem that we will now have to check through testing.
"They're out of their cabs, they're eating together, they're chatting together, sharing sanitary facilities, going to shops around southern Kent, mixing with shoppers."
It follows warnings from the RHA yesterday that plans to test drivers risked spreading the virus.
Last night's agreement to reopen the UK-French border to allow accompanied freight services and some passenger services to resume was also followed by the reopening of rail and air services this morning.
RHA CEO Richard Burnett today joined other industry leaders in warning that despite the breakthrough, the chaos looked set to continue for days.
"It's hat's off to the Secretary of State for Transport for making this happen sooner than originally anticipated," he said. "However, I fear the thousands of truckers stranded in Kent aren't out of the woods yet. The massive backlog of vehicles will take time to clear and hundreds of drivers run the risk of not getting home in time for Christmas."
Meanwhile, official UK government advice continues to "strongly urge hauliers" not to travel to Kent until further notice, while the mass testing programme gets underway, sparking fears of a huge knock-on impact.
Industry chiefs have warned many companies had planned to use the next few days to try to stockpile against possible shortages caused if there is a no-deal Brexit, with the transition period due to end in just eight days.