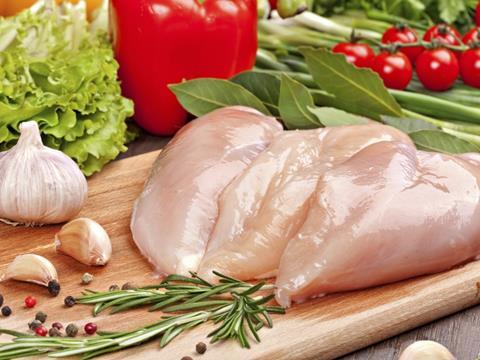 Sales of fresh poultry have overtaken red meat as households get smaller, and traditional 'meat & two veg' meals fall out of fashion and more Brits eat alone.

Brits ate 529 million kg of shop-bought unprocessed fresh poultry in the past year, a 6.1% rise. Red meat volumes are down 0.9% to 511 million kg [Kantar Worldpanel 52 w/e 21 May 2017].
Category insight
"We've reached a tipping point in terms of what people eat for meals," said Kantar business unit director Nathan Ward. "This is favouring chicken."

Nearly half (49%) of all home-cooked meals are now dishes such as curries, pasta and stir fry, after a 6% rise. Traditional 'meat & two veg' meals have fallen 2% and now account for 51% of the total.

Chicken's versatility and availability in smaller formats made it more suitable for meal occasions with fewer people present, said Ward, while joints and larger cuts of red meat were less suitable.

"Forty-three per cent of meals are consumed alone, compared to 33% in 1980. Two-thirds of the population live in one or two-member households - 76% of meals are one or two-people occasions."

Value sales of chicken are up 1.5% on volumes up 6.9%. Beef has grown 0.7% on volumes up 2.9%, thanks to its use in Italian dishes such as lasagne and bolognese, which were growing in popularity, said Ward.

Lamb and pork volumes have fallen by 8.2% and 2.2% respectively. "Lamb and pork have much lower 'dish' consumption than the other proteins," said Ward.

The industry says it is encouraging shoppers to consider pork and lamb as a mid-week meal option. "NPD is playing a huge role here," said a spokeswoman for AHDB.