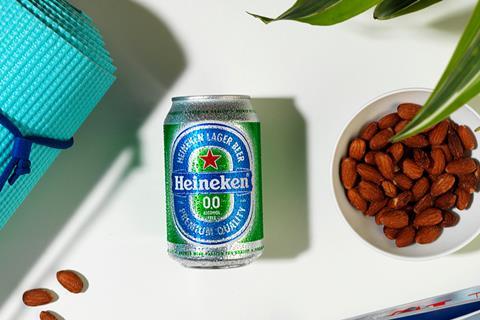 Brits stocked up on millions of pounds worth of low and non-alcoholic drinks amid the onset of coronavirus, latest data reveals.
Over the third week of March, sales of low and non-alcoholic drinks surged by almost a third (32.5%) compared to the same week in 2019, which Nielsen senior commercial business partner Gemma Cooper said indicated "a level of stockpile".
In the 12 weeks to 21 March, category sales £31.3m [Nielsen], which is up 18% (£4.8m) compared to the same period in 2019.
Non-alcoholic beers saw the greatest increase, with sales growing by almost one-third (31%) year on year to £17.4m over the quarter. This was followed by low & no spirits (which grew 16% to £2m), ciders (up 15% to £2.5m), RTDs (up 11% to £601k) and wines, which shook off a year of decline, growing 1%.
"We're living in unprecedented times and this period of lockdown could turn into a positive experience as people refocus on their health and wellbeing, both mentally and physically," said Richard Clark, founder of non-alcoholic brand Drynks Unlimited.
It gave brands "an opportunity to inspire consumers with great tasting alcohol-free drinks which they can enjoy at home", he added.

As The Grocer's Focus on Low & No reveals this week, low and non-alcoholic beers were already the biggest winners in the category in 2019.
Heineken 0.0%, for instance, added a cool £6.3m to its value last year, growing 76.7% to £14.4m – making it the fastest growing drink in the entire low & no category [Nielsen 52 w/e 25 January 2020].
Big gains were also netted by the likes of Peroni Libera, which racked up £3.3m in sales after just over a year on the market, and BrewDog's 2019-launched Punk AF, which has already racked up £1.7m [Nielsen].
William Reed - the publisher of The Grocer - has launched an exhibition exclusively for the low & non-alcoholic drinks sector. For more information visit low2nobev.com.