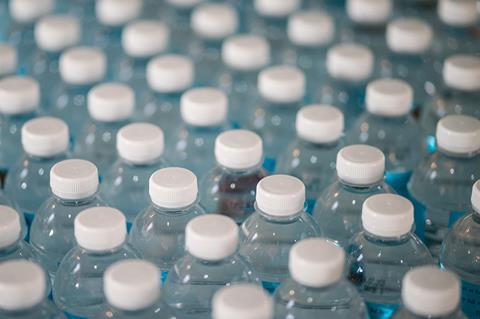 Supermarkets have been hit by a shortage of bottled water amid surging demand, production issues and the ongoing shortage of hauliers.
Images of empty shelves and out-of-stock notifications in Tesco were posted on social media this week, with users claiming they had also seen range gaps in Sainsbury's.
Appears to a bit of a bottled water shortage underway pic.twitter.com/EuVavI8g1i

— Bryan Roberts (@BryanRoberts72) June 22, 2021
Tesco confirmed it had been experiencing shortages due to a combination of production issues at its own brand supplier's factory and higher demand but advised the issues had been resolved, with availability was expected to improve over the coming days.
The Grocer has also approached Sainsbury's, Asda and Morrisons for comment.
A spokesman for the National Source Waters Association suggested an increase in demand might have temporarily affected the supply chain.
On-the-go formats had experienced a "bounce back" due to the easing of lockdown restrictions and recent spells of hot weather, he added.
Shortages were not unique to the bottled water category and had affected other soft drink, grocery items and fresh produce for similar reasons as well as "issues with haulage capacity", he said.
A spokeswoman for Nestlé Waters added it had "experienced demand for our products increase beyond our expectations at this point in the season" over past months.
"We believe this is driven by the easing of national lockdown restrictions, and we have also been enjoying a warm British summer. This increase in demand has also had a knock-on effect on the haulage industry and we are experiencing shortages in the network servicing our supply, particularly for our international brands such as S. Pellegrino."
Highland Spring CCO Simon Oldham told The Grocer that while the brand had seen "strong growth" in is take-home formats over the past year, it experienced a "huge bounce back" in impulse and on-the-go sales as lockdown restrictions eased.
Category sales were consequently "higher than expected", up 11% compared with 2019, he claimed.
It follows warnings of "inevitable" food shortages in the coming weeks, as labour shortages approach crunch point.
Chronic driver shortages could combine with shortfalls across the harvesting, manufacturing and packing sectors to affect the supply chain and leave supermarkets struggling to stock shelves, industry insiders warned.