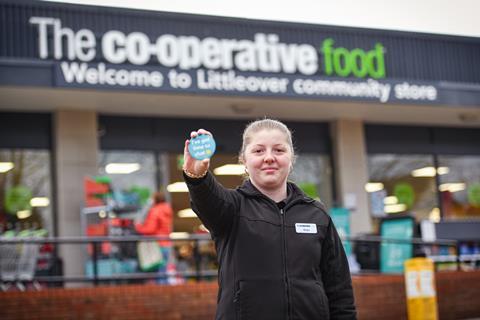 Central England Co-op is encouraging customers to chat to its delivery drivers as part of a new scheme to tackle loneliness during the pandemic.
The service will run off the back of its home delivery services via partnerships with Snappy Shopper and Appy Shop.
Colleagues will be wearing a 'I've got time to chat' badge to let customers know they're there to talk to while their shopping is being delivered.
Driver Morgon Smith said she was delighted to offer this service.
"The feedback we have had so far about our home delivery has been fantastic and we understand how much of a lifeline it has been to some in these trying times," she added.
"But we wanted to ensure what we offer is more than just a simple delivery service. We wanted to make sure that our members and customers who might be feeling lonely or isolated get a little friendly chat to hopefully brighten their day.
"The whole reason behind launching home delivery at Central England Co-op was to make sure none of our communities missed out and by telling them 'I've got time to chat' we are showing that we are more than just a shop and we understand what it means to be part of our communities."
Central England rolled out Snappy Shopper and Appy Shop as part of new eco-friendly services.
Snappy Shopper, currently running in Derby, Lichfield and Birmingham, allows shoppers to order their Co-op shop via a dedicated app and have it delivered to their door within the hour.
The second service, Appy Shop, which is running in parts of Norfolk, Leicester, Stafford and Burton, allows people to pick a time slot for their food and essentials to be dropped off.