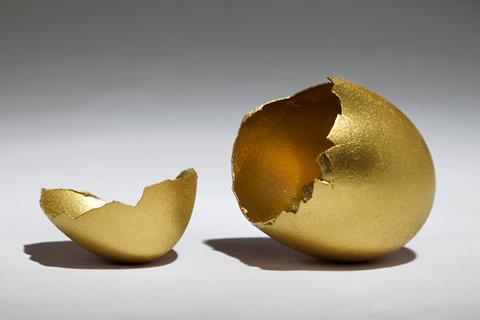 Kinder's Easter chocolate sales have been hammered after the Ferrero brand was forced to recall several lines amid salmonella fears.
Kinder first recalled a selection of Kinder Surprise SKUs on 2 April, warning of the possible presence of salmonella. It then broadened the recall to include a range of Mini Eggs, Egg Hunt Kits and Schoko-Bons the following week.
Now, exclusive figures obtained by The Grocer reveal the scale of damage wreaked on the brand's sales over the period.
Sales of Kinder's Easter chocolates were down 58.9% over the four weeks to 16 April, compared with the respective Easter period last year to 3 April 2021 – a £4.7m drop. This contributed to a 30.1% decline in sales at total Kinder brand level [NielsenIQ].
Over the two weeks leading up to Easter Sunday, Kinder's Easter range sales were almost completely obliterated, falling 70.8% to £647k over w/e 9 April and 85.9% to just £447.9k over w/e 16 April versus the respective weeks last year.
The recall "temporarily impacted the Kinder seasonal portfolio," a Ferrero spokeswoman told The Grocer, adding there were signs of a "strong recovery".
"Further, on a MAT basis (to 16 April) the Kinder brand continues to perform strongly at +4.2% against a flat chocolate market with standout achievements on Kinder Bueno at 16% and Kinder Chocolate at 17%.
"With regards to the recall, we deeply regret this matter and continue to co-operate with the authorities and our valued business customers."
However Kinder wasn't the only brand to lose sales this Easter. Both Easter and total chocolate sales were down on last year's period, by 6.7% and 6.8% respectively.
"The excitement of last year wasn't here and the shoppers are a lot more concerned about their basket spend", said Nielsen customer success consultant lead Polina Jones.