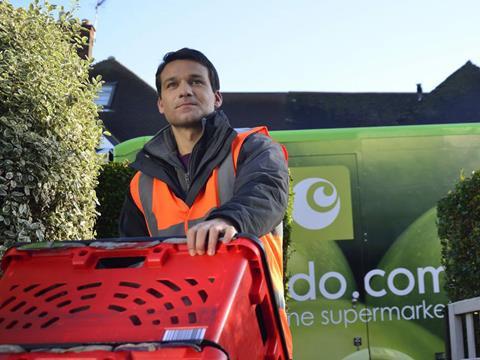 Ocado has sent an email to suppliers asking them to prioritise deliveries to help it cope with heightened demand caused by coronavirus.
A pleading communication from Ocado Retail CEO Mel Smith warned suppliers to expect "volatility in orders placed" and asked for their support.
"Please prioritise Ocado," Smith wrote in the email seen by The Grocer.
"We are still experiencing exceptionally high customer demand for orders and particularly high demand in 'stock up' categories (pasta, rice, tins, household) which will likely continue for the foreseeable future," she added.
Smith's message laid bare the fragile nature of Ocado's just-in-time model, revealing that 80% of stock arriving to CFCs had already been ordered by customers.
Unlike the mults which have a large footprint of stores and distribution centres, Ocado delivers to customers from only three customer fulfilment centres. "Our stock holding is much lower than competitors," Smith explained in the message sent on Monday 9 March.
Suppliers were asked to look out for big increases in order volumes and to "remain vigilant of changes as they happen".
Ocado has put buying limits on several products, with shoppers restricted to two packs of toilet roll, two bottles of antibacterial gel and three bottles of Calpol.
The squeeze on the online retailer's supply chain comes as exclusive research, compiled for The Grocer by Him, found almost a quarter (23%) of consumers said they had switched to online grocery shopping to cut down on what they might see as risky trips to the supermarket.
To mitigate the "exceptional increased demand" Ocado said it would also review media and promotional activity to "better regulate" bulk ordering and manage spikes in demand for certain products.
"Where changes have been made, we will endeavour to balance the changes over time so the spirit and intent of our media and promotional commitments are delivered," Smith's communication read.
Ocado customers have already been asked to book ahead of time and for delivery on weekdays where possible.
"More people than usual seem to be placing particularly large orders. As a result, delivery slots are selling out quicker than expected," a message to customers sent late last month read.
At present, some customers are facing a wait of a week for a delivery slot.
"The issue with situations like we're facing currently is that it will quickly expose the parts of your business which are most lean," said Andy Halliwell, director of retail strategy at digital consultancy Publicis Sapient.
Digitally-focused businesses like Ocado run lean "to realise greater efficacy in their supply chains" and can typically respond faster to unexpected circumstances, he added.
"Using data and AI to drive product forecasting, using real-time inventory data to make better assortment decisions and then leveraging the latest in cloud computing to horizontally scale systems works well, but you're always going to be limited by the number of trucks you can access, how quickly suppliers can get product to you, and frankly, how those suppliers prioritise your business versus that of your competitors," he said.