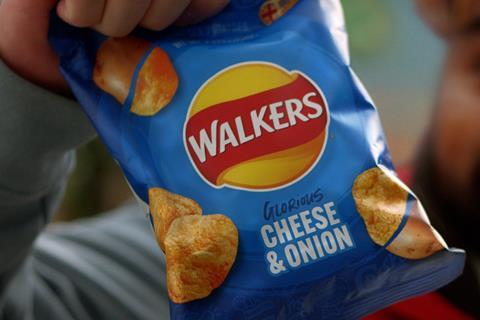 Supermarkets are struggling to get hold of Walkers crisps after an IT system upgrade at owner PepsiCo disrupted supply of its products.
As The Grocer went to press this week, a number of Walkers SKUs were listed as out of stock on Tesco's website, including 6x25g multipacks of Cheese & Onion, Salt & Vinegar, Baked Ready Salted and Baked Cheese & Onion, alongside 45g bags and 12x25g packs of Cheese & Onion and 22x25g Classic and Meaty multipacks.
Six-packs of Quavers, Wotsits and French Fries were also unavailable.
In Morrisons, meanwhile, 12-packs of French Fries, Really Cheesy and Sizzling Steak Wotsits, six-packs of Cheese & Onion Walkers and Wotsits, and Classic and Meaty multipacks were listed as out of stock.
Poor availability of Walkers has not been limited to the supermarkets. Last week the crisp giant was one of several major suppliers named as suffering availability issues in the wholesale channel – with lead times, delivery profiles and promotion plans all affected.
The Grocer understands PepsiCo has asked customers across the trade to slash one entire promotional cycle from shelves and remove Walkers products from off-shelf feature space.
"A recent IT system upgrade for PepsiCo UK&I is causing disruption to the supply of some of our products," a spokesman for PepsiCo UK&I said.
The supplier was "working round the clock to resolve these issues as soon as possible to increase supply", the spokesman said.
"We continue to keep our retail customers up to date and sincerely apologise for the inconvenience caused."
It's not the first time the crisps category has been hit by supply issues this year.
In August, The Grocer reported gaps on shelves in Co-op and Sainsbury's after shoppers took to social media to voice their frustration.