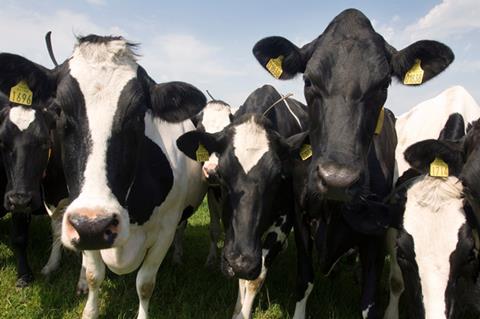 Arla's milk farmers produce less than half the global dairy industry's average carbon emissions per kilo, the dairy co-op has claimed, following the first year of its carbon accounting scheme.
The Climate Check programme – a third-party audited "climate database" aimed at speeding up CO2 reductions in Arla's supply chain – found that its farmers produced 1.15kg of CO2 emissions per kilogram. According to the UN's Food and Agriculture Organization, the global average is 2.5kg.
The data, which was sourced from 8,131 farms across seven European countries in 2020 – representing 95% of Arla's milk pool, showed the best-performing farms were able to produce a kilo of raw milk with a farm level footprint "well below" 0.9kg of carbon emissions, Arla said.
It would now be used to shape a blueprint for driving further reductions on farms over the next decade, the dairy giant added, with five particular areas for improvement having been identified using the data.
These included better feed efficiency to improve yields, more precise portioning to reduce surplus protein in feed, improved animal welfare practices as well as better fertiliser and land use management in feed production.
The data would also help to "re-educate the public" about domestic dairy production, said Arla Foods UK agriculture director Alice Swift.
"An absence of UK data has made others reliant on global data, and that's simply not representative of how sustainable British and European dairy can be," she said.
"The exceptional lengths our owners have gone to in participating in this process now gives us the opportunity to start setting the record straight on British dairy, as well as continuing to work towards improvements that lead us to carbon net zero."
Swift added that "all types of farms" could achieve results through precision farming – both environmentally and in terms of profitability.
Farmers are set to be able to view their own data via a newly developed portal from June, which would allow them to compare their farms against the average results for farms with similar conditions, size or geography.
In 2019, Arla revealed its ambition to become a net zero company by 2050. As part of this target, it has aimed to reduce CO2 emissions by 30% by 2030 against a 2015 baseline.