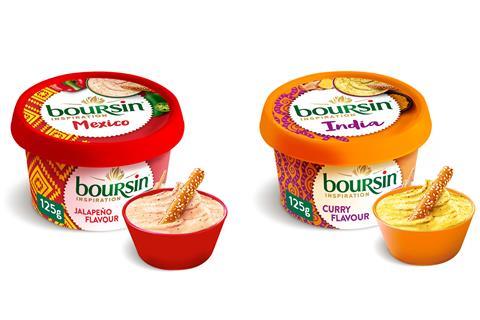 Boursin has unveiled a new range of spicy cheese dubbed Inspiration, which it hopes will bring younger consumers to the brand.

The Bel-owned French cheese brand said the NPD would tap into trends for global cuisine, bringing "an adventurous and flavoursome twist".

Launching exclusively into Waitrose from 1 April, the range will initially consist of two variants - India and Mexico (rsp: £2.20/125g). Boursin said the new range had been inspired by Waitrose's 2019 Waitrose Food & Drink report, which found one in five shoppers were eating more spicy food than five years ago, with a further 11% having an average of at least one Mexican food occasion a week.

"With a clear consumer interest in bold and exotic flavours, the launch of Boursin Inspiration creates big opportunity for retailers to attract new and light users," said Boursin's Senior Brand Manager Celina Leroyer.

"Now more than ever, allowing consumers to be transported through taste adventures to experience world cuisine and flavours from the comfort of home is key."

Leroyer added the India variant features notes of curry, ginger, lemongrass, turmeric and cardamom, whilst Mexico is "enriched" with red pepper, red Jalapeño, tomato, garlic and smoked chilli.

It's the first major NPD from Boursin since the launch of its Velvety cheese in 2018. Last summer, it launched a 'We Summer, Oui Boursin' campaign which the brand said resulted in a 9% increase in sales versus the same period last year.