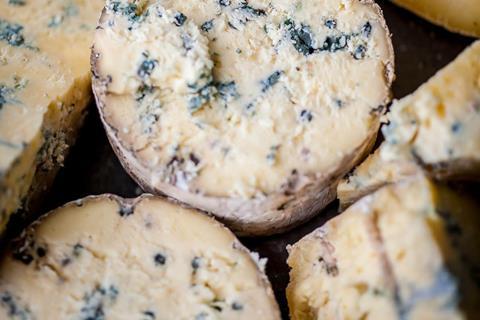 Artisan cheesemaker Cornish Cheese Co has teamed up with food waste app Too Good To Go in a bid to sell off its excess cheese supply.
The Grocer reported last week that the business faced having to ditch more than 10 tonnes of its short shelf-life Cornish Blue by the middle of July following the loss of 90% of its business at the start of the coronavirus lockdown in March.
Despite considerable efforts to dispose of an original 18-tonne stockpile of cheese – which saw it launch a delivery service and freeze about 2.5 tonnes – the supplier desperately needed to find a new home for its remaining stock, said Cornish Cheese Co owner Philip Stansfield.
But after reading about the company's plight in The Grocer, Too Good To Go approached the supplier to offer its assistance. It is now offering 50 1kg bags of Cornish Blue to its users (worth more than £20 each) for just £8 every day for the next six weeks.
The app, which also works with the likes of Morrisons and Nisa, describes itself as the "world's largest food waste fighting app", and connects businesses with unsold food to consumers. It has 2.8 million registered users in the UK, and said it expected interest in its so-called Magic Bags to pick up this week after first listing the Cornish Cheese Co's produce last Friday.
"It has been devastating to see the impact that the Covid-19 crisis has had on the UK's supply chains," said Too Good To Go UK MD Hayley Conick.
"With the hospitality sector effectively closed we have manufacturers and producers, just like Cornish Cheese Co, with no route to market and the very real threat of having to throw their produce away," she added. "This cannot happen.
"When we heard of the issues being faced by Cornish Cheese Co we knew that we could help. By partnering with businesses like it, we can ensure their produce is enjoyed by consumers rather than wasted."
The Cornish Cheese Co's Stansfield said the business had seen a "great response" to its appeal, which had been further bolstered by an article by Blur bassist and fellow cheesemaker Alex James in The Sun newspaper last week.
"People have been contacting us direct for more information, while we've also frozen more stock, in addition to the deal with Too Good To Go," he added. "Ultimately, it looks a bit aged but it tastes beautiful."