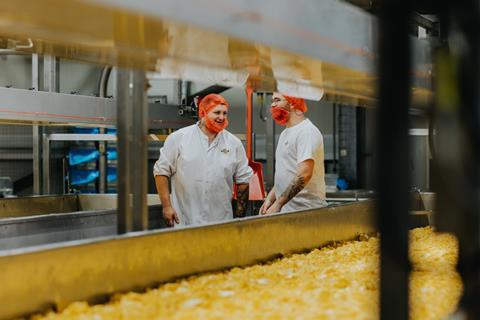 Shoppers face far less choice when it comes to Christmas cheeses in future, with the labour crisis impacting on the ability of cheesemakers to supply labour-intensive added-value products, Joseph Heler has warned.
The family-owned Cheshire-based cheesemaker, which also owns the Eatlean low-fat cheese brand, had faced "detrimental" challenges in staffing its production lines this year, said MD George Heler.
"We do a lot of Christmas lines, such as the little waxed cheeses, but they are so labour-intensive," he added. "And the disproportionate amount of effort that goes into making these products means we're going to have look at taking out this kind of business in future – because it's just about getting food on the table at this point."
While stressing the business would "fulfil our obligations" this Christmas, Heler said a chronic shortage of staff this year had been "really damaging" and had forced the supplier to "dilute all of the skills we had in all of our core areas" to meet Christmas demand.
"I've never felt the situation has been as unsustainable as it is [now]. We are having quality issues and we are having supply issues."
The business, which also supplies own-label cheeses to most of the major retailers, "needed to bring in an extra 60 people to get through the festive peak", he added, but had managed to attract less than half that figure.
As a result, productivity had fallen, "compromising other parts of the business" and leading the company to look to "streamline and simplify" its offering next year.
"We want to go down the automation route, but that's not a quick fix," Heler said. "If the retailers really want these products, they're going to have to think about [these challenges]," he warned.
"It's not just about the money, it's also about that pool of migrant workers we've always relied on who aren't there anymore. It's not really sustainable and that pool has dried up now," he said, adding that Joseph Heler had been forced to source staff from as far away as Hong Kong this year.
And with input costs soaring on farm and through the wider supply chain, he added more inflation, which was already trickling down into retail, was inevitable in 2022.
"I feel like the retailers are paranoid about being outliers in the market, but food is too cheap in the UK and we don't seem to value food," said Heler, who worked as a fresh food buyer for Tesco before taking over the family business.
"The retailers have a real responsibility now to get the inflation through. They talk about leadership, now is the time to show it, as things are on a knife edge."