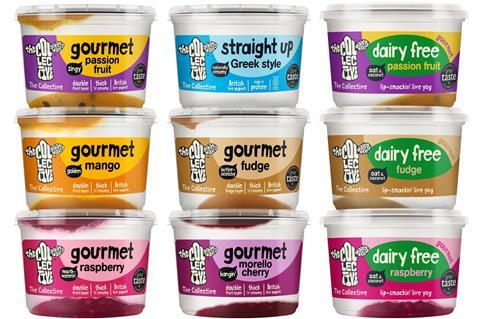 Yoghurt brand The Collective has unveiled refreshed packaging across its entire range.
The updated packaging is being rolled out across its Gourmet, Dairy-free Gourmet and Natural ranges.
The brand said the refresh, which standardised packaging design across The Collective's portfolio of products, was designed to enhance brand recognition and ensure visual alignment across all of the brand's products.
"We are all about food that is truly good for you and the planet," said Sarah Smart, CEO of The Collective UK. "The vibrancy of our refreshed packaging perfectly reflects this and helps our yoghurt fans spot us amongst a sea of boring yoghurts on shelf."
The move is part of The Collective's biggest marketing drive to date. Launched earlier this year, it has seen the brand spend 50% more than on any previous campaign.
The nationwide push includes OOH, digital media, shopper marketing and outreach on social channels.
"Central to our masterbrand campaign are real people who love our yoghurts, ensuring the whole family has something tasty to enjoy, and we are delighted that this is being amplified by our largest marketing drive to date," added Smart.
Alongside the launch of the refreshed packaging, the masterbrand campaign coincides with the in-store launch of new dairy-free Suckies for kids in time for the back-to-school period. The new range includes vitamin D, B12 and calcium, as well as being lower in sugar content in comparison to other products in the market.