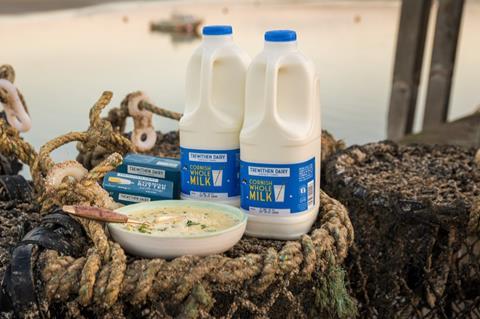 Trewithen Dairy owner Cornish Farm Dairy's sales surged by more than a third last year, latest results reveal.
The Cornish supplier's turnover grew 34.6% (£14.2m) to £55.3m for the year ending 30 April 2019, according to documents filed with Companies House this week.
The firm said this was fuelled by long-term own-label contracts as well as "ongoing growth" from existing customers and a 12.5% increase in value sales for its branded products – including fresh milk, yoghurt, butter and Cornish clotted cream – to £15.3m.
Pre-tax profits, meanwhile, rose from £420k to £2.2m.
This was despite a "challenging market environment" for the dairy sector as a whole, said Cornish Farm Dairy chairman Bill Clarke.
Cost pressures were rising thanks to labour costs, energy and packaging prices and new regulatory requirements, he said.
"Given this backdrop, the business remains focused on cost control, careful commercial management and the delivery of product quality & customer service excellence," he added. "At the same time, it is continuing to invest in its processing capabilities for the long term."
The business had also "enhanced processing capacity and capabilities" at its Lostwithiel dairy with a second £2.5m investment (it ploughed the same figure into the facility the previous financial year), expanding its warehouse and cold storage facilities by 1,000 sq m, as well as chilled loading docks "which have further improved production and distribution flexibility and productivity".
It marks the third year of solid growth in a row for the firm, whose turnover has risen 73% since the 2016/2017 financial year.