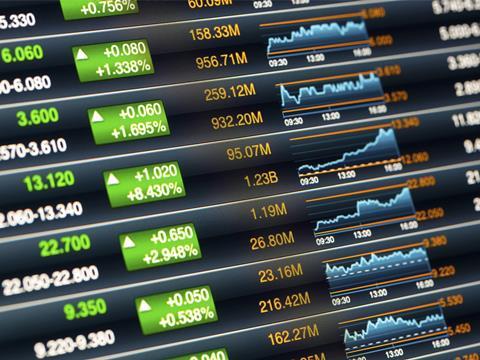 The FTSE 100 plunged more than 180 points yesterday (or 2.5%) to 7,147.50 as PM Theresa May called a surprise snap election on 8 June. The FTSE 250 also fell back 1.2% to 19,297.91 points.
Blue-chip firms faced their biggest one-day losses since the Brexit vote last June as the pound surged to a four-month high – climbing as much as 1.6% against the dollar. Sterling had fallen significantly in the morning as speculation mounted as to exactly what the PM planned to announce. However, by the end of trading it had hit its highest level since early December.
The markets took the view that the prime minister would use the vote to neutralise Tory Eurosceptics and deliver a softer Brexit. A rise in the pound hit many of London's leading shares - with £46bn wiped off the value of FTSE 100 - as many multinational giants earn their profits overseas.
Not many grocery or fmcg firms managed to escape the sell-off, with cigarette makers Imperial Brands (IMB) and British American Tobacco (BAT) hit hard, falling 2.8% to 3,825.5p and 2% to 5,278p.
Other FTSE 100 firms in the red included Diageo (DGE), Reckitt Benckiser (RB), Unilever (ULVR) Compass Group (CPG) and Coca-Cola HBC (CCH), down 2.2% to 2,248.5p, 1.5% to 7,335p, 1.4% to 3,979p, 1.7% to 1,524p and 0.5% to 2,087p.
The grocers also suffered as Tesco (TSCO) sank 2.6% to 176.8p, Morrisons (MRW) slid 2.2% to 229.3p and Sainsbury's (SBRY) fell 1.4% to 254.8p.
Outside the FTSE 100, Greencore (GNC) tumbled 3% to 249.5p, Booker (BOK) was down 1.8% to 188.9p, Dairy Crest (DCG) fell 1.2% to 582.5p and SSP Group (SSPG) slipped 1.9% to 441.5p.
Marks & Spencer (MKS) escaped the carnage with a 2% jump to 353.8p, along with Associated British Foods (ABF), up 0.4% to 2,721p ahead of today's annual results, Premier Foods (PFD), up 3.1% to 44.1p, Hilton Food Group (HFG), up 4.7% to 748p, and Cranswick (CWK) up 0.4% to 2,587p.
Chancellor Philip Hammond hailed the surge in the value of the pound in parliament. "The prime minister's statement this morning has sent sterling up in the markets, demonstrating the confidence that the markets have in a future, for this country, under a Tory government with a new mandate."