In a glittering ceremony at the Marriott Hotel in Grosvenor Square, London this week, 147 new products in 32 categories were shortlisted for the New Product Awards. Read on to find out who won what and why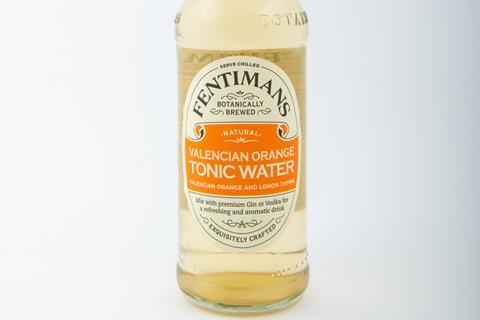 Adult soft drinks
Fentimans Valencian Orange Tonic Water
This "excellent product" from Northumberland's Fentimans would be "great with gin" shoppers said. They enjoyed the "very fresh flavour", as did our expert judges, who praised the "lovely aftertaste" of this "authentic" mixer. "The packaging is ideal" they added.
Highly Commended
Fentimans Pink Rhubarb Tonic Water
Finalists
Drench Mandarin & Lemon
Franklin & Sons Succulent Pomegranate & Floral Hibiscus with Delicate Rose
The Artisan Drinks Company Violet Blossom Tonic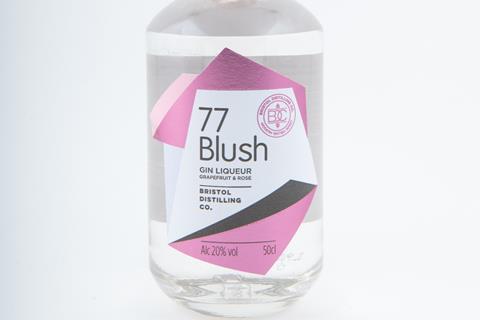 Alcoholic drinks
77 Blush Grapefruit & Rose Gin Liqueur
This "distinctive, sharp drink" offered "rose on the nose" and was "easy to drink" according to our expert panel. There was praise for the "grown-up taste" and "giftable" bottle. Shoppers said the liqueur was an "inventive" variant and "refreshing", though some considered it "more of a girl's drink" than an all-rounder.
Highly Commended
Finalists
77 Berry Raspberry & Pomegranate Gin Liqueur
Balans Lime
Stowford Press Mixed Berries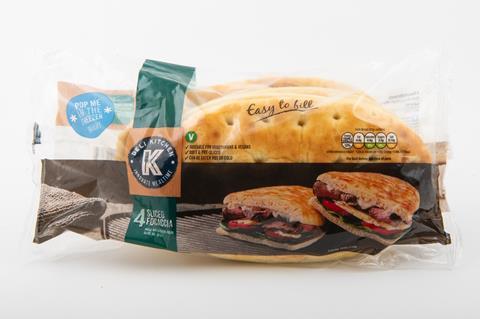 Breads
Deli Kitchen 4 Sliced Focaccia
A "simple but well-executed concept", this focaccia from Signature Flatbreads, sold under the Deli Kitchen brand, won favour with our judges, who praised it for being "good value (rsp: £1.35 for 360g), family-friendly, and convenient". The consensus was that the focaccia delivered to high-quality standards and was "tasty, soft and light", making it a great alternative to sliced bread.
Highly Commended
Deli Kitchen 6 Brioche Folded Flatbreads
Finalists
Mission Kids Disney Kitchen Strawberry Flavoured Wraps
Mission Kids Disney Kitchen Ketchup Flavoured Wraps
Breakfast
GoFigure Muesli – Matcha Tea & Pistachio
This "innovative" product tasted great, and provided a healthy on-the-go breakfast. A single-serve format, it sparked a great deal of interest among our judges, who were impressed by both the taste and the innovative use of "on-trend" ingredients (matcha tea and pistachio). They felt this would likely attract a millennial audience. They also praised the product for the fact it didn't use any plastic as part of its packaging. Again, this would likely chime with consumers, many of whom care deeply about the issue of plastic pollution. Some, however, felt the price of £1.75 for 75g was "a bit steep".
Finalist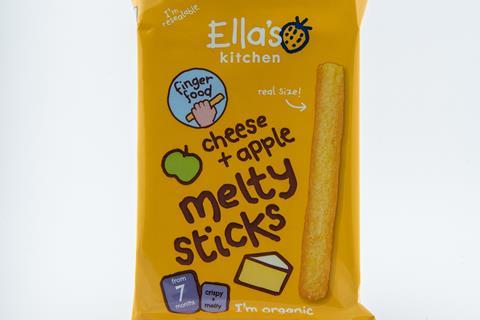 Baby & toddler food
Ella's Kitchen Organic Melty Sticks – Cheese & Apple
This "very innovative" finger food for weaning was "on trend" and a "great big size for kids to hold on to" according to our expert judges. Shoppers were equally pleased. The snacks had a "great taste" and were handy when on the go.
Highly Commended
Piccolo Organic Mighty Squeeze Pear, Pea, Banana & Avocado
Finalists
Babease Organic Beef Ragu
Kiddylicious Little Bistro Oaty Porridge – Blueberry Flavour
Little Freddie Grass Fed Beef Lasagne with a Pinch of Parmesan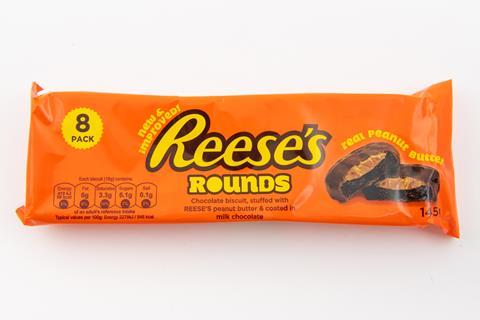 Cakes & biscuits
Reese's Rounds Biscuits
With a "balanced flavour", these sweet biscuits had "good peanut butter taste without being overpowering" our experts said. Shoppers favoured the "crunchy" biscuit and "smooth" chocolate, though some found the peanut butter "sickly".
Highly Commended
Flipz Milk Chocolate Coated Pretzels
Finalists
Cadbury Heroes Cupcakes
Fox's Chocolatey Squares Luxury Biscuits
Fox's Party Rings Party Bucket
McVitie's Jaffa Cakes Nibbles
Mr Kipling Unicorn Slices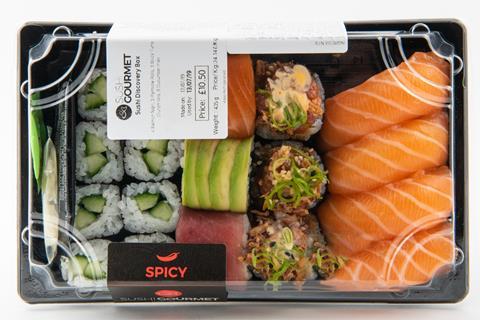 Chilled savoury
Sushi Discovery Box
The Sushi Discovery Box from the Hana Group was commended by shoppers as an "exciting new idea". They loved the freshness and the "vibrant" appearance. A good weekend treat, the sushi was "delicious, tasty and moist" consumers added. Judges agreed this was "better than the average supermarket sushi", praising its "relevance and versatility". It was "a good option for grab and go".
Highly Commended
Unearthed Iberico Presa Free Range Pork
Finalists
Ginsters Cornish Handcrafted Cornish Pasty
Smörgåsbord Original Swedish Meatballs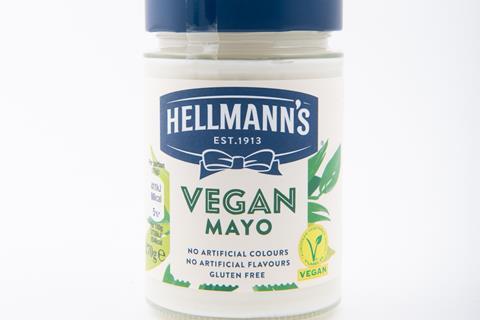 Condiments
Hellmann's Vegan Mayo
This "great product" from Hellmann's was considered a "new and exciting idea" and "bang on trend". It impressed judges with its "strong" texture, attractive packaging and impressive branding. Though "a little on the expensive side" at £2.15 for 270g, it was a "great alternative" for those following a vegan lifestyle. The "Hellmann's quality was not compromised" and it tasted "just like regular mayonnaise". Some even said they would choose this product over regular mayonnaise, and remarked it would make "a great pot salad", while shoppers enjoyed the "good taste and colour consistency".
Finalist
Heinz Tomato Ketchup No Added Sugar & Salt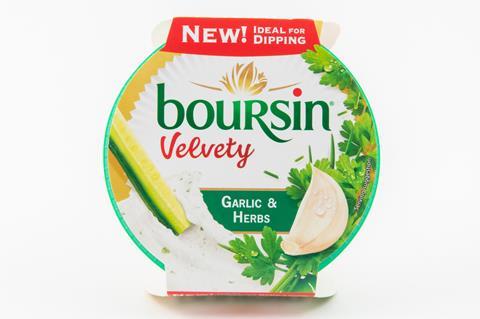 Cheese
Boursin Velvety – Garlic & Herb
This whipped version of the well-established "standard" Boursin offer impressed our judges. They were extremely excited by this "high quality" product, which they said was "utterly delicious, fluffy, light and airy", with a "traditional Boursin flavour".
Highly Commended
Al Fresco Cheese Sausages (Plain)
Finalists
Al Fresco Barbecue Camembert with Honey & Thyme Sauce
Al Fresco Cheese Steaks (Chilli)
Ilchester Wensleydale with Elderflower, Blueberry, Lemon & Rose Petals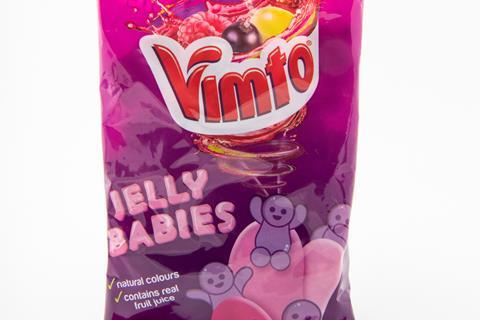 Confectionery
Vimto Jelly Babies
A "well-executed combo of two classics" said our experts.
Highly Commended
Finalists
Divine Chocolate Rich Dark Chocolate with Turmeric & Ginger 85%
Doisy & Dam Maple, Toasted Rice & Pink Salt Snaps
Haribo Squidglets
Joe & Seph's Milk Chocolate Popcorn Bites
Walkers Nonsuch Salted Caramel Toffees
Seed & Bean Organic Sweet Orange & Thyme Fine Dark Chocolate Mini Bar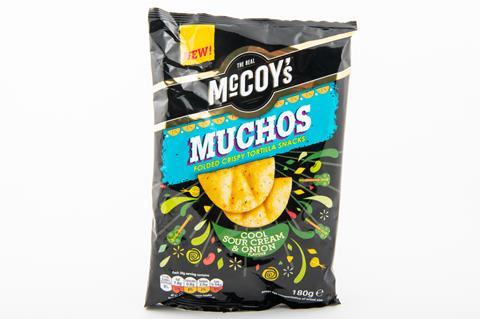 Crisps & snacks
McCoy's Muchos – Sour Cream & Onion
This tortilla snack from McCoy's, "inspired by the street kitchens of Mexico", impressed our judges with its "crispy and crunchy" texture and spicy flavour. For some shoppers, though, the price of £1.99 for 180g was an issue.
Highly Commended
Walkers Max Strong – Jalapeño & Cheese
Finalists
McCoy's Muchos – Smoky Chilli Chicken
Hula Hoops Flavarings – Spicy
Hula Hoops Flavarings – Tangy Cheese
Propercorn Salted Microwave Popcorn
Sensations Street Mix – Mexico City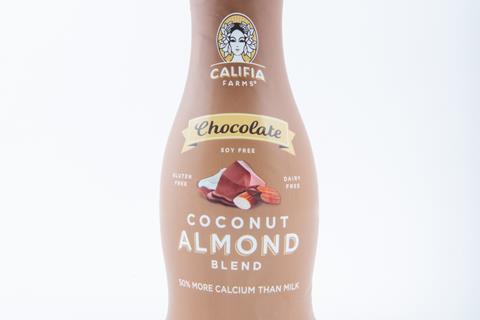 Dairy-free
Califia Farms Chocolate Soy Free Coconut Almond Blend
This blend of water, sugar, coconut, almonds and chocolate performed well with buyers of plant-based products. They called it "delicious" with a "nice aftertaste". At £2.29 for a 750ml, it was "pretty good value". Our experts praised the "delightful premium packaging". The product was "well-executed" and "easy to drink".
Highly Commended
Alpro Oat Unsweetened Drink
Finalists
Alpro Caffe Ethiopian Coffee & Soya Caramel Cup
Innocent Unsweetened Hazelnut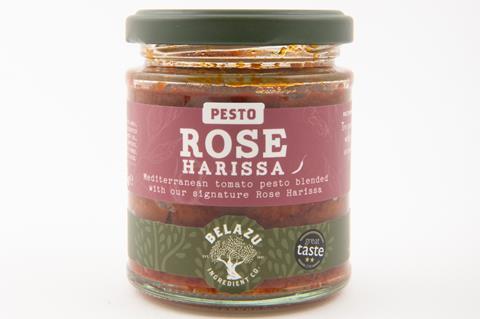 Cooking sauces & marinades
Belazu Rose Harissa Pesto
This "fantastic" pesto was named by our judges as the overall NPA winner. It was described as "scrummy" and "very tangy, full of flavour, with a subtle kick". They hailed it as being "great value for money, and a very elegant brand" and as a "store cupboard must-have". "A great deal of thought and care went into the whole product," they added. "Overall, this is a fantastic product."
Highly Commended
Petti Organic Datterini Tomato Passata with White Truffle
Finalists
Homepride All-American Mac & Cheese, Classic
Sharwood's Japanese Katsu Curry Sauce
Dairy spreads
Président Butter with Sea Salt Crystals
This French-produced butter from Lactalis McLelland was praised by judges for its attractive presentation. The plastic, butter dish-style pack was "sure to be noticed in the chiller cabinet". Our experts praised the butter's "creaminess and smoothness". Many shoppers were also keen. They liked the "good colour" and "smooth texture", though some were put off by the salt crystals.
A premium option (rsp: £2.50 for 250g), the butter was widely considered as more of an indulgence for use on special occasions than for every day.
Highly Commended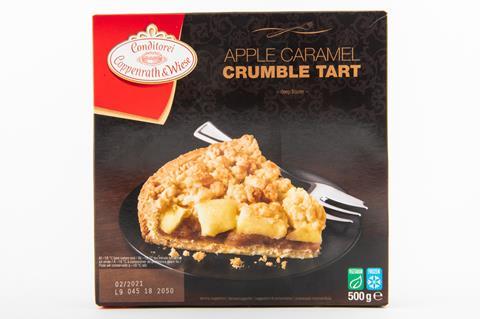 Desserts
Coppenrath & Wiese Apple Caramel Crumble Tart
This "exciting, new" frozen dessert from Coppenrath & Wiese was considered attractive, with the "novel recipe twist" proving particularly appealing. Judges felt it was an innovative product in terms of the selection of ingredients, and they praised the low price point (rsp: £1.50 for 500g). They also agreed it tasted "homemade".
Highly Commended
Gü Limited Edition Salted Caramel Cheesecakes
Finalists
Coppenrath & Wiese Profiterole Gateau
Cadbury Dairy Milk Caramel Cheesecake
Cadbury Dairy Milk Cheesecake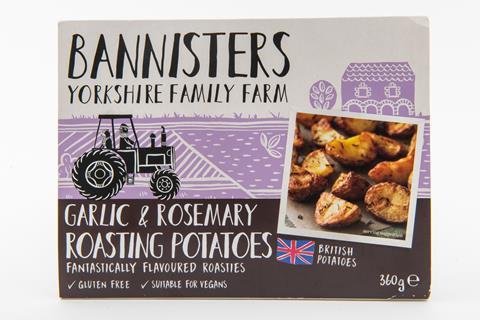 Frozen meals & accompaniments
Bannisters Yorkshire Family Farm Garlic & Rosemary Roasting Potatoes
An "exciting new idea" from Bannisters Yorkshire Family Farm, this product impressed with its "Yorkshire provenance". Judges loved the taste of rosemary and garlic, which was "delicious but not overpowering". They also praised the attractive packaging. "This is a good trade-up on standard roasties," said one expert.
Highly Commended
Birds Eye Chunky Fish Fingers
Finalists
Birds Eye Sweet Potato Waffles
Strong Roots Broccoli & Purple Carrot Bites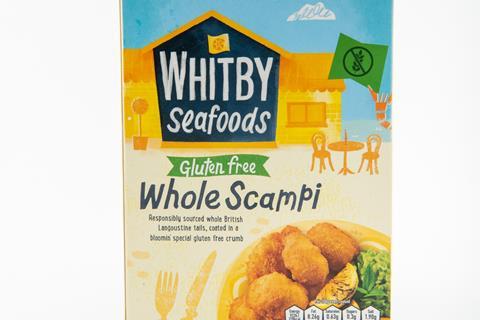 Gluten-free – savoury
Whitby Seafoods Gluten Free Wholetail Scampi
"Crispy and tasty scampi with nice large pieces," said shoppers. Our experts were similarly impressed. "Genuinely delicious whether you're gluten-free or not," they enthused.
Highly Commended
The White Rabbit Pizza Co The Cheeky Chorizo Gluten Free Pizza
Finalists
Amy's Kitchen Breakfast Scramble Wrap
Mash Direct Beer Battered Onion Rings
The White Rabbit Pizza Co The Mozzarella Master Gluten Free Pizza
Whitby Seafoods Gluten Free Cod Fillet Goujons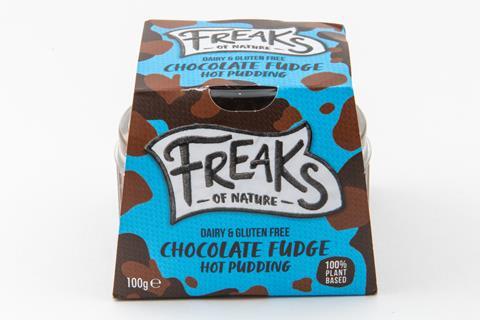 Gluten-free – Sweet
Freaks of Nature Dairy & Gluten Free Chocolate Fudge Hot Pudding
Sweetened with coconut sugar and coconut nectar, this single-serve dessert is a cacao sponge with a dark chocolate fudge sauce. Shoppers considered it to be new and different. They were also delighted by its "excellent taste" and "very nice soft texture" – though some felt it was "a bit small for the price" of £2 for 100g. Our experts called the pudding "convincingly indulgent". The pack design and glass ramekin also drew much praise.
Finalists
Nairn's Gluten Free Oat Bar
Schär Melto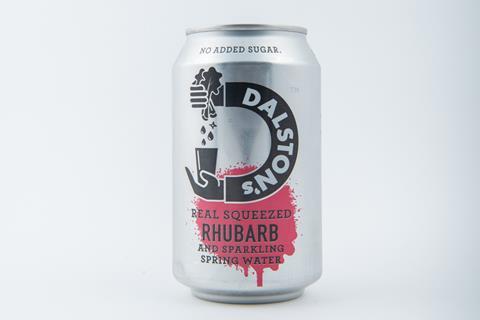 Healthier drinks
Dalston's Soda Light – Real Squeezed Rhubarb
This sparkling soft drink from artisanal brand Dalston's was "easy to drink" and "smells good" according to consumers, though they found it "a little gassy" while some were a little put off by the "expensive" £1.09 price point. Our expert judges liked the soda's "natural flavour of rhubarb" and the fact it was "not too sweet". The overall product felt "sophisticated and grown-up" they said, and would mix very well with vodka and ice.
Finalists
Highland Spring Still Water Eco Bottle
Red Bull Sugar Free
Red Bull Tropical Edition Sugar Free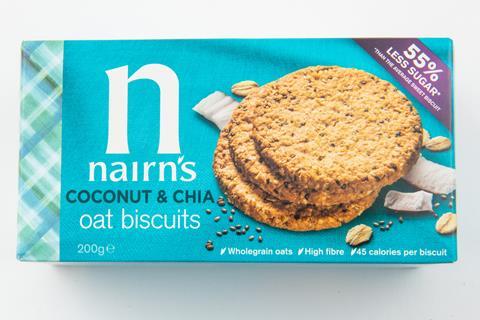 Healthier sweet snacks
Nairn's Coconut & Chia Oat Biscuits – 55% Less Sugar
Described by Nairn's as its "lowest-sugar biscuit yet", this innovation is sweetened in part by dietary fibre and promises to contain "55% less sugar than the average sweet biscuit". Each Nairn's biscuit in the 200g pack provides 45 calories. Our experts said it was "justifiably healthier without compromising on taste", though it was "a little dry". Consumers felt the "excellent quality" snack "would go well with cheese" and was "value for money" at £1.39.
Finalists
Benecol Blueberry and Cranberry Fruit & Oat Bar
Bounce Salted Caramel Protein Energy Ball
Fulfil Chocolate Salted Caramel Vitamin & Protein Bar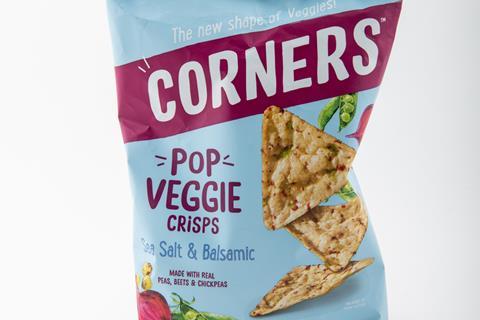 Healthier crisps & snacks
Corners Pop Veggie Crisps Sea Salt & Balsamic
These pop veggie crisps were considered an "exciting new idea" by our experts, who agreed the texture was "crispy and crunchy" and the packaging design was attractive. Although shoppers felt the product was quite expensive, at £1.80 for 85g, they said the flavour was "lovely" and the taste of sea salt "really came through". The fact the product is made from vegetables was also a plus.
Highly Commended
Finalists
Coconut Puffs – Thai Chilli
Corners Pop Protein Crisps – Sweet Barbecue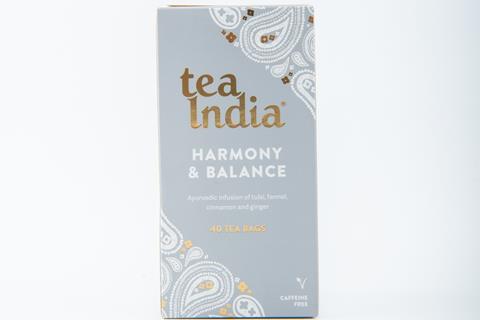 Hot drinks
Tea India – Harmony & Balance
With its blend of fennel, cinnamon, tulsi (holy basil) and ginger, this herbal infusion was praised by shoppers for its "gorgeous strong taste". It was "very easy to drink" they said. Our experts, meanwhile, were attracted to the "intriguing ingredients" and "delightful packaging". All in all, "not a bad cuppa" they said, though they didn't think it the most innovative addition to its category.
Finalists
Costa Coffee Latte Pods – Dolce Gusto Compatible
Dualit Compostable Coffee Bags – Intense Blend
Dualit Compostable Coffee Bags – Sumatra Mandheling Blend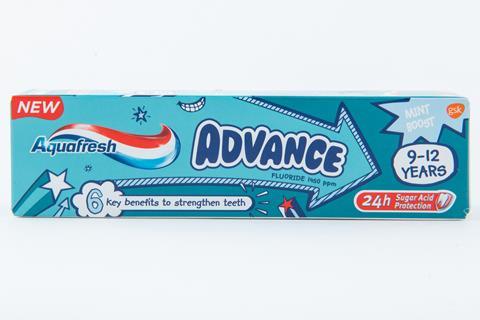 Non-food
Aquafresh Advance
This toothpaste for kids aged nine to 12 was well received by shoppers. They were attracted to the packaging, and delighted by the "very minty" taste. Our experts said it was "very well thought-through" and provided "good information".
Highly Commended
Soapberry Sensitive Water Wipes
Finalists
EasiYo Yogurt Starter Kit
Energizer Ultimate Lithium Battery Coin CR2032
Little Soap Company Organic Bar Soap Grapefruit & Orange
OPSO Reed Diffusers: Home Fragrances Made from Natural Tree Resin – Nordic Birch Forest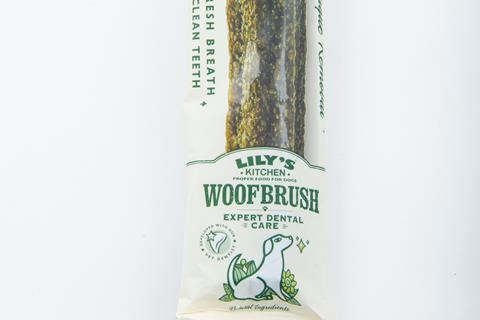 Pet food & treats
Lily's Kitchen Woofbrush
Our experts said this 'toothbrush' chew for dogs was a "clever concept" and "reassuringly approved by vets". Shoppers rated it as "excellent" and effective in freshening dogs' breath.
Highly Commended
Crave Chicken & Turkey Dog Dry Food
Finalists
Barking Heads Beef Waggington
Blink Fish Fillets & Roasted Chicken Complete Cat Food Pouch
Butcher's Nourishing Food for Dogs Tripe 6 Pack
Pooch & Mutt Chicken, Pumpkin & Pea Carton
Scrumbles Grain Free Turkey Wet Dog Food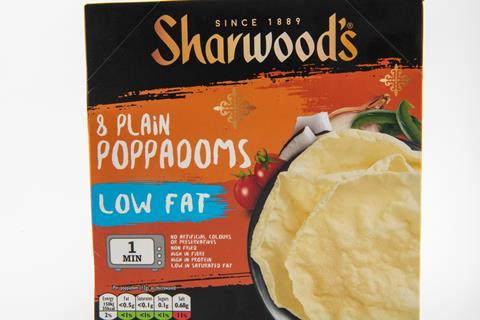 Low fat
Sharwood's Low Fat Poppadoms
This Indian-inspired product from Premier Foods provides just 0.9g of fat per 100g. Judges praised its "good poppadom flavour" and a level of rigidity that was "good for dipping". Shoppers felt it would make a "good low-fat weeknight standby or a weekend treat". However, some said the salt content was too high, which rather cancelled out the health benefits of the lower fat claim. Additionally, some thought the price was too high, at £1.99 for 94g.
Finalists
Wall's Sausage Thins
Unearther Reduded Fat Milano Salami
Sacla' Reduced Fat Basil Pesto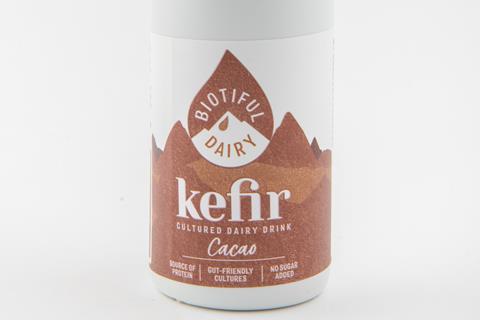 Probiotic drinks
Bio-tiful Cacao Kefir Smoothie
This "good quality" smoothie was "authentic" said our panel of expert judges. It had "great texture", "nice sweetness" and was "generally quite impressive" they added. But they felt it might be a "touch sour for the younger mainstream".
Highly Commended
Willy's Natural Energy Drink made with Apple Cider Vinegar & Green Tea Kombucha
Finalists
Captain Kombucha Atlantic Raspberry
Wonder Drink – Asian Pear & Ginger Kombucha
Wonder Drink – Green Tea & Lemon Kombucha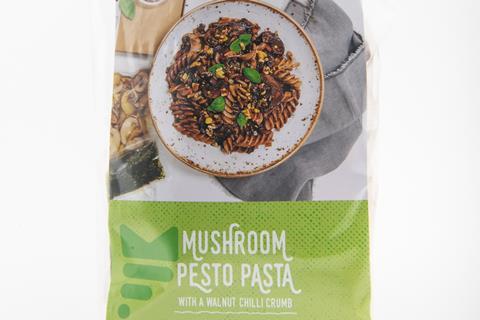 Ready meals
Mushroom Pesto Pasta Meal Kit
This meal kit from Muscle Foods, designed for a "no-fuss no-waste" approach "brings something new to the category". Our judges said the flavours were delicious, and the serving size "very generous" for one person. They also said they felt the concept was "innovative and exciting". They praised the meal kit for being a "convenient, no-waste offer", and would be a "good standby" as a mid-week meal solution.
Highly Commended
Prep Co – Thai Green Curry
Finalist
Loyd Grossman Pasta Italia Pots – Sundried Tomato and Basil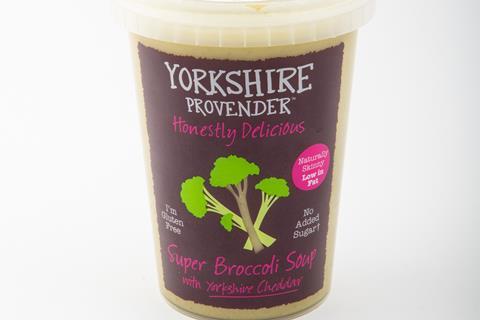 Soup
Yorkshire Provender Super Broccoli Soup with Yorkshire Cheddar
This low-fat soup's branding, informative packaging and provenance attracted shoppers. They called it an "unusual mix but tasty". It was "creamy" and "nice and thick". Their view was shared by our experts, who admired the product for being healthy "without compromising on taste". It was "very well made" with a "perfect" level of salt.
Highly Commended
Yorkshire Provender Aromatic Thai Carrot Soup
Finalists
Heinz Pot Soup – Cream Of Tomato
Yorkshire Provender Omero's Red Pepper Soup with Chorizo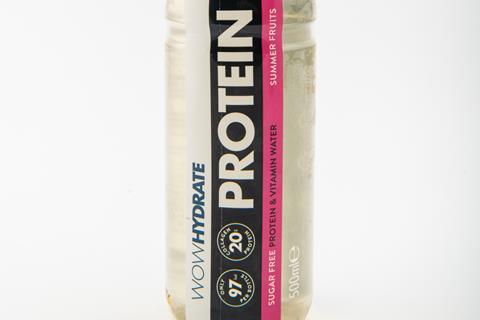 Sports nutrition & weight management
Wow Hydrate Protein – Summer Fruits
With 4g of collagen protein per 100ml, this 500ml sports drink is aimed at "refuelling the body without carbs or sugar". Positive comments from shoppers included "refreshing" and "nice taste" – while our experts admired the "novel format" of the bottle's push cap that 'fires' ingredients into the liquid.
Finalists
Bam Organic High Protein Banoffee Shake
Grenade Carb Killa Birthday Cake
SlimFast Advanced Vitality Berry Blast Meal Replacement Shake
SlimFast Advanced Vitality Strawberry & Blueberry Burst Meal Replacement Shake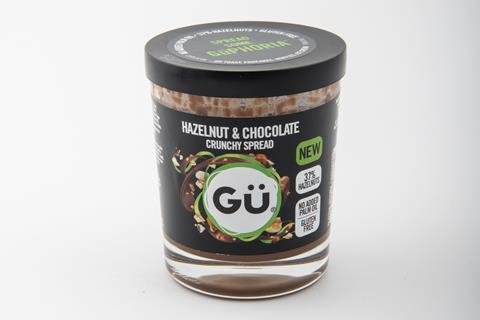 Store cupboard
Gü Hazelnut & Chocolate Crunchy Spread
At £2.50 per 200g, this sweet spread was considered "great value for money" by our judges. They felt the proportion of nuts to chocolate was spot on, and were impressed by the sustainability credentials of the product, which contains no palm oil and is packed in a reusable glass jar.
Highly Commended
Del Monte Fruit Fusions Gold Pineapple in Coconut Water
Finalists
John West Infusions Salad Tuna Fillets – Chilli & Garlic
Del Monte Gold Pineapple Chunks in Juice
Sarson's Pickle in 15 Lightly Seasoned Vinegar Blend
John West Easy Peel Mackerel – Smokehouse BBQ Sauce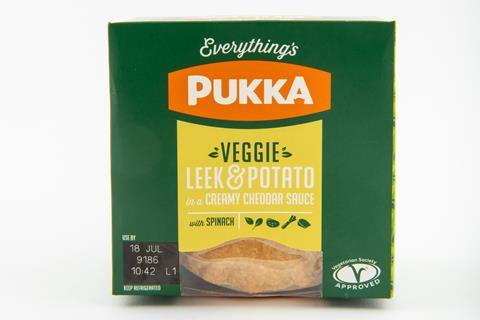 Vegan & vegetarian
Pukka Veggie Leek & Potato Pie in a Creamy Cheddar Sauce
A "new and exciting" product, Pukka's pie was considered "a handy size for midweek meals". Judges praised it for being "extremely delicious" with a "generous filling" and "flexitarian appeal".
Highly Commended
La Boulangere Vegan 6 Pains au Chocolat
Finalists
La Boulangere Vegan 6 Croissants
The Meatless Farm Co Plant Based Mince
Gosh! Veggie Sausages with Sage & Black Pepper
Goodfella's Vegan Stonebaked Falafel Pizza
Yoghurt
Onken Naked Yogurt – Peach & Passion Fruit
The fact this yoghurt from Onken has only three ingredients was a big draw for judges and shoppers alike. Judges hailed this product for its "clean and clear packaging design", as well as its "smooth" texture and "creamy, fruity" taste. Shoppers agreed this would work well as a mid-week snack, though they agreed that its high quality was such that it would work equally well as a weekend treat.
Highly Commended
Tims Dairy The London Collection Mango & Turmeric Greek Style Yogurt
Finalist
Lizi's Vanilla Breakfast Drink
How our New Product Awards work – and how to enter in 2020
Each product in The Grocer New Product Awards undergoes a two-stage assessment. It is first tried and tested by at least 50 consumers, all under controlled conditions, and assessed for visual appearance, taste, texture, packaging and value for money (among other measures) before moving on for further evaluation by our expert panel. Products are then, where relevant, prepared in professional kitchens, as they undergo scrutiny by expert judges, with the combined scores from the two stages used to determine the winners.
Former winners have described the process as "fantastic recognition" for all their hard work, providing opportunities to build up bigger and better retail listings, and "reinforce a brand's premium credentials" by walking away with a prestigious and hard-fought award.
And from the moment our 2019 winners are crowned at a glittering ceremony at the Marriott Hotel in Grosvenor Square hotel this week, registrations will be open for next year's competition.
So, whether you've launched a healthy snack, a premium bodywash, an exquisite dessert or the next big thing in gut health, head straight to thegrocernewproductawards.co.uk to register.
Brands that believe they have the winning formula across one of numerous food, drink and non-food categories can register their interest immediately by heading to the New Product Awards website, where all 2019 finalists, winners and photos will be published.
Entries for the 2020 awards will officially open from December this year. The deadline for entries will be in late February 2020.