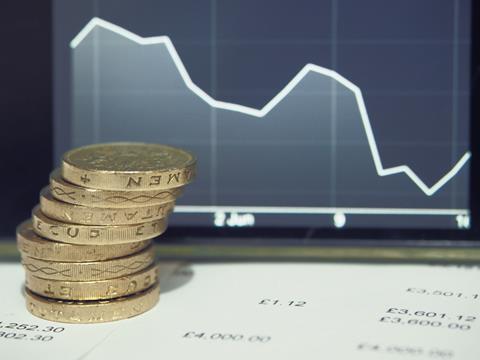 Top story
Prices have risen faster than expected in July as lockdown restrictions were relaxed and consumers returned to the shops.
Consumer price inflation in the UK jumped to 1% last month, up from 0.6% in June, according to the new figures released this morning by the Office for National Statistics.
Inflation was pushed up by rising prices at the petrol pumps, higher clothing prices and a bump in prices for household items and furniture.
Prices for haircuts also increased as people rushed out after lockdown to salons and barbers, with the need to cover the costs of PPE contributing to the hike at the tills.
There was a small, partially offsetting, downward contribution (of 0.03 percentage points) to the 12-month inflation rate from food and non-alcoholic beverages, with food prices falling by 0.3% this year, compared with a rise of 0.1% a year ago.
The Bank of England had predicted inflation would fall to near zero this year as a result of Covid-19.
"Inflation has risen, in part, due to the largest monthly pump price increase in nearly a decade, as international oil prices rose from their lows earlier this year," said Jonathan Athow, deputy national statistician for economic statistics at the ONS.
The largest contributor to the rise in inflation last month was clothing prices as a result of more people shopping from home the usual summer discounts on the high street failed to materialise.
Laura Suter, personal finance analyst at investment platform AJ Bell, said: "The lack of summer sales on the high street mean clothing and footwear is less discounted than it was last summer, helping to push up prices in comparison to last year.
"Lockdown and the current pandemic have trampled over the usual seasons clothing shops operate under, affecting prices. The cost of haircuts has risen as the public rushed to re-opening salons to get their lockdown hair fixed, with the cost of the additional PPE and a reduction in customers to respect social distancing likely to have driven much of the price rises."
Morning update
There is little in the way of company news on the London Stock Exchange this morning with the summer holidays in full swing.
The FTSE 100 has edged down this morning by 0.1% to 6071.39pts.
Early risers include WH Smith, which is up 1.8% to 972p, Hilton Food Group, up 1.4% to 1,190p, and C&C Group, up 0.7% to 217p.
McColl's has opened down 2.5% to 32.2p, giving up some of yesterday's gains. Other fallers include Bakkavor, down 1.9% to 67.5p, Cranswick, down 1.8% to 3,890p, and M&S, down another 1.8% to 106.2p.
Yesterday in the City
The FTSE 100 was on the back foot yesterday, slipping by 0.8% to 6,076.62pts.
M&S was one of the big losers of the day after announcing it was slashing 7,000 jobs as it continues to struggle on the high street in the wake of coronavirus. The retailer's shares plunged 4.9% to 108.1p.
Other fallers included Pets at Home, down 4.8% to 290.6p, Greencore, down 5% to 119p, and C&C Group, down 2.9% to 215.5p.
McColl's had a good day, with the share price rising 5.4% to 33p, while other risers included Domino's Pizza Group, up 2.4% to 344.6p, and Bakkavor, up 1.6% to 68.8p.
There wasn't a great deal of movement for the listed supermarkets despite the latest Kantar market share data. Morrisons ended the day flat, Ocado was up 0.7% to 2,398p, while Sainsbury's and Tesco finished down 0.6% to 188.9p and 0.3% to 228.3p respectively.