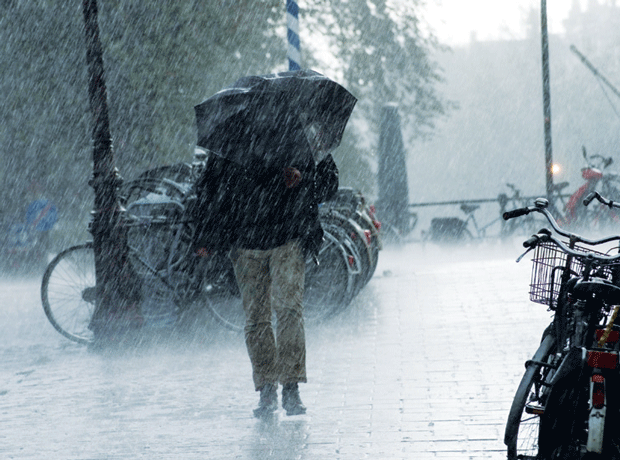 Top story
The wet weather from the end of June to early July contributed to the worst year-on-year figures at the UKs leading supermarkets for two years, according to Nielsen.
During the four weeks ending 16 July 2016, the value of sales was down 2.4% against the same period a year ago – the worst figure since the four-weeks ending 19 July 2014.
Sales volumes declined 1.5% – which is the worst figure for nearly two years. For the week ending 2 July sales were 5.5% down year-on-year.
"The weather is having a big impact on the industry at the moment, adding further pressure on sales from deflation and responding to the growth of discounters," says Mike Watkins, Nielsen's UK head of retailer and business insight. "With falling spend per visit, supermarkets are becoming more reliant on attracting new shoppers and encouraging loyalty from repeat visits in order to maintain sales momentum. At the moment, big but short-term events such as Euro 2016 and the upcoming Rio Olympics, are not enough to drive topline sales."
Meanwhile, Kantar Worldpanel found no immediate impact on grocery prices or volume sales following the Brexit result, with deflation static at -1.4%.
Fraser McKevitt, head of retail and consumer insight at Kantar Worldpanel, said: "The EU referendum result has had no immediate impact on the prices retailers are charging or the sales volumes consumers are buying over the past 12 weeks. The nation's average shopping basket is 1.4% cheaper than a year ago, exactly the same level of deflation as reported last month, and it remains to be seen if the Brexit vote will bring about any price rises this year."
Among the individual retailers, Kantar found sales at Tesco (TSCO) fell by 0.7% , leading to Tesco's slowest rate of market share loss since March 2014 driven by an improved performance from its larger stores. At Sainsbury's (SBRY) sales fell by 1.1%, while sales were down 5.6% at Asda and 1.8% at Morrisons (MRW).
Nielsen found Aldi and Lidl combined to hit a record market share of 11.8% during the twelve weeks ending 16 July 2016. Aldi's sales rising 18.2% year-on-year, Lidl's 12.3%.
It found Tesco was the best performer, with sales for the 12 weeks to 18 July down 1%, compared to a 1.5% decline at Sainsbury's, 2% at Morrisons and 5.7% at Asda.
Morning update
There's plenty to get through again on another busy morning on the markets.
Fever-Tree (FEVR) has reported another bumper trading period in the six months to 30 June 2016.
Sales at the premium drinks mixer firm were up 69% to £40.6m, with adjusted EBITDA up 72% to £12.4 and gross margin improving to 54.8% from 50.5%.
Fever-Tree said it had seen strong growth across all regions, with particularly notable performance in UK off-trade helped by the addition of new distribution during the period.
It successfully rolled-out 150ml premium cans during the period, including winning listings with EasyJet, while the launch of new bespoke embossed bottles in June 2016 will be rolled out internationally over the second half.
Since the end of the period it has expanded its distribution of tonic water with British Airways across the entire fleet.
Tim Warrillow, CEO of Fever-Tree said: "We are delighted to report that the group's strong performance throughout 2015 has continued into the first half of 2016. Growth has continued to come from all of our regions as evidenced by further distribution gains in both the on and off-trade, as well as continued underlying sales growth.
"We have made excellent progress in developing the optimum infrastructure, relationships and team to capitalise on the strength of our brand and market leading position as the trend for premium spirits continues to gather momentum across all our key geographies."
Imperial Leather owner PZ Cussons (PZC) has reported a 5.9% rise in annual constant current sales, but a fall in profitability amid struggles in its key market of Nigeria.
Revenues rose 0.3% on a reported basis to £821.2m in the year to 31 May, representing 5.9% growth in constant currency but a 1.4% drop in like-for-like sales.
Pre-tax profit was down 5.3% to £103m, down 1.8% in constant currency and 4.7% like-for-like.
PZ Cussons said the "steady" results reflected strong performance in Europe offsetting a difficult trading environment in Africa.
Tight liquidity and restricted foreign exchange availability in Nigeria, which has begun to improve post year end with a new flexible exchange rate resulting in an approximate 40% devaluation of the Naira. Despite this it reported "robust performance" in Nigeria HOME and personal care in the face of an extremely competitive environment
In Europe its UK washing and bathing division performing well with new product launches across Imperial Leather, Carex and Original Source.
Chairman Richard Harvey said: "These are a steady set of results, with a strong performance in Europe offsetting a very difficult trading environment in Nigeria and the impact of weaker currencies in both Asia and Africa. Despite these challenging trading conditions, to end the year on a constant currency basis with revenue growth of 5.9% and operating profit broadly flat is a creditable performance.
"The end of the financial year also saw the successful completion of the three year project to move to a new operating model and this will stand us in good stead for the future.
"Performance since the year end has been in line with expectations with liquidity in Nigeria beginning to improve. The group's focus on its values, robust long-term strategy and innovative product pipeline, provides a strong platform for future sustainable growth, and the board is pleased to declare a further increase in the full year dividend."
Greencore (GNC) has issued a trading update covering the 13 weeks to 24 June 2016.
It recorded revenue of £360.4m in the 13 weeks to 24 June 2016, an increase of 4% on the prior year on a reported basis and of 3.1% in constant currency. For its first three quarters it recorded sales of £1.05bn, which is 6.7% ahead on the prior year on a reported basis and 5.9% ahead on a constant currency basis.
Its convenience foods division recorded Q3 revenue of £349.9m, 5.4% higher than the prior year on a reported basis and up 4.6% in constant currency.
In the UK, Q3 revenue was 5.7% higher than in the prior year and 6.7% higher year to date, with growth driven by its food to go business. In the US, Q3 reported revenue was 4.1% higher than in the prior year and 1% lower on a constant currency basis in the context of a particularly strong comparator period.
Greencore cautioned that EU referendum has resulted in "greater uncertainty with regard to the UK economic outlook and the longer term implications remain unknown". It said at this stage, the short-term impact on Greencore is likely to be "modest" given it imports less than a quarter of its ingredients and packing materials.
"The depreciation in sterling is not expected to impact profit delivery in the current financial year. However, if current exchange rates persist, net debt at year end will be higher than expected at the half year due to translation of US dollar denominated borrowings."
Finally, Unilever (ULVR) has priced a dual-tranche $1.25bn bond on the U.S. market. The offer consists of $550m of 1.375% fixed rate notes due 28 July 2021, with a further $700m 2% per cent fixed rate notes due 28 July 2026. The bond offering is scheduled to close on 28 July 2016.
The FTSE 100 is flat again this morning, rising just 0.1% to 6,714.7pts.
Fever-Tree is up 0.6% to 812p, PZ Cussons up 1.5% to 326p and Greencore down 1.8% to 315.8p.
The supermarkets are down today after the market share figures - with Tesco down 1.6% to 159.5p, Sainsbury's down 1.6% to 224.1p and Morrisons down 0.7% to 182.5p.
Other major movers include Hilton Food Group (HFG) up 2.8% to 601.6p, Conviviality (CVR), up 1.4% to 219p, Carr's Group (CARR) down 3.5% to 137p and Applegreen (APGN) down 3.5% to 321p.
Yesterday in the City
The FTSE 100 edged down 0.3% to 6,710.1 yesterday, but it was largely another positive day for the grocery sector.
Most notable Fever-Tree leapt 5.5% to go back over 800p, rising to 807.5p on the eve of its first half results this morning.
Morrisons (MRW) also rose strongly, climbing 2.2% to 183.8p ahead of this morning's market share data, while Tesco (TSCO) was up 1.4% to 162.1p and Sainsbury's (SBRY) was up 1.2% to 227.8p.
Other risers included Dairy Crest (DCG) up 1.9% to 590p, Premier Foods (PFD), up 1.6% to 47.5p, SSP Group (SSPG), up 1.4% to 311.2p and WH Smith (SMWH), up 1.3% to 1,552p.
Greencore's acquisition of The Sandwich Factory for up to £15m from Cranswick saw both companies rise during the day. Cranswick (CWK) was up 1.2% to 2,362p after a solid trading statement, while Greencore was 0.7% up to 321.5p.
Fallers included Unilever (ULVR), down 0.8% to 3,530p, Associated British Foods (ABF), down 0.9% to 2,711p and B&M European Value Retail (BME), down 0.9% to 257.7p.