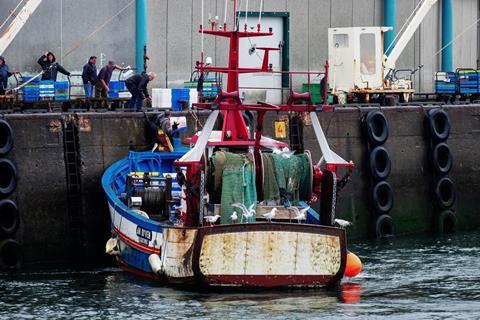 English fishermen have been thrown "a lifeline" by the government after its exports markets collapsed due to the coronavirus pandemic.
More than 1,000 fishing and aquaculture businesses will receive a share of £9m in cash grants, with another £1m available for fishing operators who sell their catch locally.
The vast majority of British catch is normally exported to Europe and Asia, while the rest is typically sold in restaurants. The loss of both markets has left many fishermen financially stricken.
Prices have also continued to plummet, forcing some fishermen to tie up their boats to avoid landing catch that could crash prices further.
England is the last region of the UK to make financial support available. Scotland made £5m available for seafood companies while Northern Ireland and Wales also released grants.
Defra secretary George Eustice said the government was "continuing to work closely with the fishing and aquaculture industry" so it "can get back to their vital role of providing fish for the table while contributing to the economy of many of our coastal communities".
Many English fishermen have remodelled their businesses in the past month by selling direct to consumer. Home delivery platforms such as Call 4 Fish are reporting high demand across the country, which despite the limited scale, is giving many hope that British tastes are changing.
"We are experiencing a 10-fold increase in demand," said Rob Wing at The Cornish Fishmonger. "Right now we can't keep up with the level of demand."
Previous efforts by supermarkets to sell more local catch failed, as they could not persuade customers to move beyond established favourites such as cod, haddock, salmon and tuna.
"I think what we've seen with Covid-19 is that actually British customers are pretty adaptable," said Rodney Anderson, an advisor to Plymouth Trawler Agents. "There is a clearly a strong domestic demand if only you can get it out to them."
Seafish, the seafood trade body, said it was working with retailers to get more local fish on to supermarket shelves.
However, many doubt that British waters can supply the volume and quality that processors require. British processing plants are unable to carry out full end-to-end processing in the UK, with most imports arriving already prepared.
Retail supply chains are also holding up strongly, with Birds Eye telling The Grocer it had not experienced any disruption to its sourcing.
But with threats to the British fishing industry far from over, calls for greater help from the supermarkets are unlikely to diminish.
"People are now wanting to buy British. The demand is there," said David Stevens, a Plymouth-based fisherman. "There's a good opportunity here and the supermarkets need to realise that."