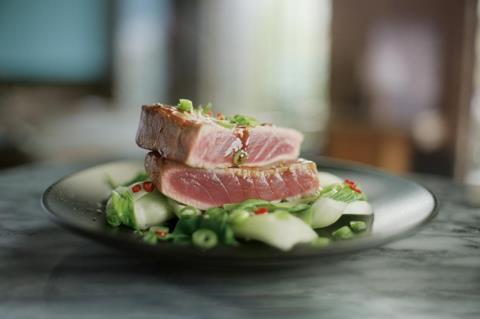 Waitrose has claimed a UK category first with the launch of MSC-certified fresh yellowfin and albacore tuna products.
Available at 32 stores since last Thursday (25 March), the NPD consisted of MSC Yellowfin Tuna Steaks (rsp: £8/240g), MSC Diced Tuna (rsp: £5/200g) and MSC Albacore Tuna Steaks (rsp: £6/200g).
Sourced from South Korean waters in the Pacific Ocean, the retailer said it had taken more than a decade to establish the supply chain for the products following engagement with its supplier, governments and NGOs.
The new SKUs are expected to become more widely available across the Waitrose estate from mid-2022.
"Sourcing tuna sustainably has always been a challenge," said Waitrose aquaculture & fisheries manager Andy Boulton. "We believe it is our responsibility to use our influence to positively impact the environment and protect resources.
"Yellowfin tuna is very popular with our customers, so being able to offer a MSC-certified option after all the years is really exciting."
MSC's programme director for the UK and Ireland George Clark described the move as "another great stride forwards in sustainable seafood sourcing" and said Waitrose had demonstrated "great leadership" with its seafood supply chain practices.
The NPD trio have also formed part of Waitrose's pledge to source all its wild-caught seafood from third party-certified sources by 2025. All of the retailer's canned tuna is already fully MSC-certified.
The news comes amid increasing concern for the sustainability of yellowfin tuna stocks in the Indian Ocean.
A special session of the Indian Ocean Tuna Commission, held earlier this month, delayed taking any action on protecting the species until its next major meeting in June – a move that drew criticism from countries in the region as well as NGOs.
Waitrose has previously argued a boycott of tuna from the Indian Ocean – action Tesco threatened to take last year – would be "fundamentally and morally wrong", adding it believed in working with its supply chain to improve management of the fishery.