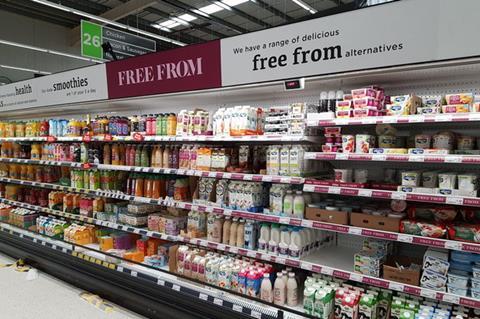 Asda is investing £6.17m to lower prices across its free-from essentials range to ensure customers "don't have to pay more for the food they love if they have an intolerance".
Prices have been reduced by as much as 78% across a range of free-from staples including pasta, flour, milk alternatives, cereals and breads.
"With more people than ever buying free-from foods, we're pleased we can help make these more affordable by lowering our prices, matching the prices of selected lines gram for gram against the non free-from equivalent," said Asda senior buying manager Rebecca Long.
"We believe there should be no reason for our customers to pay more for food if they have an intolerance and want to ensure our customers can get everything they need under one roof, regardless of dietary requirements or lifestyle choice," she added.
The lowered prices are live in store as of Monday.
The biggest reduction is on the price of a 1kg pack of free-from flour, which was £1.50 and is now 33p. Free-from frosted flakes have been reduced by 53% from £1.80 to 59p.
The move comes in response to growing appetite for free-from products among consumers. In 2019, retail sales in the category broke the £2bn mark for the first time on the back of 36% value growth [Kantar 52 w/e 24 March 2019]. This year a further £667m of products have gone through the tills, a £123m rise on last year [Kantar 12 w/e 14 July 2020].
Asda last month launched more than a hundred new ambient vegan products across 359 of its stores. The range is displayed in two bays entirely dedicated to plant-based products. Product prices are "market-leading", Asda said, claiming it was the first UK retailer to launch an ambient vegan aisle.
Key free-from product price reductions:
Free From Gluten Free Flour was £1.50, now 33p
Free From pasta range was £1, now 53p or 2 for £1
Free From Meat Gravy 170g was £1.20 now 60p
Free From Special Flakes was £1.80, now 62p
Free From Choco Snaps was £1.80, now 87p
Free From White Rolls was £1.50, now 96p
Free From Grated Cheese was £2, now £1.40
Free From Freida the Caterpillar Cake was £6.25, now £5.92