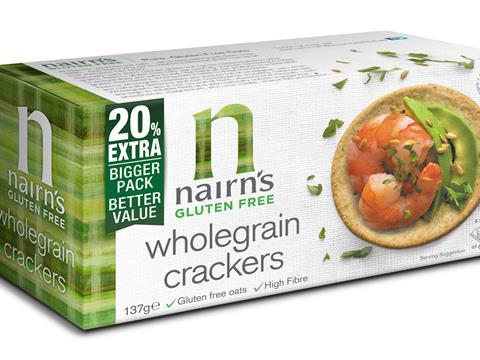 Nairn's has bucked grocery's shrinkflation trend by increasing its Gluten Free Wholegrain Crackers by 20% without upping the price.
Pack weight will change in mid-September from 114g to 137g, while the rsp will remain at £1.75.
The move was to highlight Nairn's "commitment to providing better value for money for free-from consumers" said the Scottish brand. It follows March's 33% increase to Nairn's gluten-free oatcake range, from 135g to 180g, at no extra cost to shoppers.
Gluten-free food was "often criticised for being disproportionately expensive" said the brand's managing director, Martyn Gray. This was largely the result of the costs of raw ingredients and testing products to ensure they were safe for coeliacs.
However, having opened a £6.5m free-from bakery early this year, Nairn's had decided to pass on the resulting cost savings to shoppers, he added.