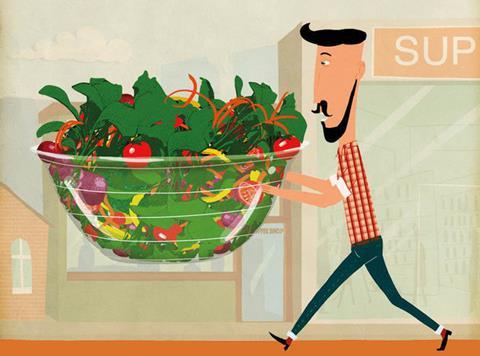 Ninety-five per cent of Brits engaged with the food on the go market in the past year, spending an impressive £508 each. Quick meals and hot drinks are the driving force behind total market value growth of £763.4m. That's a rise of 3.2% to £24.3bn [Kantar Worldpanel 52 w/e 13 August 2017].
Salads are the star performer. And exclusive research for The Grocer reveals there is growing demand for healthier options, especially among the market's key consumers: millennials, who are also willing to spend more. But at the same time, total volumes are down 0.8%. So can playing the health card help return the sector to volume growth? And how should it be done?
Watch: Salads soar as sarnies slip
"Our ever-demanding lifestyles mean that we aren't taking the time to prepare food and then sit down to eat it," says Lucia Juliano, head of research at Harris Interactive, which polled 2,076 consumers on behalf of The Grocer.
"This seismic change in consumption habits poses a challenge for food manufacturers to be more creative in the design of new food types that are easy, practical and convenient to eat while on the go – and at the same time nutritious and healthy."
Sales of salads are up 11.5% to £749.5m with all ages buying into the sector [Kantar]. What's more, our Harris research suggests 17% of shoppers would eat more food on the go if healthier options were available, a number which rises to 30% among younger consumers.
"Consumers are making an informed choice to vary their diet in a holistic way," says John Want, marketing director at Adelie Foods, which launched a range of salads for Starbucks in May and a range of salads under its own Urban Eat brand in August. "Whilst vegetarians and vegans are an important part of the market, meat-free products are growing as more consumers consider flexing their diets between meat and meat-free options."
Where, when, how and who?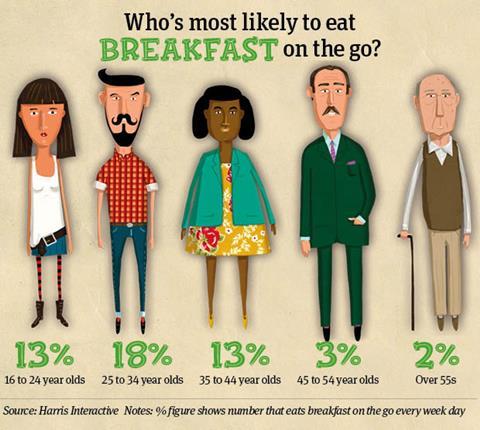 While all ages are buying into salads, older shoppers are in fact the most valuable, with baby boomers spending an average of 52% more than the millennial out of home [Kantar]. Yet it's younger shoppers fuelling on the go's growth, with one in 10 18 to 24-year-olds eating breakfast on the go seven days a week and 19% buying lunch on the go every day [Harris Interactive].
"Time-starved Londoners are so busy these days, grabbing healthy food on the go is just part of their everyday routine," says Debbie Epstein, marketing director at energy snack brand Bounce, whose value sales are up more than 140% year on year. "With the increasing decline in sit-down family mealtimes, younger consumers are finding that eating on the go fits their lifestyle better."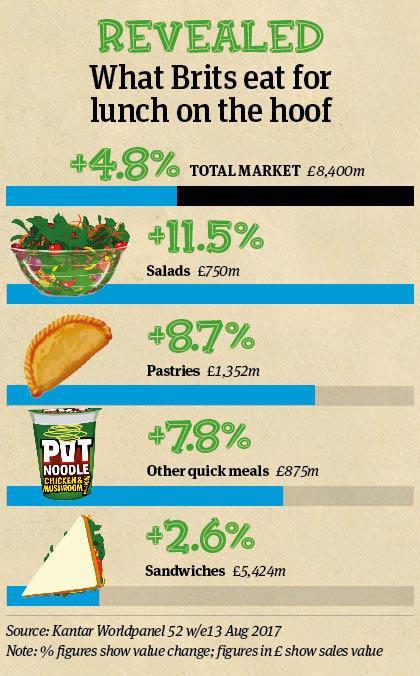 And younger consumers are happy to pay for the convenience, with under-35s upping spend in the category by £359m, an increase of 5.6% [Kantar].
"Our research shows that young adults spend almost a pound more on lunch than the average," says Adelie's Want. "They are happy to pay for the right products, the right experience, delivered when they want. Young adults and city workers like to make a quick choice, with little queuing, so are receptive to mobile ordering, grab & go and self-scan options, which keeps their frequency ahead of other demographics."
Mobile ordering is also keeping shoppers coming through the doors of Starbucks. The coffee chain introduced Mobile Order & Pay on Android and Apple devices in 2016, allowing shoppers to pre-order their drinks before arriving in store to collect them.
"The feature offers customers greater convenience, the ability to customise drink and food orders and collect stars towards free drinks with the My Starbucks Rewards loyalty programme," says Simon Redfern, VP of communications at Starbucks Europe.
Alongside salads, coffee is also a star performer in the on the go category, increasing its value by £228.6m to £5.6bn, up 4.2% [Kantar].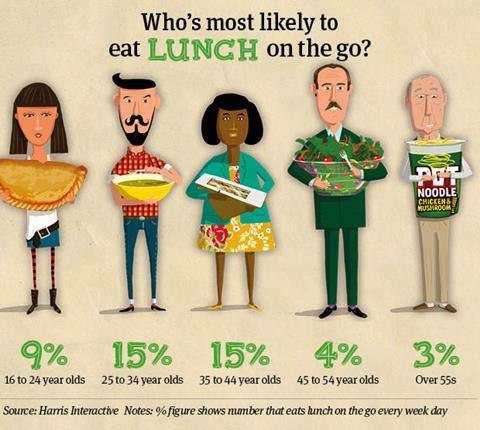 "Coffee is present in over a quarter of all food on the go trips, a staggering 2.6 billion occasions," says Kantar Worldpanel analyst Sophie Read. "As the trend for premium coffee continues, average price in this category has increased by 2.9%, with the average coffee on the go costing £1.72."
The market's total value performance is also aided by a 4.1% rise in average price to £1.50 per pack [Kantar]. So, with consumers happy to dig deep when it comes to convenience, how can brands adapt to appeal to these modern, health-conscious shoppers?
We asked brand design and innovation agency Webb deVlam to come up with concepts to encourage more shoppers to buy – and consume – food on the go. Here are three servings of food for thought…
Say hello to the Balance Box. It might look - and sound - like a premium price-tagged diet-to-your-door food delivery service but it might just have the potential to come to a supermarket near you. Stocked in dedicated fridges in the supermarket, Balance Box shoppers can choose from a pick 'n' mix of colour co-ordinated meal components in quadrant-shaped circles that fit together and are housed in a cardboard sleeve, Japanese bento box-style.
"It's really hard to maintain a nutritionally balanced diet and people are willing to pay a premium to maintain a healthy balance rather than lunchtime messing it right up," says JP Hunter, head of design at Webb deVlam. "Lunchtime meal deals are mostly sandwiches, a can of Coke and a packet of crisps and people know that's not good."
What's more, shoppers can be guided on which Balance Boxes to choose via an app on their phone and based on their level of physical activity that day. "It's a simple, intuitive system which can be linked into other apps which monitor what activity they've been up to that day and automatically suggests meal pieces to put together," says Webb deVlam's Hunter.
Webb deVlam's second concept brings an even greater level of convenience to food on the go. Match Boxes are designed to add a vibrant alternative to the traditional food to go offering with world food, treats and 'wild card' meals at the touch of a button.
Aimed at millennials and located in vending machines at train stations, convenience stores and supermarkets, the stackable Match Boxes serve both hot and cold savoury and sweet food. And if the shopper isn't sure what they want they can press a 'dice' button for a random surprise. You could even serve ice cream," says Hunter.
Webb deVlam's final concept is food on the go with a twist: you make it at home first. Seasons Eatings is a daily subscription service in which a crate containing four trays is delivered to your door, and the base of the box pulls out as a chopping board.
The trays contain meal components including bread that has been baked in the tray and herbs that have been grown in the tray. Each tray comes from a different supplier and cards telling the shopper who has grown the contents and where. "People want better-quality ingredients and they're prepared to pay more for it from local suppliers," says Hunter. "Over time the trays would become burnished with use and tell their own story."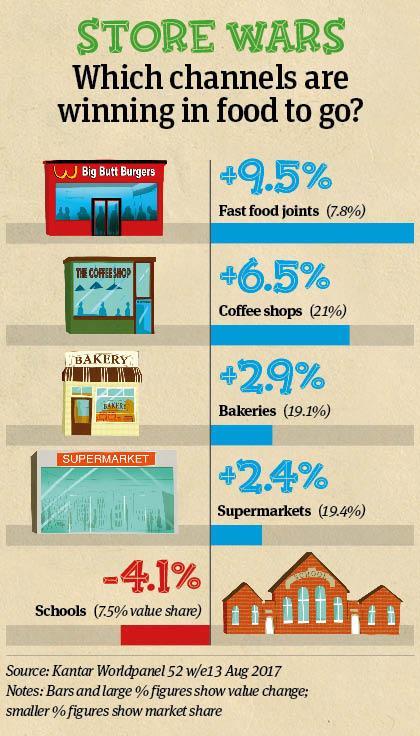 Café culture
The channels that are winning in food on the go are those that are adapting. Coffee shops have increased value sales by 6.5% thanks to new openings and younger shoppers upping spend by 20% - or £176m [Kantar].
And its younger shoppers buying cold drinks instead of hot that's helping to drive growth, with cold drink spend up 44% or £23m – a prime example of coffee shops growing beyond their main niche.
In February, Starbucks launched Nitro Cold Brew, a cold brew recipe coffee infused with nitrogen and delivered through taps in 100 UK stores. "The nitrogen cascades from the tap with a velvety and creamy texture that customers can see and taste," says Starbucks's Redfern. "It marks the next chapter of cold coffee innovation in Europe."
Supermarkets, coffee shops and fast food outlets are the most common places to buy food to go, with supermarkets such as Tesco the most popular choice for lunch for 55% of consumers [Harris Interactive]. When it comes to breakfast, 41% of women are more likely to buy breakfast from a coffee shop such as Starbucks or Pret, while 42% of men head to fast food outlets such as McDonald's.
"Future success and development is going to be more reliant on retailers understanding the key needs of their consumers and understanding how to unlock new opportunities outside of their traditional core," says Kantar's Read. "The landscape will become increasingly competitive, presenting opportunities for retailers to be innovative and compete outside of their niche."
With eating on the go rapidly becoming the new normal, there are golden opportunities all round. "Not that long ago a person would have appeared odd to be walking down the street with a coffee in a paper cup," says Harris Interactive's Juliano. "Now it's everywhere and part of many people's daily habits. On the go food is heading in the same direction."
Innovation on the move
It's all about making life easy with the latest on the go launches.
1. Urban Eat king prawn mango noodle salad: Forget sandwiches. The latest addition to Urban Eat's on-the-go range includes a protein-packed king prawn mango noodle salad featuring all the colours of the rainbow with carrot, red pepper, spring onion, pak choi, mango and fresh coriander.
2. Bounce V Life balls: They're vegan energy balls aimed at people who aren't necessarily vegans. The five-strong range of energy balls in flavours including beetroot cashew are for those who choose to avoid dairy for health reasons.
3. Independent turkey, stuffing & cranberry sauce sandwich: Costcutter's own brand turkey feast sandwich was the supermarket's bestselling limited-edition sandwich in 2016 so it's back for 2017. With butter-basted turkey, Lincolnshire pork sausage, herby stuffing, smoked bacon and red onion, it's Christmas between two slices of bread.
4. Whole Earth power balls: The UK's biggest nut butter brand is muscling in on the energy ball market with its two-strong range of 'power balls' in peanut butter and pumpkin, chia and flax flavours. The bite-size balls come in resealable packs for sharing.
5. James White Acai Guarana Zinger: Marketed as an alternative to coffee the Acai Guarana Zinger from James White Drinks is 100% natural and contains 200mg of caffeine – the equivalent of a double espresso. The new flavour joins four existing variants with no artificial colours, preservatives or flavours.
Thanks to our partners

Harris Interactive , a full-service digital consultative custom market research agency, polled more than 2,000 consumers for The Grocer for this article.

With its 30,000-strong consumer panel, Kantar Worldpanel, is a leading consumer and shopper insights provider. Kantar provided sales and usage data and analysis for this article.