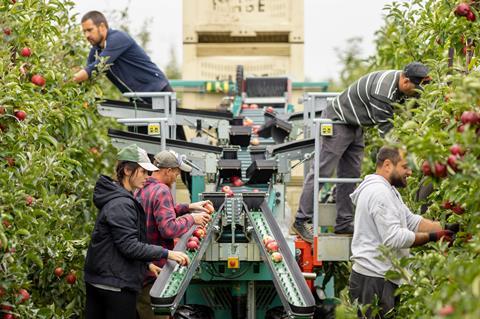 The average profitability of the UK's major apple growers has dropped by 133% over the past year, new data from British Apples & Pears has revealed.
Each one of the sector's six major growers had suffered a very significant reduction in profit with many incurring substantial losses, analysis of Companies House data (comparing 2021 and 2022 accounts) showed.
The growers' body explained this slump had been "inevitable" after input cost inflation to growers ran at about 23% last year [NFU/Promar, November 2022], while supermarkets had paid growers on average only 0.8% more in 2022 compared to 2021, according to BAP research, published in January.
It comes despite the fact retail price inflation has been accelerating over the summer.
Of 75 apple lines on sale in the traditional big four, some 19 had seen on shelf price rises of more than 10% year on year [Assosia 52 w/e 26 September 2023], including four lines increasing by more than 45% year on year and one up by 65.6%.
This represented an increase compared to similar data published by The Grocer in April which found that lines had increased by as much 46.3% during the past year in some cases.
"It appears retailers have increased the prices of apples and pears to cover their increased costs, but not the increased costs of their suppliers," said Ali Capper, executive chair of BAP. "Someone is making a profit, but it's not growers."
And prices for the 2023 crop were still being negotiated by the supermarkets – despite the harvest season being well underway.
The industry body has also criticised comments made by Andrew Opie, director of food and sustainability at the British Retail Consortium on a BBC Countryfile episode aired on Sunday.
"Retailers know how tough it is for everybody in the supply chain through the last couple of years and they are trying to get the best prices back to their producers," said Opie, while dismissing the negative impact of supermarkets on the supply chain.
"The problem is they are slightly constrained in this because as customers we are all struggling with our own bills at the moment so there's a limit on how much we can charge at the shelves to then pass back that price to the producers, but we are doing our best to ensure they have got a sustainable future."
Capper said this statement on keeping prices low for consumers was "simply not true" as shoppers were already paying more. She also criticised the claims that retailers were fully supportive of British fresh produce, saying it was "disingenuous at best", given the context around how grower returns had barely risen.
"Apple growers are not receiving a fair return from supermarkets," said Capper. "This is putting the future of British apple growing at risk. It's a situation that must change and change quickly.
In the latest sales data from BAP, only Sainsbury's and Aldi stocked a larger percentage of British stock than their total grocery market share. Sainsbury's stocked 40.6% of British apples sold compared to 14.8% market share and Aldi stocked 40.3% of apples versus 10.2% market share.
Tesco, Asda and Morrisons all stocked under their market share of British apples sold in May, June, July and August.
"If retailers really were 'doing their best to ensure a sustainable future' as Andrew Opie claims, we would not see farmers pulling out of apple growing and reducing the numbers of new trees they're planning on planting," she added.
In January, BAP revealed that a third of 480,000 new trees expected to be planted had been cancelled by growers due to rising costs which Capper warned at the time would lead to orchard decline.
"Retailers understand the pressure farmers are under and continue to review the prices they pay to support them at this difficult time," said Opie in response to BAP's comments.