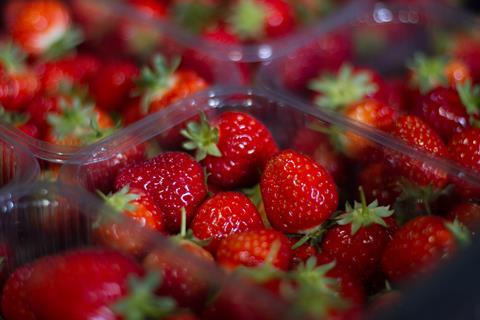 AVA Berries has recorded what it has described as its "strongest" seasonal strawberry sales performance to date, thanks to a shake-up of its marketing strategy.
The supplier had sold almost 4.7 million punnets since the start of May, an increase of more than two million against the same period last year, it said.
Despite the Wimbledon tennis tournament's cancellation due to the coronavirus pandemic, strawberry volume sales over what would have been the fortnight it took place exceeded last year's figure by 59%, AVA claimed.
This was thanks to a partnership with Scottish milk delivery service McQueens Dairies, through which AVA had delivered "surprise punnets" of strawberries to 2,500 households in Scotland, said AVA marketing manager Jill Witheyman.
The Scottish business, which supplies premium lines to Aldi, Co-op, Morrisons and Sainsbury's, put its performance down to a revised marketing strategy, as well as a partnership with McQueens.
"When lockdown started, we had to completely rip up our summer 2020 marketing campaign and start again," Witheyman said.
"We knew this was going to be a difficult time, not just for the British public but for our growers as well, so we had to get this campaign right. Looking at emerging trends, we focused our campaign on three core themes; spreading some summer cheer, looking after your mental and physical health at home, and enjoying moments of luxury while in lockdown."
The push included recipe ideas from 2019 MasterChef finalist Jilly McCord on social media, alongside ads in local and regional media outlets across Scotland and the north of England.
It comes as the berry market has enjoyed strong sales growth over the lockdown period. Eight-week Kantar data shows double-digit value sales growth for all the major berry crops [w/e 12 July 2020]. Strawberries saw an 11% increase in value, to £196m, over the period.
British Summer Fruits said sales had boomed thanks to abundant supply stemming from optimal growing conditions across the country, as well as the increased health consciousness of consumers and more in-home occasions.