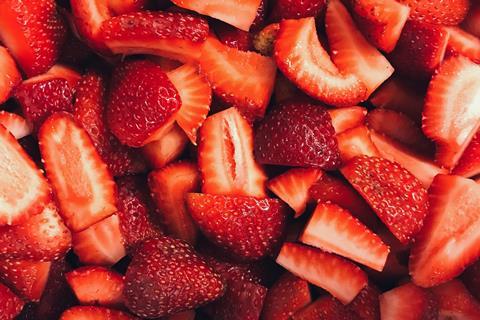 Sales of berries have rocketed during lockdown thanks to good growing conditions and the impact of coronavirus on consumer behaviour, according to British Summer Fruits.
Kantar data from the four weeks to 14 June showed double-digit value sales growth compared with the same period last year for all the major berry crops [Kantar 4 w/e 14 June 2020].
Strawberries added close to £20m in sales, taking their value to more than £100m. Meanwhile, blueberries added a fifth to their value, taking their market worth over the period to £41.5m, and raspberries grew 29% to £38m.
Volume sales have also been strong across the board, with strawberries up 15.8%, raspberries up 23.5% and blueberries up 9.8%.
But the standout performer was the blackberry crop, which increased both value and volume sales by more than 50%, albeit from a lower base.
The UK berry industry was now worth £1.58bn (up 10% year on year), and had benefitted from good weather in May and June as well as the impact the coronavirus pandemic had on usage occasions, said British Summer Fruits chairman Nick Marston.
"There are three underlying factors [to the sector's positive performance]," Marston said. "There's an increased interest in fresh fruit for health reasons, increased footfall in supermarkets and an increase in the number of people at home in the UK in the summer."
However, he warned sales could see a dip in the coming weeks due to an anticipated tightening of supply caused by cooler weather slowing down the development of crops.
Marston put the success of blackberries down to the growth of "better-eating" varieties, as well as the establishment of new production methods.
"There has been a huge increase in the production of good eating blackberry varieties," he said. "Varieties like Driscoll's Victoria have been replacing the traditional Loch Ness variety that's fairly sharp.
"There has also a substantial increase in protected blackberry production. Blackberries grow well in glasshouses and there's been a significant increase in UK glasshouse space. It means earlier blackberry production can now look to fill the gap between the reduction in the Mexican supply from April onwards and the UK tunnel crop in July."
Marston also said he anticipated blackberry sales would continue to see growth in much the same way as raspberries and blueberries have over the past 10-15 years, adding: "There's a lot of headroom and a huge amount of potential."