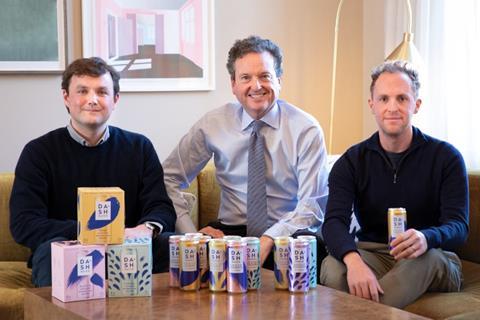 Seltzer brand Dash Water has closed a multimillion-pound investment round to maintain its rapid growth, with backing from industry veteran David Milner, who also joins the business as chairman.
The £2.1m round brings the total raised since Jack Scott and Alex Wright founded the company in 2017 to £7m.
Alongside Milner, other investors included Sipsmith founders Sam Galsworthy and Fairfax Hall, Logan Plant, founder and CEO at Beavertown Brewery – which Dash teamed up with in 2021 to launch a limited-edition hard seltzer – and David Abrahamovitch, founder and CEO of London coffee shop chain Grind & Co.
Former Manchester United footballer Patrice Evra and existing investor Creator Collective Capital also participated in the round.
Alex Wright told The Grocer it would use the backing to widen distribution channels, drive the DTC operation and invest in growth in Australia, where the brand launched in 700 Woolworths supermarkets last year.
Dash is already stocked in 7,000 stores in the UK and Australia, including the likes of Sainsburys, Waitrose, Asda, Ocado, Costco, fast food chain Leon and British Airways.
Retail sales soared 110% higher in 2021 to £10m, exceeding forecasts to sell more than nine-million cans. Wright said the business planned to double in size again this year, with a target of selling 20-million cans.
He added the appointment of Milner as chairman would be "instrumental" to supporting Dash's global growth plans.
"The new investment and the appointment of a chairman of David's statue gives us a huge opportunity to achieve our goals of fighting the issue of food waste and giving a fresh perspective to unhealthy soft drinks, not just in the UK but on a global scale," Wright said.
"We're just getting started."
Milner is currently CEO at fast-growing bakery group St Pierre, taking the reins after guiding pet food brand Lily's Kitchen to a £100m sale to Nestlé Purina.
His career in fmcg includes spells at Procter & Gamble, Mars, Campbell's, Baxters and Kettle Chips. Milner also ran posh snack maker Tyrrells from 2010, overseeing a £300m sale to US-based Amplify Snack Brands in 2016.
"Dash is an extraordinary business," Milner said. "From a standing start it has achieved significant traction in the UK and has the appeal to be equally relevant in global markets.
"The brand has the sort of credentials that could not be more suited to the world of today: outstanding taste, zero calories and exceptional sustainable accreditation.
"I am delighted to be joining as chairman and to help drive the growth of this exciting drinks brand."
Scott and Wright started Dash in a bid to tackle the growing food waste problem in the industry, using wonky fruit and veg rejected by supermarkets to make a sparkling water drink with zero calories and no sugar or sweeteners.
The business achieved B-Corp status in 2020 and last year expanded its range to enter the mixer market with the launch of flavoured soda waters.
Earlier this month, Dash added a mango-flavoured sparkling water to its line-up of raspberry, peach, blackcurrant, lemon, and cucumber variants.
Scott said: "As a certified B-Corp and as part of our commitment to reduce food waste and the environmental impact of our business, we celebrate wonky fruit.
"Reducing food waste is regarded by experts to be the third most effective weapon we have in the fight against climate change.
"We're excited to add our new investors to the Dash family and to be working alongside an industry leader like David Milner, too."
Patrice Evra added: "I always have a fridge stocked full of Dash, they make drinking healthy so easy. I'm very excited to be a part of its journey to reduce food waste and create a healthier alternative to soft drinks."