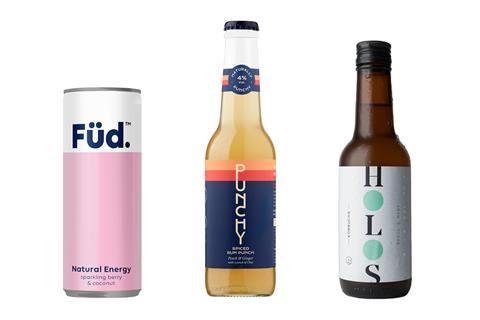 Crowdfunding platform Seedrs has hailed the success of its first-ever accelerator programme and said it plans to launch a second round of the initiative.
Seedrs unveiled the scheme in July to help 10 fmcg startups raise capital through the platform, after attending a seven-week workshop programme designed to provide access to investors, supermarket buyers and branding experts.
The first three businesses to complete their campaigns, drinks startups Brain Füd, Holos Kombucha and Punchy Drinks have all achieved 100% of their funding targets.
"We are pretty pleased with the programme's amazing success so far," said Scott Simpkin, Seedrs campaigns team manager. "Three out of three is pretty impressive."
"This is a first of hopefully many more programmes we will run. The accelerator model is not something anyone has cracked in crowdfunding and we have learned so much through this that it would be silly not to run it again."
Seedrs has not yet set a start date for a new programme to launch, but "it is definitely in the conversation to try and replicate it", Simpkin added.
"We did this with a full intention of running more."
Before re-launching, however, the team would take lessons from this first one, for example making sure to include a session specifically focused on crowdfunding and fundraising, Simpkin said.
After achieving their initial targets, Brain Füd, Punchy and Holos said they were all open to overfund, hoping to add between £10k and £40k to the cash raised.
Brain Füd founder Philip Udeh said: "We are quite relieved. Crowdfunding can be very stressful – it is a lot tougher than people think.
"After an initial boost, it took us a lot of work to make sure we kept investment coming in and hit our target and you have to reach your 100% because if you don't then it is a failure and, especially for a startup, a failure can be very damaging."
Punchy co-founder Paddy Cavanagh-Butler also described achieving the target as a "big relief" but added he had always been confident the brand would make it.
Holos co-founder Tom Partridge said it was "fantastic to go into 2020 with the funding secured".
"The funds raised are a game-changer in helping us grow as a business and establish a strong foundation," he added.
With 40 days left to the end of its campaign, BIB Wine has so far raised 70% of its target, or £77k.
Meanwhile, Rogue Preserves and Griddle have just launched their respective campaigns, while Sxollie Cider and Elizabeth D Bakes plan to hit the platform in January.
Two of the selected startups, however – Protein Pow and Liobites – decided to pull their fundraising plans.