Restaurants and takeaways are key pillars of Britain's plans to tackle obesity. So why is the local kebab shop excluded?
Walk into any pub, restaurant, or café chain from this month, and the calorie count of each item will be prominently displayed on the menu. The government is getting serious about tackling obesity and, having focused its efforts on grocery, it's now cracking down on the out-of-home sector.
Calorie labelling has long been a requirement in supermarkets. Yet applying that same policy to hospitality has drawn criticism from all sides: over its timing, its efficacy and its potential harm to people with eating disorders. It has also seen concerns resurface over a major blind spot in the UK's obesity crackdown: independent restaurants and fast food outlets.
These eateries now number almost 71k across the UK – 80% of all UK restaurants and fast food outlets – yet are exempt from the new calorie labelling mandate. So what's the reason for this exemption? And what effect will it have?
There's no doubting the rationale behind the out-of-home crackdown. The UK is an obese nation, and the government is coming under increasing pressure to tackle the issue. Childhood obesity rates in the UK are among the highest in western Europe, according to the OECD. Almost two thirds of adults are overweight or obese, according to NHS Digital.
Restaurants and fast food outlets have played a crucial role in this. They account for 20% to 25% of an adult's energy intake, according to figures published by Public Health England in 2018, which concluded portions of such food contain, on average, twice as many calories as the equivalent supermarket product.
That analysis includes independents. Yet these outlets are excluded from the rules – to "ensure that businesses who might find calorie labelling more challenging are not impacted while still delivering significant health benefits", according to the Department of Health and Social Care (DHSC).
Instead, the government "encourages smaller food businesses to voluntarily adopt calorie labelling". The policy is expected to come under review in five years' time when the health department will "consider extending the requirement to smaller businesses".
"The gap between multiples and independents has never been wider"
In the meantime, excluding small operations represents a major compromise. In impact assessment documents put together by DHSC itself, extending the calorie labelling to outlets of all sizes was found to deliver population health benefits worth £10.1bn over the 25-year assessment period and savings to the NHS worth £0.9bn. As it stands, the policy is expected to deliver benefits of less than half of that.
After all, independent outlets are leading the way in terms of out-of-home growth. From January 2019 to January 2022, there was a net increase of 1,784 independent restaurants and takeaways in the UK, according to the Local Data Company (LDC) (see table below). By comparison, the number of multiples – defined as chains with five or more locations or an international presence – fell by 1,144. It leaves independents now outnumbering multiples at a ratio of about four to one.
"Government support, the widespread availability of commercial real estate and the ability to negotiate more accessible rental terms have all created more opportunities to launch and grow independent businesses," LDC explains.
In the past two years, among independents:
Pizza takeaways have grown 13.1% (265 stores)
Fast food takeaways have grown 5.9% (575 stores)
By comparison, among multiples:
Pizza takeaways have grown 2.7% (62 stores)
Fast food takeaways have grown 2% (83 stores)
That's not to say larger food chains are in terminal decline. While the total number of multiple food outlets has fallen since 2019, pizza and Chinese outlets are bucking the trend, up 2% and 7.5% respectively – and they're not exactly healthy.
Pizza franchise Fireaway was even the fastest-growing leisure business of 2021 with a 149% growth rate – the largest of any occupier during that period. And international operators like Five Guys, Taco Bell and Wendy's all plan to expand their presence in the UK. Wendy's alone is aiming to open over 400 restaurants in the next few years on top of new delivery-only kitchens. All these sites will fall under the scope of the rules.
Nonetheless, across all retail "the gap between multiples and independents has never been wider" adds LDC. So while the government may be reluctant to burden independents with new cost pressures for now, if this gap continues to grow, there could be growing pressure to address their role in Britain's obesity crisis.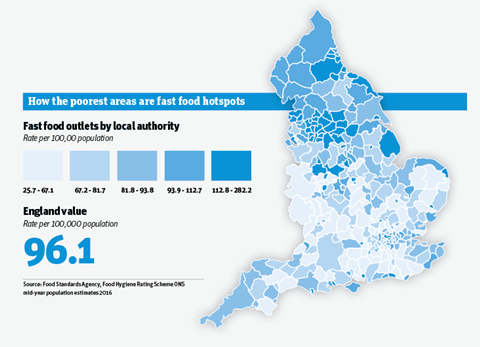 Whether this should include mandatory calorie labelling, however, is a question in itself. DHSC introduced the policy in a bid to ensure people are able to make more "informed, healthier choices when it comes to eating food out or ordering takeaways". Yet the science to support such a claim is far from conclusive. Even DHSC concluded the evidence was "mixed but generally supportive".
A 2016 meta-analysis conducted at the University of Sydney found that calorie labelling policies led to a reduction in intake of just 5.8kcal per visit (though this rose to 124.5kcal among the minority of customers that noticed the labelling). A more expansive meta-analysis of 28 studies by the Cochrane Library, meanwhile, "tentatively" concluded that nutritional labelling on menus was effective as part of a wider set of measures, yet better research was still needed to make more certain conclusions.
"In terms of the effect on consumer purchasing, the evidence on whether such information meaningfully changes consumer choices in favour of healthier options remains weak to mixed," points out Dolly Theis from the University of Cambridge's Centre for Diet and Activity Research.
So perhaps the most significant effect of the policy will be on the behaviour of restaurants, rather than consumers. There is a growing volume of research suggesting calorie labelling pushes restaurants to create healthier menus in response. A 2019 study by researchers at the University of Cambridge looked at the nutritional content of comparable menu items in restaurants. The items in restaurants with calorie labelling had on average 45% less fat and 60% less salt.
"Restaurants that know the nutritional state and quality of their food and display this on menus may be more incentivised to reformulate products to make them healthier, offer more healthy options, or improve the overall balance so it is tilted in favour of delicious, nutritious options," says Theis. This will give consumers more healthy options, she believes, and make choosing more nutritious foods much easier.
This certainly appears to be true for the larger chains that appeared in the studies. But there remain serious question marks over whether this idea can be extended to small, independent outlets. KFC may have the time and money to look into the reformulation of its products, but it is doubtful whether the same applies to independent chicken shops on the high street.
And forcing them to comply with this policy could have an adverse effect. Chris Holmes, a former KFC board member and now CEO of young people's healthy eating app Smash, points to significant barriers for these smaller operations.
"There are two main ways to get calorie info: either you need to spend weeks entering your detailed recipes into an online calculator, which is often very complex and requires detailed knowledge of recipes and cooking processes, or you need to pay around £100 a dish for detailed lab analysis. There is no way either of those things are happening quickly or easily."
Targeting poor areas
Plus, it's important to look at the wider picture. In reality, there are few policymakers, campaigners, or academics who believe calorie labelling alone will solve the role of the out-of-home sector in the UK's obesity crisis. It is a multi-faceted problem that will require a multi-faceted response.
That's why the exclusion of the independent sector from the calorie labelling policy is just one consideration in the question of whether these outlets are a blind spot in the UK's obesity response.
Their role in regional inequalities must also be examined. Fast food outlets are now five times more populous in poorer communities than in the most affluent. As the now-defunct PHE put it: "England's poorest areas are fast food hotspots."
That's a problem, say campaigners. Take the London district Walworth, which has one of the worst child obesity rates in the country. "Running through the centre is an awesome fresh fruit & veg market which, if sited in most other parts of London, would be a true destination," says Holmes of Smash.
"However, flanking either side of the street are chicken shops and kebab shops galore. Advertising to kids after school with promos like three chicken wings and fries for £1.80 from 3pm to 5pm."
This is problematic, says Holmes, because easier access to takeaway outlets is closely linked to increased consumption and higher weight. In other words, a child is more likely to eat a takeaway if they're walking past one every day.
"The evidence of whether such information meaningfully changes consumers' choices remains weak to mixed"
This issue has become ever more prescient since the rise of the ultra-convenient delivery platforms like Deliveroo, Uber Eats and Just Eat, which make it easier than ever to order a calorie-rich dish to your door. These platforms are aware of the problem. In response to seven in 10 people saying they wanted to see more healthy options on food delivery apps, Deliveroo in 2020 made a £1m investment in helping restaurant partners do better on this front.
Despite these efforts, healthy options still remain a tiny slither of the available options on takeaway platforms. "A recent search I did on Just Eat showed that of 600-plus available restaurants that could deliver to me in Edgware Road, it drops to just 20 if I press the healthy filter," Holmes says. Even then: "Some of these were far from healthy."
Read more:
Here, the independent issue crops up again – as they tend to lag behind chains in offering these options. Smash estimates that, on average, around 20% to 30% of chain menus would contain healthier products it would approve for its platform, compared with around 5% of the menus at most independents.
So as the wider clampdown on out-of-home comes into force, the hope is for independents to voluntarily broaden their healthier ranges. "We do believe smaller businesses are wanting to compete with larger businesses and consumer demand," says Tarryn Gorre, CEO of menu management software firm Kafoodle, which has seen growing interest from smaller food outlets.
The question for those independents thinking of making their menus healthier is: do they make the leap off their own backs or wait for government intervention to push them?