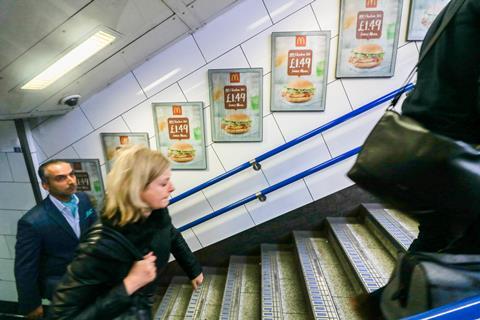 At least 70 local authorities are planning to follow London Mayor Sadiq Khan's radical crackdown on 'junk food' ads after new research claimed it had led to households consuming 1,000 fewer calories a week from HFSS products.
The Grocer can reveal dozens of councils are poised to launch their own bans, some of which would impose even stricter rules on which food and drink products can feature on local authority outdoor ads.
It is understood some are set to announce their schemes within the next few weeks. It comes amid anger from health campaigners after the government gave health secretary Sajid Javid powers to postpone the planned clampdown on HFSS advertising due to come into force next January.
This week, research from the London School of Hygiene & Tropical Medicine (LSHTM) claimed the Mayor's restrictions, which came into force across Transport for London (TFL) in February 2019, resulted in Londoners buying less junk food each week.
Based on data from two million grocery purchases of HFSS food products, it found households cut HFSS purchases by the equivalent of 1,000 calories per week, a reduction of 6.7%. Chocolate and confectionery saw the sharpest decrease, with weekly purchases falling by 318 calories, a 20% reduction. Londoners on average bought the equivalent of just under one and a half fewer milk chocolate bars each week.
The researchers claimed the measures had been more than twice as effective as the government's soft drinks sugar levy, with a reduction on sugar purchases of 80.7g per week compared to its 32g per week figure.
Fran Bernhardt, children's food campaign coordinator at Sustain, which has been working with councils to draw up the proposed bans, said TFL's measures had "opened the door for" other local authorities to take action to stop HFSS advertising across the UK.
"We have had 70 local authority areas who have reached out to Sustain for support with implementing their policies and we hope there may be many others. Some of them are working together and looking at regional bans, but on the whole it's individually.
"They are seeing this as an opportunity to improve local health and many of them extend beyond the remit of TFL policy."
Whereas under the London Mayor's scheme, which is based on the Nutrient Profiling Model, companies have a right to appeal against the ban, she said many local authorities planned to have an outright ban on any HFSS product under the model, with no right to appeal.
"A lot of them don't include exceptions from the nutrient profiling model," said Bernhardt.
"Also many of them have become a wider public health policy. Some of them restrict alcohol, gambling, breast milk substitutes and payday loans."
As well as TFL, local restrictions on advertising have been brought in by authorities in Bristol, Greenwich, Harringey, Merton and Southwark.
Sadiq Khan said: "It is a scandal that London has such high levels of child obesity.
"There is no denying that advertising plays an enormous role in putting less healthy food and drink in the spotlight, and I am pleased to see the positive impact these groundbreaking measures have had, leading to a real reduction in the amount of junk food being purchased."